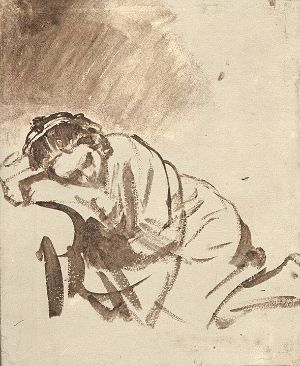 The Lord is my rock and my fortress and my deliverer;
My God, my strength, in whom I will trust;
My shield and the horn of my salvation, my stronghold.

Psalm 18:2

In the tent of my afflictions, Christ is the Refuge to whom I flee, laying my weary head upon His breast. He paints upon His magnum opus with the tears of my worn and anguished soul. He is the Strength of my weakness and the living water of my thirst. His grace flows freely in the valley of my desolation. Where but in His bosom can a flower bloom in the darkened wilderness of the world's chasm?
In this life, I am battle weary, worn to the fetters of my soul. I fight with the wounds of yesterday made fresh in the daily skirmishes of life's furnace. The boiling pot of my Heart produces the scum of my wretchedness. Sweat intermingles with tears of sorrow and grief, and I am soaked and chilled. Here I am in the midst of the field, fighting under complete darkness, as the dreariness of a compelling rain obstructs all light. My armor is weak and dinged, my heart pierced by many arrows of a fallen enemy. Yet I can rejoice in my defeat because He, my King of Kings and Lord of Lords, reigns.
Spurgeon wrote, "Anything is a blessing which makes us pray." Anything and everything. Trials, afflictions, and even death are not good in of themselves. They are evidence of a sin-rent world. But through them our Sovereign LORD uses them: firstly to glorify Himself, and secondly for the benefit of those whom He loves. Such foolishness in the eyes of corrupt and fallen men…but gracious wisdom in the eyes of Providence.
To know that every fight, every trial, every affliction is ordained by our Sovereign God is of great comfort to me. That He providentially cares for every circumstance of my life is such great solace. I am reminded of the man Born Blind in John 9. Christ's disciples inquired whether it was he or his parents that had sinned to cause him to be born blind. What was Jesus's answer? "…that the works of God should be made manifest in him." Despite the sorrows of this presently fallen world, Christ is manifesting His works in our lives! That the glory, grace, and mercy of God be made known in the midst of our weakness, our sorrow, our storms comforts me greatly.
He is my refuge, my strength, my rock. Though the consequence of sin is clearly evident, Christ weaves a beautiful tapestry. The tattered frays of my life are woven into His story, one day completed unto perfection. Daily my sorrows, my weaknesses, my fears, my sin are traded for His forgiveness, His peace, and His love. When I cry out to Him, my anguished voice is carried up to Him in melodious sound and returned with showers of grace.
My heart has been heavy for so long but the weight and burden are not mine to keep, but to give to Him. The shackles that bind my soul are locked with the key Christ has given me. His Spirit bids me to rest in Him, to trust to Him completely the unknown and arduous journey of life's tempests. My chains, rather, are the light fetters that bind me in His love. My burdens, His. His strength, mine.
My son, I give to Him. The pain, the tears of this present trial are the fragrance of the Lily of the Valley. He has caused me to know Him, to love Him, to trust Him, to seek Him more. His love embraces my fragile heart, His grace relieves my parched soul, His mercy delivers me from death. O my beautiful Savior, I am blessed to be in the embrace of Your wings in the midst of life's storms.

____________________________________________________________________
Drawing by Rembrandt van Rijn, "A Girl Sleeping," 1655.
The post My Refuge, My Strength appeared first on Journey of Cross and Quill.