What can be better than spending the weekend with the whole family, enjoying the sun and being energetic all at the same time? All these are possible when you join Mommy Mundo's 6th Mommy Milkshake Run!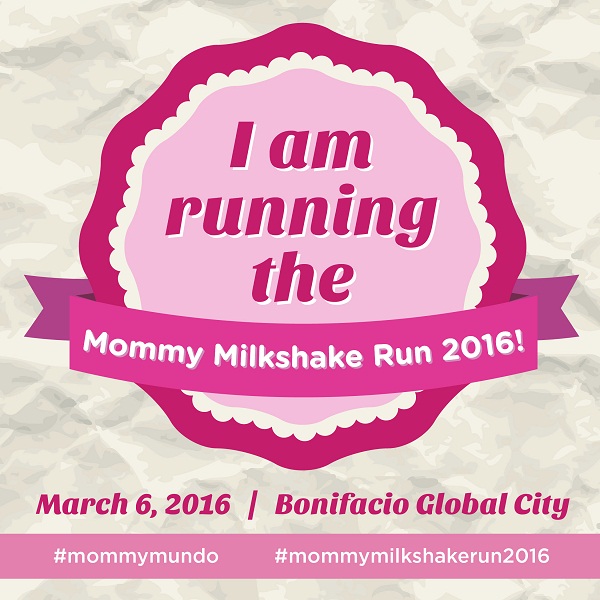 Mommy Mundo always promotes a healthy family life and finds different avenues to create
unique activities and build lasting experiences with families. With this in mind, Mommy Mundo decided to bring back the Mommy Milkshake Run, now on it's 6th year, this family fun run was first organized in 2007, and lasted uptil 2011. This year, Mommy Mundo is bringing it back to complement active parenting advocacy and bring our community together to celebrate active play and bonding. This is happening on Sunday, March 6, 2016.
The 6th Mommy Milkshake Run will be a 3km and 5km run along the BGC area. This fun run is a relatively relaxed run where every member of the family can join! Including, but not limited to, expectant moms, moms & dads (with or without slings and strollers), toddlers & kids. The run will have no time limit.
Unlike any other fun run, this marathon will provide your family needs. Portable Toilets, as well as a Breastfeeding station and lounge for the nursing moms. There will also be a diaper changing area for parents with babies and toddlers.
There will be ample water stations along the route to provide hydration for all participants. First Aid stations and Medics will be available for any untoward incidents.
You can bring strollers for your kids but no use of bikes, skateboards, hover boards, and roller skates during the run. Pets are also not allowed. A baggage claim area will be available for all your belongings.
After the run, everyone will receive a certificate of participation, as well as a bag of goodies
from our sponsors. There will also be a family fair with games, music, raffle prizes, food carts, special awarding ceremony, and an inflatable section for all the kids. The 2016 Mommy Milkshake Run is supported by Curves, Gatorade, Hi-Precision Diagnostics, and Growers.
See more specifics and things to remember on Mommy Mundo's Milkshake Run website! See you there!
The post The 6th Mommy Milkshake Run by Mommy Mundo appeared first on Mommy Bloggers Philippines.