It's not the babies alone who are being loved when they are being breastfed. Health experts attest that mothers who breastfeed equally Benefit not only in terms of deepening their emotional bond with the baby but in terms of physical benefits too.
Recently, a work at home mom, Bituin Aquino, wrote an article below, as of the attached clipping, why we should encourage mothers to lactate and feed their babies directly through their breast. And although breastfeeding can be a challenge for some moms, there are available "helpers" in the market, such as Chicco's Natural Feeling manual breast pumps. Aside from stimulating milk production and increasing milk supply of the mother, breast pumps are used to feed premature babies or those who can't latch on properly to their mother's breast, and to relieve the pain and pressure of milk build up.
Chicco's line of Natural Feeling is available at all major department stores nationwide or at www.Richprime.net
Follow Chicco Philippines in Facebook.
Click photo to view whole page.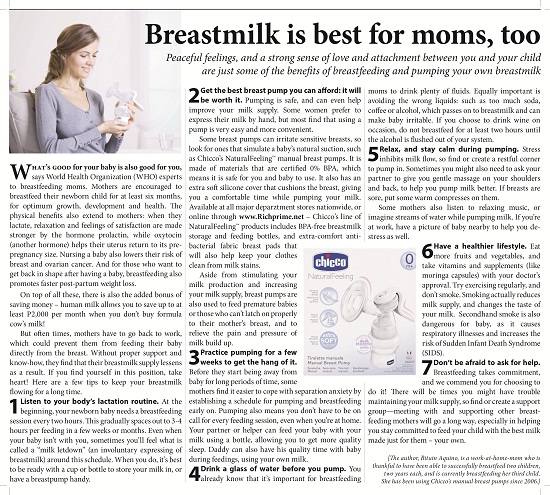 The post How Moms Benefit A LOT From Breastfeeding appeared first on Mommy Bloggers Philippines.