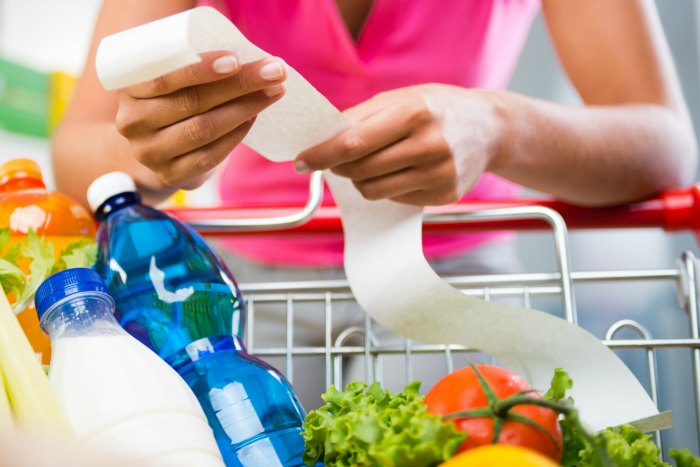 Let's face it, groceries are EXPENSIVE! So here's a few ways you can save a few extra dollars on that grocery bill of yours. Hey, we all need to eat, but if you can save money while doing it – why not?!
1.Upload receipts to CHECKOUT 51.
Checkout 51 is a free app that releases new offers every Thursday. Select the rebates, buy the products, then upload your receipt to get the savings. Once your account reaches $20, cash out! DOWNLOAD CHECKOUT 51 NOW.
2. Print coupons from COUPONS.COM.
Coupons.com runs the largest printable coupon program in the country. The first time you print a coupon, you'll have to download Coupons.com software onto your computer. It's pretty painless and completely safe. Once installed, you'll never have to mess with it again, and printing will be a breeze. PRINT A COUPON NOW!
Coupons.com Tip: Print two coupons per device! I print two from my laptop; two more from my husband's laptop; two more from my phone, his phone, and our tablet! It's hard to run out of coupons in 2016.
3. Submit cash rebates with the IBOTTA APP.
Ibotta is the best rebate app of them all! It has tons of offers at dozens of retailers. I don't know anyone who doesn't love this app! Plus, when you sign up through this link and submit 10 offers in the first 10 days, you'll get an extra $1 bonus! SIGN UP FOR IBOTTA NOW!
Ibotta Tip: Scan products in the store before placing them in your shopping cart to reveal whether there's a matching rebate! Even better, hand your phone to your kid and let them do it!
4. Add offers to TARGET CARTWHEEL.
The Target Cartwheel app has hundreds of offers for food, clothing, toys, and gear in Target stores. Each offer saves you around 5-50%. Make sure to click the offers to add to your Cartwheel before you buy. Then, show your phone to the cashier at checkout, and they'll scan the digital barcode for instant savings. DOWNLOAD TARGET CARTWHEEL NOW!
Target Cartwheel Tip: Connect to Target's free Wi-Fi when using the app in-store. Even better, take a screen grab of your Cartwheel bar code and keep it in your Passbook or photo stream for easy access at checkout if you run into poor connectivity.
5. Download the SNAP BY GROUPON for extra cash back.
Snap is an up-and-coming grocery app with really great offers! It's similar to Ibotta and Checkout 51 in that you upload a pic of your receipt to earn the rebate, but Snap doesn't have any limits, meaning I could have bought two dozen bags of M&Ms if it weren't for my other New Year's resolution. DOWNLOAD SNAP BY GROUPON NOW!
Snap Tip: Remember to redeem Snap's "any brand" offers such as $0.25 back on any brand of milk, or bread, or cereal! That's free money!
6. Save an extra 5% with the TARGET REDCARD.
The Target debit card is an easy way to save an extra 5% by doing nothing. Trust me, I ignored the sales shpeel from my Target cashiers for nearly a year. But when I realized that you could actually sign up online, I took the plunge and never looked back. The debit card doesn't pull your credit, and since it's not a credit card, you never have to 'make a payment' or worry about interest rates. Of course if you prefer you can always get the credit card instead (or get both!) SIGN UP FOR TARGET REDCARD DEBIT NOW!
Target Redcard Tip: You'll need to have your Social Security number, bank account, and routing numbers as well as your driver license number handy for the online signup process. Gather up those items before you begin, and you can sign up in under five minutes!
7. Print coupons from PGEVERYDAY.COM.
PGEveryday has great coupons for brands like Bounty, Tampax, and Crest, but you have to sign up for an account to access the savings. SIGN UP FOR PGEVERYDAY.COM NOW!
PGEveryday.com Tip: Save paper and ink! Now you can load coupons directly to your store loyalty card at dozens of stores nationwide, including Rite Aid. You'll have to enter your card info at PGEveryday on your first time. Sign up through the link above!
8. Enter diaper codes at PAMPERS GIFTS TO GROW.
Pampers Gifts to Grow Tip: Follow Pampers on Twitter for regular bonus codes.
Do you have any additional tips on saving money on your grocery trips? Feel free to share them with us!
The post Ways to Save on Your Weekly Grocery Bill appeared first on Closet of Free Samples | Get FREE Samples by Mail | Free Stuff.