This whole year had been a torturing year for Kitkit. The pressure from school, the teachers and himself weighed so much on his small shoulders…. I see him choosing the 'take flight' option.
With so much stress, I tried to give him time to play as and when he can squeeze out time from all the piles of work assigned by the school. I needed him to relax.
However, I realised it was difficult to get him to do revision after his school work had been completed. So I decided to let both boys write out a time-table and commit to it. I told them that the aim is to have time for school work, revision, as well as play!
Yes, my focus is on Kitkit.
Yet, it would be pointless to let Kitkit do this alone; 'cos no matter how many times they say, "I don't want to play with you anymore." They remain as playmates. Ha! Siblings! *eyes rolled*
Therefore, it is important that both of them sit down and plan their time-table together, so that they can discuss when should their playtime be.
In that way, they will motivate each other to complete work faster.
Thus I save my breath through fruitless nagging. *evil grin*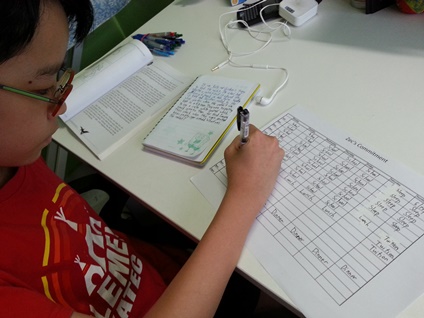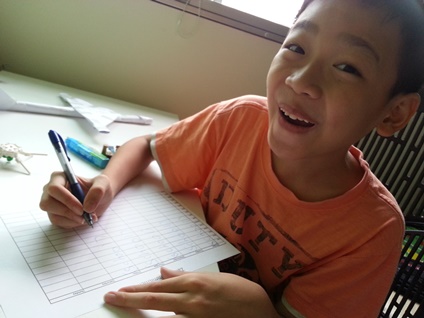 Binbin felt it was more like a game, but Kitkit was dead serious in planning WHEN and HOW MUCH time he gets to play. *laugh*
Both are the product of Allan and I, but they are poles apart; inside out and outside in!
Since then, they had been sticking to what they committed to do.
*Thumbs Up*
Even so, I realised Kitkit was doing the motion and not really absorbing whatever that was being revised.
I needed that spark in his eyes to lit up again.
So we had a good heart-to-heart talk last month and I was surprised by his response.
He missed his Science Tutor from last year!!!!
That was a shocker for me!!!!
I stopped his Science Tuition since the beginning of this year because I noticed how little free time he had for himself to relax and since his Science results had always been 'Up There', I thought continuing Science Tuition would be a burden. Little did I know that it was actually the power switch to a downward spiral engine for every other subjects.
Please don't ask me why does it have impact on English, Chinese and Maths, ok?!
I don't know!
Kitkit just felt there was nothing to look forward to anymore in studies.
Its amazing what a strong impact a good teacher (of ONE subject) can do to a student.
Though we are left with such a short time PLUS her super tight schedule (She is REALLY that GOOD! If you remember the blog post I wrote last year!), she agreed to squeeze out some time for Kitkit for a 'crash revision'.
Super grateful!
And Kitkit requested to CONTINUE having Science tuition during the year end school holidays to prepare him for Secondary School!
Un…Un…Un..Unbelievable!!!!
But its just not good enough to 'rescue' his Science only and let the other subjects 'drown'.
Thus I had been hoping to find a 'magic wand' that can really open Kitkit's mind and heart before PSLE.
You know, life is pretty amusing.
When you start looking for something, that something actually come looking for you!
I got to know of this group of coaches that do not focus on tuition, but rather incorporate skill sets with mindset.
The moment I knew they had a 2hour preview, I signed up straight away.
We went…… Today.
Through videos, games and interaction, the coach showed how to set goals, why set goals, and gave practical and useful tips which we find it easy to remember and apply to real exam questions on the spot! (Yes WE! I had to do what my boys did too.)
How much did we pay?
NOTHING!!!!
Totally Amazing Experience!
Sadly, though Kitkit and I benefited from that 2 hours, Binbin finds that its a total waste of his time.
Anyway, my focus was on Kitkit.
With that determined look on his face after he left the room, it was definitely NOT a waste of my time!
Did you know, he even agreed to abandon his beloved mobile phone from tomorrow onwards till his PSLE is over!!!
* Shock x100 *
While we were on the way home, we discussed what we can put into action right away, starting tomorrow!
This feeling is sooooooo good!!!
Have you heard of the Importance cum Urgency grid before?
For me, from now till 5th October, there is only 1 thing in my Important & Urgent section : Help Kitkit As Much As He Wants for PSLE!!!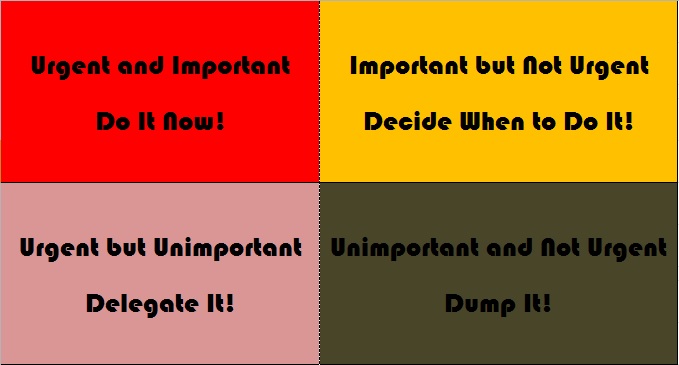 5 more days to PSLE!
C'mon Kitkit!!!
So long as you don't give up, the grades won't give you up!
Jiayou!!!
Last few Attempts for Better PSLE Grades