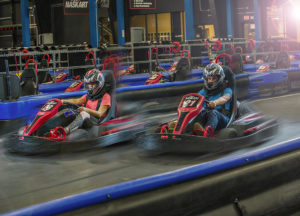 When I go go karting with my friends, winning isn't enough, I want to crush their Lap Times. I wanna be able to talk trash, back it up, and rub it in there face all night. Does that make me a bad sport? Heck yeah it does and it doesn't matter because I refuse to lose.
So if you want to go fast in indoor electric karts, stick with me here as I break down a few techniques that you need. There is more to it then just laying on the accelerator, we will be covering some braking and throttling control, basic turning strategies, and best over taking techniques. If you want to win, apply a few of these techniques.
If you want to dominate and destroy their lap times master them all.
10 Tips How to Beat Your Friends at Go Karting
1. Smooth is Fast
We throw around these terms like smooth is fast, but what does that mean. It means the less you do with the controls, the faster you will be. That means two things: be steady and consistent on the pedals and minimize your inputs on the steering wheel. The longer you spend with the wheels in a direct straight line and your foot on the accelerator the better your lap time is.
2. Carry Momentum Using Wide Lines
The line, is what is referred to as the most efficient and fastest way around the track. When you go wide on the track, dive bomb into the turns, and go wide on exit your kart gets more exit speed from the momentum. You can take turns much faster with less braking by using your momentum to push the kart through the turn. Going wide allows you to catch the apex of the turn, which is what produces the best turning exit speed.
3. Follow Fast Drivers
Nothing kills your lap times like getting stuck behind someone slow that is hard to overtake. Try and make your way around to get behind a fast driver. You can try and duplicate their racing line and not have to worry about them taking inefficient and sloppy turns. Stay within your limits though and try not to bump that also slows you down.
4. Don't Drift the Kart
Sliding or drifting may seem like showboating and fun for your friends, but it does damage to your lap times. Tires on electric karts are made to be high grip and there for slow the kart severely as it brakes traction with the track. You want the kart to feel like you are riding on rails. You need to push it into the turns at the lowest possible slip angle without losing grip. On an electric kart the front tire grip is more critical to control then the rear. A little slipage in the back is ok, as long as the front tires are grabbing and sticking to the track.
5. Brake in a Straight Line
As you come into your turn entry it is very tempting to turn and brake simultaneously. In these kind of karts braking and turning will cause you to lose traction. As you approach a turn, apply the brake to get the kart to turning speed, then turn in.
6. Spacing and Pacing With Other Drivers
When it's a competition for the fastest lap, getting caught in traffic is a killer to your lap times. Give space to the driver ahead right at the start of the race. In fact, start last if you can and work your first lap a bit slow to find the line. Once there is a solid gap between you and the next driver, floor that accelerator and enjoy having more space on the track then everyone else.
7. Rubbing is Not Racing in Karting
There is a great line in the 90's movie Days of Thunder "Rubbing is Racing". That is not true in karting. Don;t make contact with other karts and never rub the walls. Any bot of rubbing will disrupt the handling and will slow you down drastically.
8. Out Brake Your Competitors into Turn Entry
Only look for the inside of a turn when you are overtaking. You want to brake as late as possible in a straight line and get inside position on the turn. You will be faster into the turn, but slower on the exit, but if it gets a slower driver out of your way it is worth the sacrifice of speed on one lap.
9. The Most Important Turn Is The One Before The Longest Straight
While electric go karts are pretty much instant torque, there is still an acceleration build up. Basic racing principal says that the faster you go with the wheels pointed straight, the better your lap time. That means the most important place to be fast on every lap is the longest straight away. The only way to get the most max speed on that long straight is to nail the turn and exit speed on the corner proceeding it. Really focus on making that your most efficient and fast corner on every lap and you will be substantially faster.
10. Don't Let Them Get In Your Head
I race with my friends all the time and we talk a lot of trash. It gets emotional. When I make a mistake and my friend flies by me, I have a deep desire to run up on them, bump and try to pass them back. I get real sloppy with my technique It's better to actually let them go, get some space in front of you and have room to drive. This is a fastest lap competition not a who finished first. Your fastest laps will come when you drive without emotions and without anyone in front of you.
Beating Your Friends at Go Karts…
I know it's just bragging rights, but bragging rights amongst friends can last a long time. It's fun to beat your friends and have it be competitive, but it's more fun to dominate. When you crush your lap times and are significantly faster, you don;t even need to rub it in. The lap time says it all and they know they can't keep up with on the track. I also guarantee the next time you race them, you will already be in their head, which will lead them to sloppy driving and make you seem even faster.
The post 10 Tips for How to Destroy Your Friends at Go Karting appeared first on Go Kart Racing Near Me.