Sholeh Zard is one of the most popular Persian desserts whose main ingredients are Rice, sugar, and saffron. It is better to use half-grain rice in the Sholeh Zard recipe. But if half-grain rice is not available, you can soak ordinary Persian rice the night before to soften it a little during cooking. In the preparation of Sholeh Zard, the amount of sugar is usually chosen more than rice, but this depends on your taste. Here, for 1 cup of rice, 2 cups of sugar are used, which gives a moderate sweetness to your Shole Zard. You can use 1 cup for less sweetness and more than 2 cups of sugar for more sweetness. Cinnamon, slivered pistachios or almonds, and even dried rose petals can be used to top the Persian saffron rice pudding.
What You Will Need to Make Shole Zard Recipe
Rice
We must say that Sholeh Zard, which its main ingredient is rice, is a complete food, but since it has a very smooth texture, sweet taste, and pleasant aroma, it classifies in a group of desserts and is less consumed as the main food. It is better to use half-grain rice in the Sholeh Zard recipe. But if half-grain rice is not available, you can soak ordinary Persian rice the night before to soften it a little during cooking.
Sugar
The ratio of sugar to rice is 2: 1. This amount is suitable for a relatively low sweet Shole Zard. If you are a fan of sweeter desserts, you can also consider this ratio to 3: 1.
Saffron
Saffron is harvested by hand from the Crocus sativus flower, commonly known as the "saffron crocus." The term "saffron" applies to the flower's thread-like structures or stigma. The best Iranian saffron is grown in Ghaenat, Khorasan. Saffron is usually composed of dark and light threads. Saffron is used ground or brewed.
Pro Tips To Make Sholeh Zard
Remember to add sugar after cooking rice. If you want to cook sugar with rice from the beginning, you will make the cooking time much longer.
If for any reason you have to use whole grains of rice to cook the Sholeh Zard, you should know that the cooking time is increased and the rice is cut in half and does not give a good appearance to the dessert.
Be sure to use brewed saffron and never pour saffron directly into the Shole Zard.
You can soak the slivered almonds in rosewater, as it will increase the aroma of the almonds and give a good taste to the Shole Zard.
Do not forget to stir the saffron rice pudding after adding sugar.
If Shole Zard was thickened too much, you can add a little boiling water and let it simmer for a few more minutes.
You can enjoy the Shole Zard right after making, but if you want a colder dessert then refrigerate for a minimum of 1 hour before serving.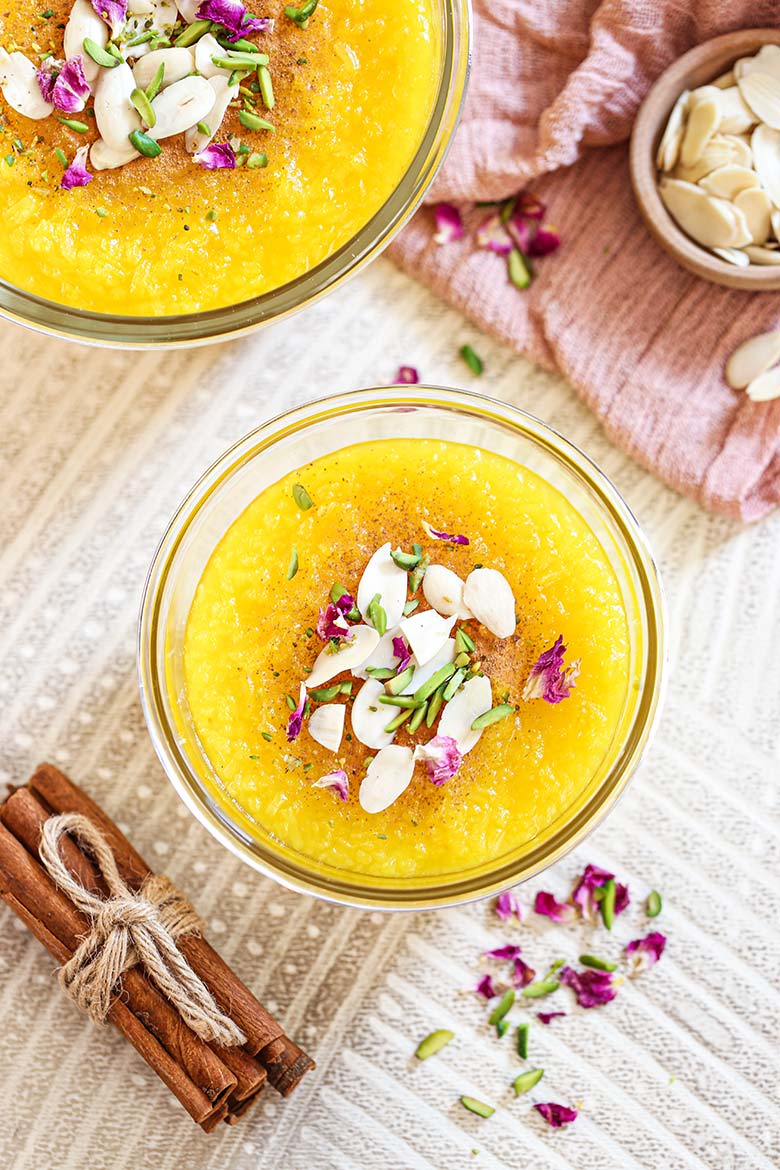 How to Garnish Sholeh Zard
You can use various ingredients such as cinnamon, coconut powder, slivered pistachios, and almonds, dried rose petals and slices of lemon and orange, and anything that you think is suitable and beautiful to decorate.
How Long Do Leftovers Last?
Leftovers will keep well in the fridge for 3-4 days.
Did you like Shole Zard recipe? Leave your comment below and If you make this recipe, be sure to tag your photos #yummynotes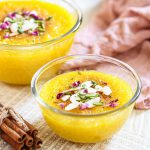 Ingredients
1 cup rice

6 cups water

2 cups sugar

1/4 cup slivered almonds

50 g Butter

1/2 cup bloomed saffron

1/2 cup rosewater

cinnamon and slivered pistachios for topping
Instructions
Step 1
Wash the rice with cold water a couple of times and let it soak with 3 cups of water overnight.
Step 2
Pour 6 cups of water into the pot and put it on the heat and bring it to boil.
Step 3
Then add the rice and stir to boil. Remove the foam with a spatula and stir the rice regularly so that it does not settle.
Step 4
Do not add sugar until rice falls apart. Turn down the heat to cook the rice. Depending on the type of rice, this step may take half an hour to 1 hour.
Step 5
Then add sugar and stir.
Step 6
Brew ground saffron with two or three tablespoons of boiling water and add it to the rest of the ingredients.
Step 7
Once the sugar is dissolved, add the slivered almonds to the Shole Zard. Stir well to thicken. Finally, add the butter and stir to melt.
Step 8
Turn down the heat and put the lid on the pot for 20 minutes.
Step 9
After 10 minutes, top Shole Zard with ground cinnamon, almond and pistachios and let it cool.
The post Sholeh Zard Recipe appeared first on YummyNotes.