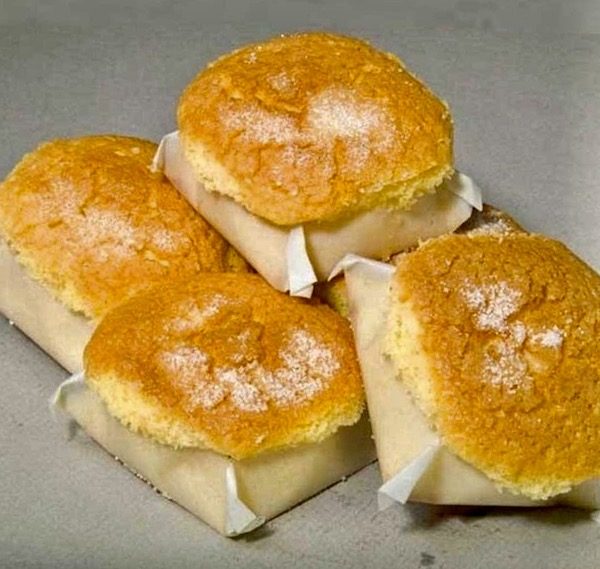 The original Mantecadas de Astorga de from Spain
(Gerry Furth-Sides) I don't know what I am more excited about: unraveling the history of the mantecada or eating it the mysterious Mantecada. The two different versions are popular in the United States and in Spain. History points to them originating in Spain, and being imported to Mexico and then north. Changes made along the way were for practical reasons or because an item was available that enhance it.
Mantecadas are similar to a muffin, but flatter and more like a sponge cake in texture. These soft and crumbly Spanish cookies are a Christmas tradition. that date back to sixteenth century from the Andulucia region of Spain.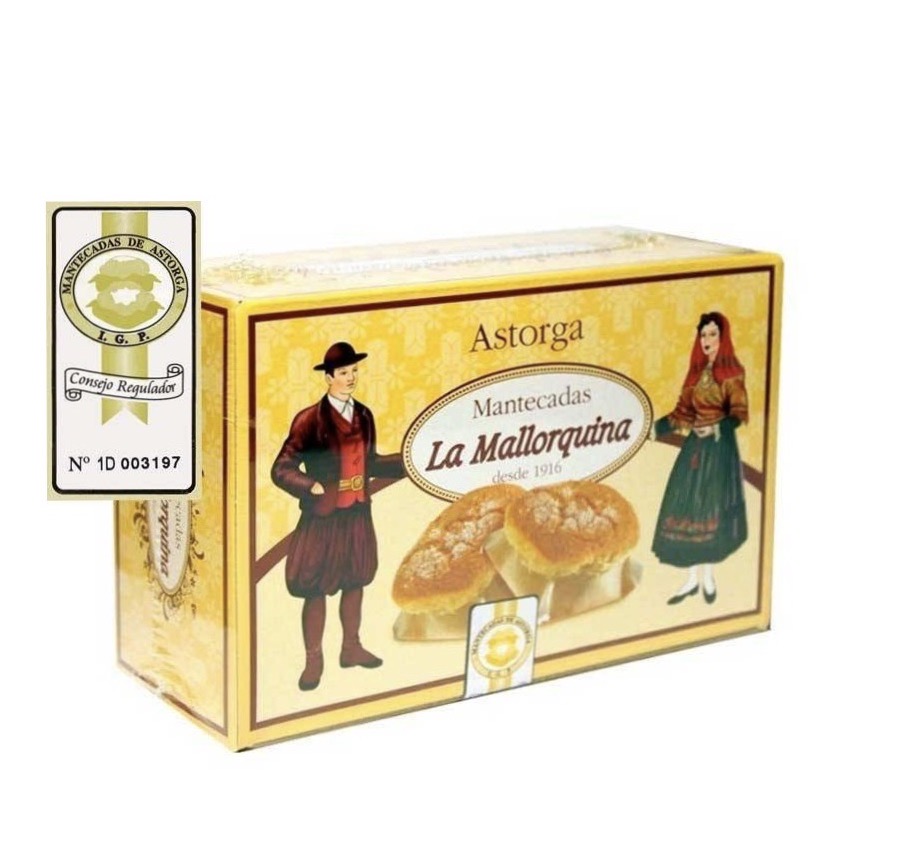 Classic Christmas Mantecadas from Astorga, Spain
Mantecadas de Astorga, the original mantecadas are a cupcake pastry but in a rectangular form. They must be made with butter. These classic cakes in Spain have a muffin consistency with a denser texture than cupcakes. And they are usually less sweet with fillings like nuts or fruits in them. The can be ordered from importer, La Espanola in La Habra. https://laespanolameats.com/
They must be made with a delicate batter is poured into square parchment paper boxes, called "cajillas", that have been hand-folded by skillful "cajilleras". The mantecada square paper cups themselves are known as "caixetes." They are sprinkled with sugar before baking, to obtain a crispy top.
The mantecada leaves a characteristic cross-shaped silhouette on the paper when it is removed.
The mantecada is so special that it has earned a Protected Denomination of Origin granted to the city of Astorga, in Spain. Although today there are over 80 factories in the the Andalucian region manufacturing mantecados, the towns of Estepa and Antequera claim mantecados as their own creation. The best known mantecadas are from Northwestern Spain, being a traditional product of the city of Astorga, province of León.
Mantecada cupcake pastry in a rectangular form
Mexican bakery mantecadas are made with oil. An explanation is that the name stuck, but probably oil was more readily available and cheaper than butter at the time (1800s). These days oil is used because it adds a glisten of gold to the top along with a crispy texture without adding sugar.
Orange flavor may have been added when the bake made its way to the very busy port of Vera Cruz in Mexico from Valencia, known for its abundance of oranges.
Mexican mantecadas for centuries have been traditionally baked in red wax baking cups, different from the original Spanish "cajillas" or little boxes. This may have been to make the mantecada available to customers in more practical, single portions that earned more money and were easy to display. It is so popular a pan dulce in Mexican bakeries it is packaged in boxed of six or twelve on a display of its own.
There is proof, though, that the original version did arrive in South America. A type of cake in Columbia and Venezuelacake known as mantecada is baked whole and then cut into pieces after baking. There are also commercial brands in Latin American and in Mexico that feature packages mini-mantecadas.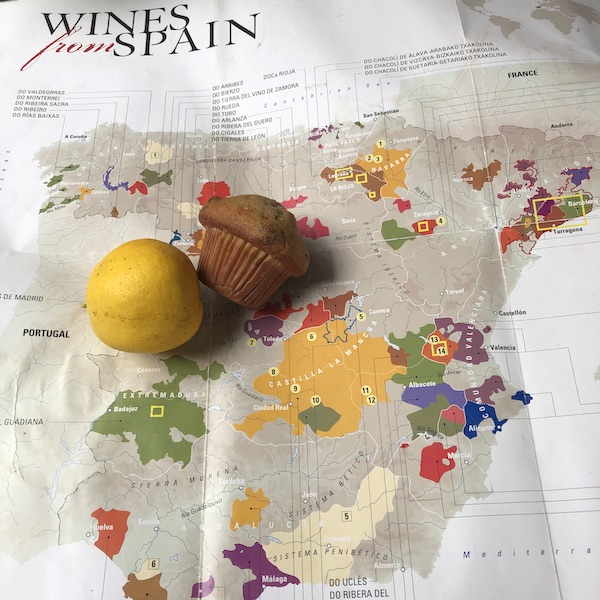 The Montecada originated in northwestern Spain
To add to the fun of unraveling this mystery, we were treated to wine from the very same region by https://alluvialwine.com. The wines are known as Alluvian becasue of the rocky nature of their original. The distributor of ?Por Que No" thought about it awhile and gave us the most plausible answer. https://porquenoselections.com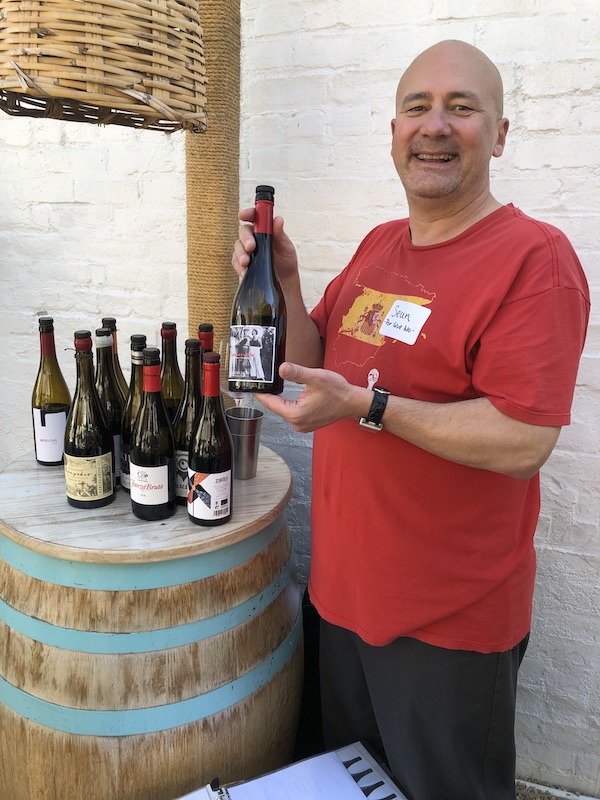 Sean Norton of https://porquenoselections.com
Sean Norton told us, "When I visited Anónimas, some pilgrims came through and they stopped everything to give them some wine and something to eat. It's a regular thing for them.
The Camino de Santiago passes through Astorga and also through the Anónimas winery on the way to the Santiago de Compostela. So both things (the Mantecada and the wine) originated along the original Camino path.
Asturias, fittingly, is vibrantly green, with endless dramatic coastal and mountain views, diverse cuisine. The people are open and friendly although the untouched vistas are reminiscent of the Middle Ages. And, indeed, Asturias was an important wine region from the 11th century until the 1950's, when coal mining took over, and most vineyards were abandoned and uprooted.
These days only a handful of wineries exist as part of an effort to revive the region's exceptional viticultural tradition. wAsturianos Beatriz Pérez and Pepe Flores own Bodega Vidas (Siete Vidas) are a major force in the region's revival. In fact, because viticulture here is difficult and extreme Cangas is one of three regions that Spain has given the "Viticultura Heroica" (heroic viticulture) designation. Very fitting.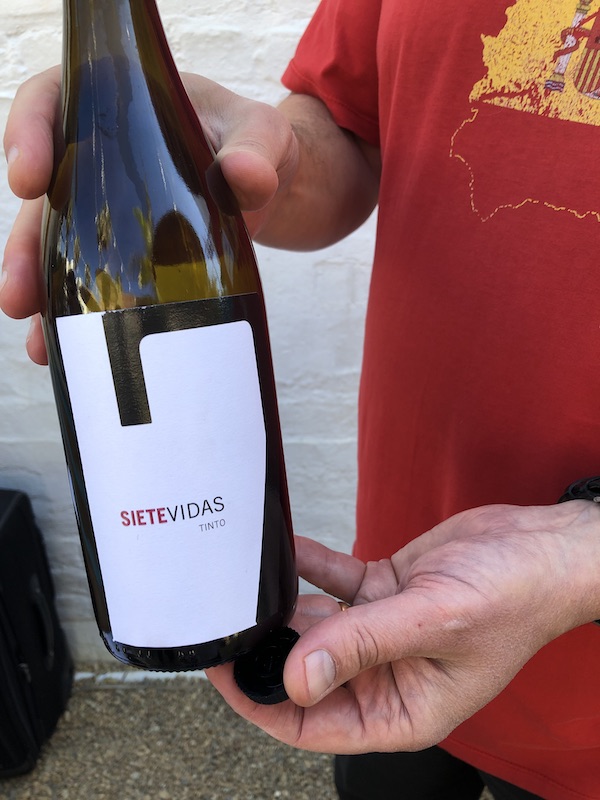 The post Tracking the Mysterious Mantecada appeared first on Local Food Eater.