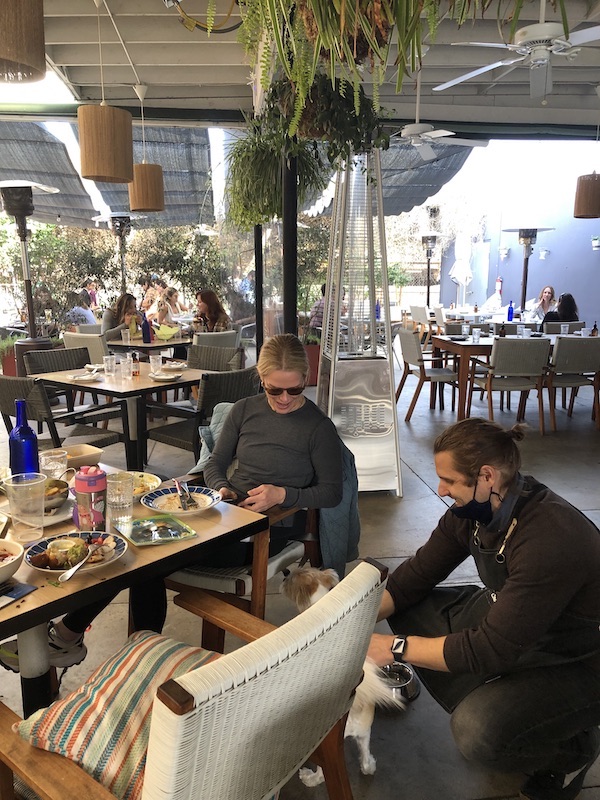 Homey hospitality at spiffy MOMED LA
(Gerry Furth-Sides) Dining al fresco on the left coast

in November makes us the envy of the country. You can see it in these photos taken on a typically desert weather week-end. It as overcast and under 60 degrees in the morning, and over 70 with a sunny noon. Can you find Copy-editor, Writer Roberta Deen in this photo at MOMED LA?
The impeccable service made the occasion of treating our valued LFE writer/copy editor to a Mediterranean brunch even more special. Can you find her in one of the photos?
Being Diwali week-end we were curious about the "nirvana" in the Silk Road Cocktail. A shot of this whisky with a velvety "fireworks" feel, priced worthy of the holiday of lights.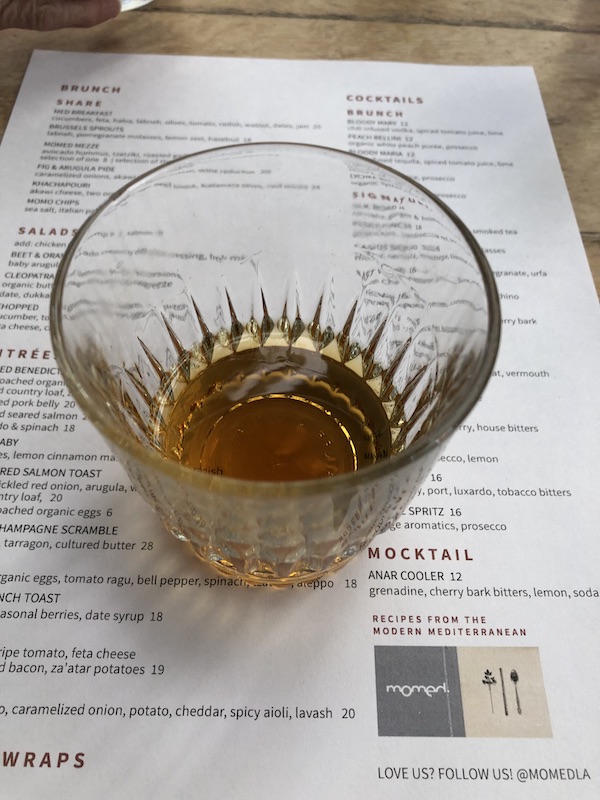 A shot of "nirvana"whiskey in the SILK ROAD cocktail at Momed LA.
Middle eastern- inspired brunch at MOMED begins with the best, creamiest tzatziki in the world, one of the MOMED MEZZE, along with roasted garlic hummus and muhammara. The more unusual muhammara is a red pepper dip that originated in Aleppo, Syria. The spicy, vibrant red dip is made of walnuts, red bell peppers, pomegranate molasses, and sometimes breadcrumbs.The dips we took home were even tastier the next day.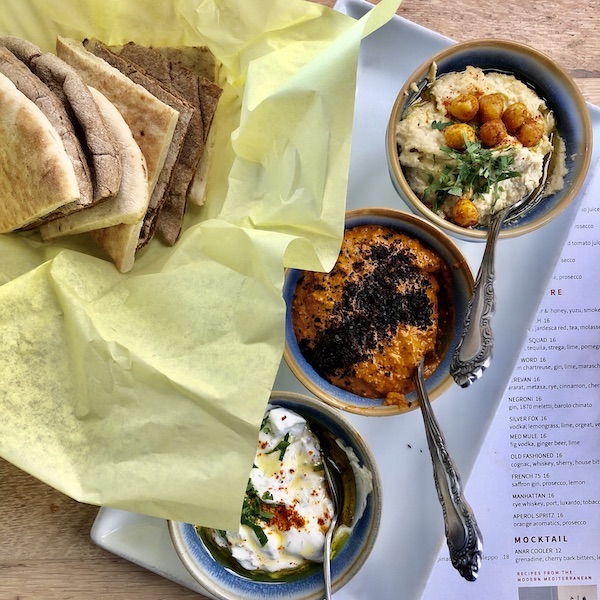 A platter of the MOMED MEZZE with the best tzatziki at MOMED LA
A very busy MOMED BURGER in a brioche bun with grass fed beef, halloumi , harissa aioli, arugula and pickled onion was also share size. The unusual, thick-cut potato wedges were extra firm rather than crispy.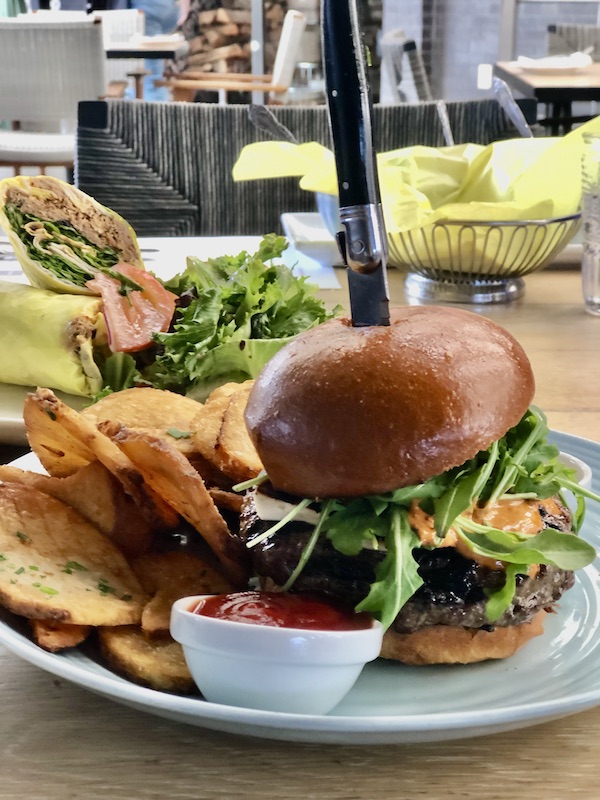 One half of the succulent (shredded) DUCK SHAWARMA (lavash) WRAP with cherry tomato, figs, pickled onion, arugula and garlic aioli also turned out to be even more satisfying and flavorful the next day, if that was possible. We would drive to MOMEDLA just for this and the dips.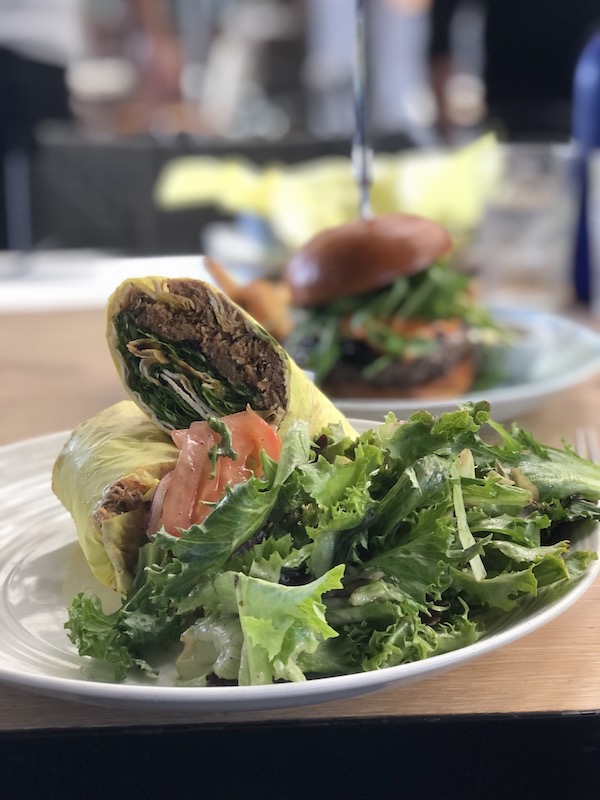 DUCK SHAWARMA (lavash) WRAP at MOMED LA
Online reservations are the only way possible at MOMEDLA. The instructions are to be sure you include an outdoor preference, a must due to its popularity even though the deck is large. Even the indoor seating faces out onto the open deck.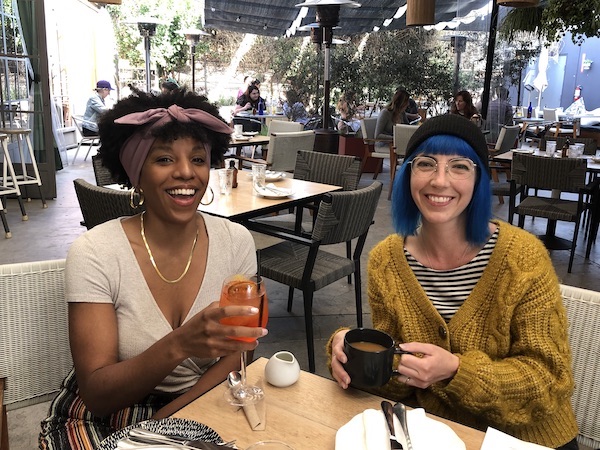 Only a fraction of the deck at Mediterranean MOMED LA
We were so sure to do this that we had a photo on our iPhone. Still, when a system glitch switched ours, the staff could not have been more responsive and helpful. Thank you! We still found it better to phone the restaurant because their hours change due to the pandemic, not always accurate on travel guides and their website.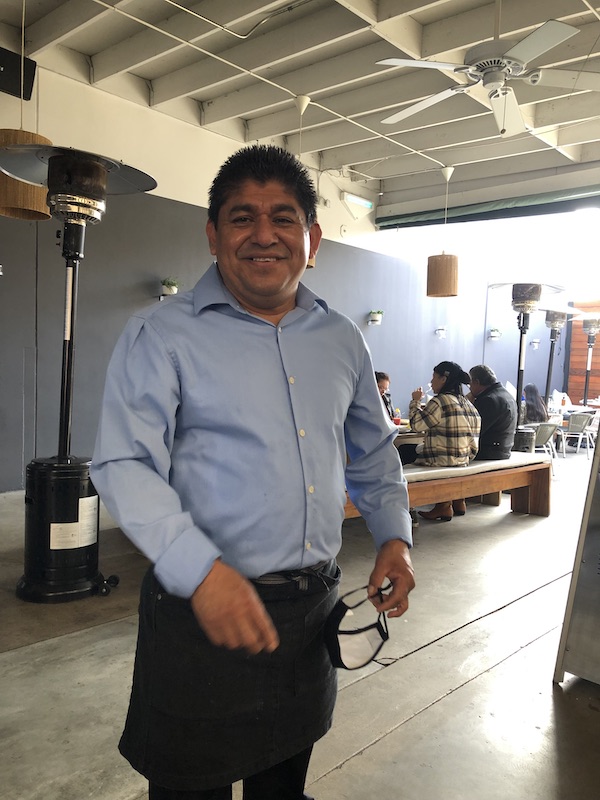 The cordial, alert and responsive staff at MOMED LA
Worth the destination drive, there are also nearby attractions to make it a full afternoon. Burn off calories to the nearby friendly farmers market that is walking distance. Or walk off calories at the easy driving-distance Silverlake Reservoir.
MOMED, 3245 Casitas Ave, Los Angeles, CA 90039, (323) 522-3488, www.ATMOMED.com
The post Five Reasons Why Momed is Destintation Drive Worthy appeared first on Local Food Eater.