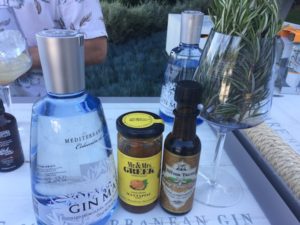 The unique, natural botanicals of Spanish Arbequina olive, Italian sweet basil, Turkish rosemary, and Greek thyme are what make Gin Mare from Spain unique. It is why Gin Mare pairs so beautifully with foods, and is an exciting base for innovative gastromixology.
The makers of Gin Mare are so proud of their product that they created Med Inspirations, a reimagined global cocktail competition reimagined and expanded. The idea is to bring people together over well-crafted cocktails inspired by the Mediterranean lifestyle. The beautiful, tan Spaniards at the hosted party we attended were the perfect example of this. See below for details of the competition.
Six regional US winners compete to create a unique approach to the iconic Gin & Tonic cocktail. The winner of the national competition moves on to the global competition in Ibiza, Spain, courtesy of the company, along with the winners from Mexico, Hong Kong, Singapore, China, and Australia. The competition is now in its ninth year. It started in Europe before expanding internationally and into the US three years ago. This year will see participants from Hong Kong, Singapore, China, Australia, and Mexico with the competition uniting people from around the globe with the aim of sharing the Mediterranean lifestyle.
Gin Mare's creators and are so proud of their product that they recently came to the United States to host exclusive dinners and competitions celebrating the Mediterranean lifestyle. It was indeed Gran Hotel Worthy. Doña Teresa would approve of the private estate grounds high in the Beverly Hills overlooking the city and the ocean that felt as Mediterranean as Spain. Chef Holly Jivin, from The Bazaar by José Andres brought her crew to craft dishes served alongside cocktails prepared by the leading bartender from Paradiso, Barcelona's leading bar, which was recently named one of the World's 50 Best Bars.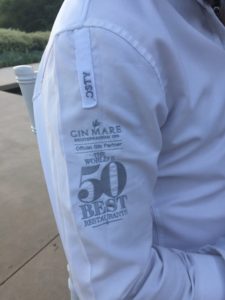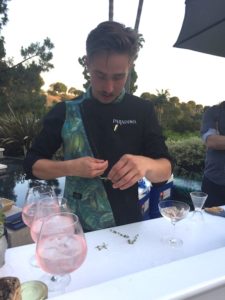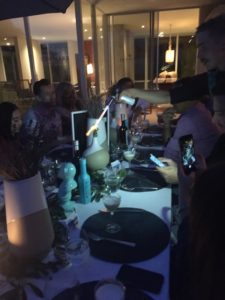 Paradiso stands out in the trendy downtown Barcelona's El Born neighborhood that hosts great restaurants and bars. It is also novel because it's hidden in a pastrami shop. Although you'll have to go through the freezer door to discover what Giacomo Giannotti and team have for you, the wooden, copper-toned interior thankfully exudes warmth. The menu is filled with visually bold drinks calling for modernist techniques. Classics lovers also feel at home – one of the bar's bestsellers is the Supercool Martini, a mixture of mustard-infused vermouth and redistilled gin frozen with a proprietary technique. Impeccable hospitality rounds out a sophisticated drinking experience. Carrer de Rera Palau 4, 08003 Barcelona
The post Gran Hotel Worthy Mediterranean-Inspired Gin Mare Travels the World appeared first on Local Food Eater.