(Gerry Furth-Sides) The idea of MOMED-hosted Immigrant Dinner every Wednesday in May by owner-founder Alex Sarkisian was to have it curated by an immigrant friend of the restaurant to share their family recipes. The exquisite dinners titled "The Immigrant Dinners" became part of LA Times Food Bowl for the third successful time this year. Humanitarian and ingenious restaurant operator, Alex Sarkisian's grand idea to to share culture and connect people by entertaining and educating diners with foods from all around the world"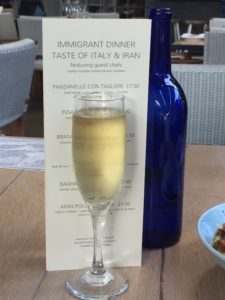 The special series focus on diversity and highlight immigrant's contributions to the community, a tasty Persian menu on three different nights. Passionate talented guest chef, Bita Milanian, Senior Vice President of Global Marketing at Ribbon & its Kandy.io division, shared her family's treasured recipes, which were prepared in MOMED's kitchen with new Executive chef, Chef Drew Adams. It fit right in with Bita's other multi-talented talents, and one of her biggest passions and missions: "to bring communities together through arts and culture."
Italian chef, Mariza Rosetto Polidori's Italian dishes were featured another evenings.
Bita Milanian will be shared her menu on May 29 along with her fellow guest Chef Marzia Rossetto Polidori, whose dishes are featured on other nights. Persian disco funk by DJ Omid Walizadeh; a special DJ collaborating with this event.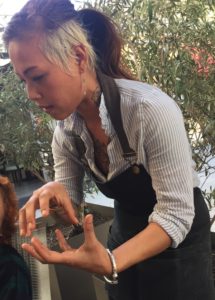 Editor's note: We have never written up MOMED although we have been going there as customers and customer guests since they opened ten years ago. So we are happy to share our experiences here. We remember as though minutes ago, talking with owner-founder, Alex Sarkisian, who funneled all of his expertise in the schmata business in DTLA to create a business almost as successful from the instant it started as the Cheesecake Factory on the same street across Wilshire. We always viewed Armenians as "they work hard and they work hard," with play being "work."
For more information, please click this direct link to LA Food Bowl's page: //lafoodbowl.com/events/the-immigrant-dinners/ Parts of the proceeds will be donated to a number of non-profit organizations that focus on supporting refugees, such as Pars Equality Center.
But this was not all. Always on the look out for hummus, this was one of the best we have ever had. The best hummus: Baharat Beef & Hummus (parsnip hummus topped with spiced grass fed her and toasted pine nuts, served with Israeli pita)
The airy, Mediterranean restaurant is a total surprise, just as the Beverly Hills Drive location was when it opened. The Beverly Hills location photos made it look huge and inviting when it was a very plain wrap place in which the comfy outdoor patio with cushioned banquettes is the place to be. Similarly, when we arrived at what we imagined would be a small storefront similar to the Beverly Hills Drive place, we were greeted with a huge, airy, outdoor venue in the middle of a pleasant residential area.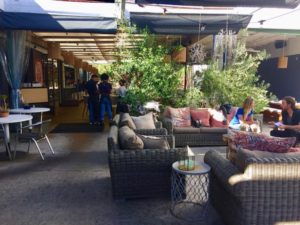 The staff is so professional and helpful. We remembered Benjamin from our visit to the Beverly Hills Location. Benjamin at MOMED in Atwater, and in Beverly Hills last winter when he was so happy to give us his name!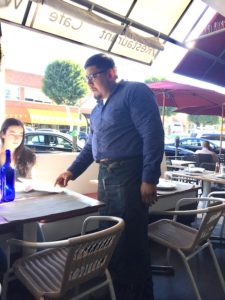 The post MOMED's Extraordinary Immigrant Wednesday Dinner Feasts appeared first on Local Food Eater.