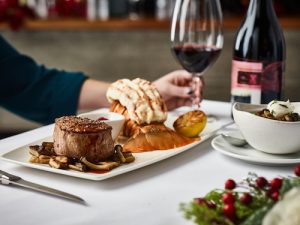 Fleming's Prime Steakhouse & Wine Bar celebrates the season with a three-course holiday indulgence menu for dinner – or Friday lunch – straight off your wish list.
The meal begins with choice of indulgent starters: Wild Mushroom Soup or Seafood Louie Wedge Salad followed by the main event: Filet Mignon & Colossal North Atlantic Lobster Tail, all dressed up for the holidays with cabernet demi-glace, mixed sautéed mushrooms, and merlot salt. And for dessert: Pumpkin Cheesecake. 99 per Guest.
The celebration starts early. Join Fleming's on Fridays starting at 11:30AM for their all-new, three-course holiday lunch menu.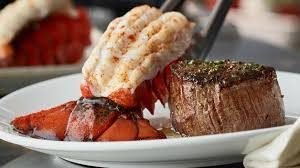 And the holiday can last for a holiday gift or stocking stuffer, and also treat the gift giver after? At Fleming's Prime Steakhouse & Wine Bar, guests receive a $20 Bonus Card for every $100 purchased in gift cards now through December 31. The $10 bonus cards can be redeemed from January 1 through February 2. Plus, enjoy free gift card personalization when purchasing on FlemingsSteakhouse.com, or pick them up at any restaurant location.
Louisiana native, Paul Fleming, grew up with a love of food, enjoying squab among other things, and first worked in the hospitality industry while a student at Loyola University in New Orleans. His first job in the restaurant industry was at a local restaurant called Saturday's. He began as a dishwasher and progressed to become a busboy, server, bartender and finally, the manager. Fleming graduated from both LSU and Loyola universities.
And the secret to his American regional restaurant success stories come from his southern heritage. According to Fleming, "I grew up in a family where food was a big part of our lives. My grandfather was a farmer and he raised his own chickens and squab. We did a lot of fishing and ate with the seasons. Everything was fresh. I developed a great love of food from a young age-it's part of the culture in Louisiana."
These days the southern hospitality is still there, and so are new, more extravagant traditions being madet The most lavish Cinco de Mayo celebration (possibly in the world) can be found at Fleming's Prime Steakhouse & Wine Bar. The upscale steakhouse is partnering with Tequila Herradura, an ultra-premium 100 percent agave tequila, and Baccarat, the world-renowned fine crystal manufacturer and offering a $100 Prime Margarita through May 4-6 instead of just one day.
The post Fleming's Steakhouse Holiday Gifts – One for You, Too appeared first on Local Food Eater.