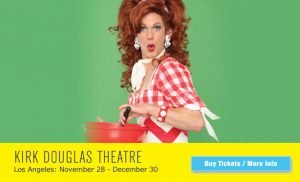 Dixie's Tupperware Party, the hilarious off-Broadway one-woman comedy starring Dixie Longate, which took the theater world by storm and garnered a prestigious Drama Desk Award nomination, returns to Los Angeles at the Kirk Douglas Theatre for a strictly limited engagement now to December 30. Tickets are available at www.dixiestupperwareparty.com.
"Dixie's Tupperware Party" is billed as "not your grandmother's Tupperware Party." Yet it still has all the love and camaraderie and sideshow salesmanship to entrance you from minute one. Actually from before minute one because the hostess, Dixie, works the aisles before the show passing out candy and making sure you feel welcome.
And it really is an actual Tupperware party – audience members receive a catalog and pen and can purchase items in the lobby after the show. Every time an item is introduced, the lights go up and you can find the item to purchase in your catalog. And I'm buying.
So just as at a real Tupperware party where everyone shares their stories in the comfort of a real home, so Dixie shares her rags to riches American story. Only this trailer-trash housewife from Mobile (get it?), Alabama includes surviving a stint in prison and three husbands, Dixie is the sometimes-proud parent of 3 children; Wynona, Dwayne, and Absorbine, Jr. But that doesn't mean she's not familiar with L.A. and all its quirky residents, as she rolls her eyes and rattles off all the diet drinks that require measuring containers, including the "Lindsay Lohan and Gluten-Free."
Because of her extensive experience and sense of merriment as a hostess, Dixie has many alternative uses she has discovered for her Tupperware plastic products – such as jello shots for the cupcake holder tray. Yes, there is Dixie's tongue-tied slurring of the drunk and the sexual innuendo that must surely come from demonstrating drinking from these products.
But it is all in such good fun – and the descriptions and instructions for the Tupperware are earnest and informative. Who knew that Tupperware was guaranteed for the life of the owner? The most hilarious moments came when Dixie imagines the reading of the will and the Tupperware comes up on the list. (and this L.A. audience in the Q. and A. so many technical and detailed questions on this subject that it dazzled Dixie)
Do I sound out of breath? Well, hey, y'all, I just have so many good things to say. I'm not alone. Turns out is the longest running off-broadway show since it opened in 2006. There is so much care in it. As audience members we got a survey request from Dixie the morning after — lovingly addressed to "hey hookers."
The writer, Kris Andersson, apparently took on this project on as a dare, and never looked back. Kris righteously earns over $25,000 a month from real Tupperware sales, and the show has brought in almost 3M in ticket sales to date.
Kris' alter ego, Dixie Longate (get it?), is a delight. If Gilda Radner and Dame Edna Everage had a kid this would be it – not only in looks but the feeling that this character enfolds every single person in the audience and the message of the show is that we all matter. Hey, if Dixie was at the bottom of the pack of humanity and made it, so can everyone else.
Dixie's timing and use of repetition is Jackie Mason perfection. By the end of the line, you are mesmerized and laughing your head off.
The other message is endurance. Just look at the party concept that was created by Bonnie Wise at Tupperware 60 years ago – by a woman! A woman in a corporate world! That Bonnie was also kicked aside by this same corporation, is equally important and not to be repeated by us.
The show is inter-active. And God help the hapless souls who are at the other end of Dixie's tongue. Cabaret style, Dixie also talks to people from the audience and has a raffle prize drawing – this was one show where I was happy I did not win! On stage are four intentionally unsuspecting Tupperware party guests on couches. The added fun for me was that one of them was my verrrry shy, unsuspecting local librarian — watching her was a hoot.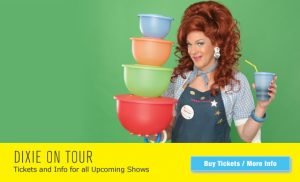 The post Hilarious American Regional Shows off at the Tupperware Party appeared first on Local Food Eater.