Hidden treasure maps of superb Vegetarian and vegan small plates can combine into a filling meal at ethnic mainstream restaurants. Indian, Italian, Middle Eastern, Mediterranean and even regional American come to mind. Often so surprising and universally appealing, the dishes often are equally enticing to carnivores. The idea is to order a variety of satisfying textures and tastes, starting from simple to complex. Note: when items are not specifically labeled vegetarian or vegan, make sure that there are no animal ingredients in them, such as chicken stock in vegetable soups.
Masala Grill, Indian Fusion Kitchen has been featuring a primarily vegetarian menu since it opened about a year ago. Although many Indians are vegetarians and Indian restaurants usually feature many veggie options, Partner Sahil Chawla told us that as they learned that more and more of their diners prefer vegetarian food, their menu offered more unusual veggie versions, clearly marked (VG/V).
Below, as the perfect example, is Masala Grill's "flower" of Jackfruit (tropical fruit) Tacos that are Gluten Free Tortilla with onions & Cilantro, and a mint sauce (see above). Chawla explained that "jackfruit" has a consistency that is close to shredded meat. Masala Grill's special sauce turns jackfruit biryani (rice) into a signature dish.
Masala Grills' STEET FOOD CART section offers a vegan Bhelpuri, a savory snack of puffed rice, tomatoes, onions, spicy & tamarind chutney ($6)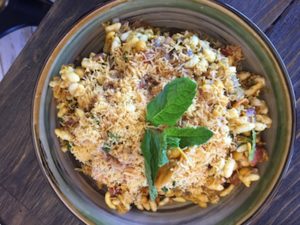 Masala Grill, 5607 San Vicente Blvd, Los angeles, CA 90019 (323.954.7570) http://www.masalagrillla.com.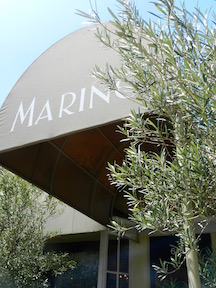 Ciro Marino was always a cutting-edge trend-setter since his days as head captain at the legendary Villa Capri a half century ago (LA's first patio restaurant, "take-away" kitchen) was the first to offer a vegetarian anti pasti. A plate, along with a piece of crusty bread, can be an entire meal for (carnivore) me.
The anti pasti (shown above), that became so popular it earned a showcase of its own at the door. Textures are varied in the marinated artichokes, mushrooms, peppers, cippolini onions, beets and lava beans.
Marino's classic pizza and pasta options are also healthy – vegan bread is baked in ancient Roman style, with a similar recipe also used in the award-winning pizza crust. Featured in Los Angeles Magazine, gluten-free pasta choices, such as the wild mushroom fettuccine shown here please for vegetarians and vegan.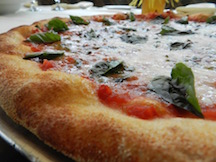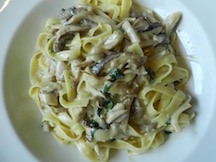 www.marinorestaurant.net. marino ristorante, 6001 Melrose Avenue, Los Angeles, CA 90038,(323) 466-881. Order online for pick up and delivery.
At award-winning Turquoise, Owner Hamid Fatemi has featured many vegetarian options "Pan-Mediterranean" since he opened a decade ago (though his duck confit sandwich is a carnivore's dream). His fresh ingredients, depth of flavor and collages of color in all his dishes make the vegetarian options very appealing.
"Miracle Drink" blended with carrot juice, apple juice, adds a kick of ginger will win over any carnivore and is ready and waiting when customers sit down. Shreds of the fruit provide texture.
Vegetation Sampler tomato-basil and lentil soups are the perfect cuisine samples. A deft hand in the kitchen with herbs, spices and oils make the soups into a statement.
Turquoise "Cold Tapas" dips are $9 for one and two for $12.95. Beets arrive in Mast-O-Laboo, homemade organic yogurt mixed with succulent roasted beets, proving why beets are a star in Iranian cooking. Organic Hummus is filled with wickedly good flavor. Here the depth comes from pureed golden chickpeas, roasted red peppers, pomegranate molasses, roasted walnuts and organic sesame seeds. It proves the argument for featuring walnuts in savory dishes.
Crushed walnuts in the Olive-walnut Tapenade balance out chopped black and green olives texture. Tabouli made with cracked wheat , cucumber, tomato, scallion, parsley and olive oil is seasoned with lemon and distinguished by a touch of fresh mint. Baba Ganoush (perfectly roasted eggplant) is prepared her with a caramelized onion flavor rather than the more common garlic.
In addition to the Classic Greek Salad, made special with the addition of Persian cucumbers, another vegetarian dish, "Grandma's recipe" for Torshe Anbeh combines sweet and sour mango chutney marries tamarind, mango, dates with spices.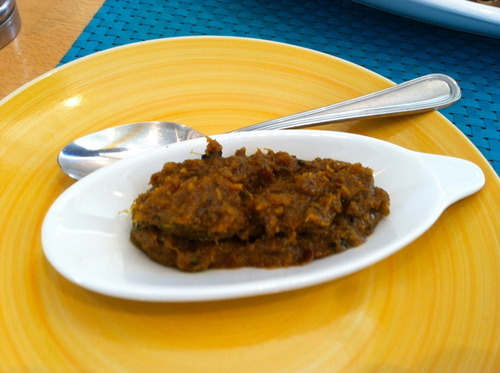 Turquoise Restaurant, Redondo Beach, 1735 S Catalina Ave, Redondo Beach CA 90277, (310.362.4478),(www.turquoise-restaurant.com).
Signature Corn Soup with Black Bean Falafel and a swirl of sumac oil remains a menu star at Upper West Restaurant, holding steady and overtaking the hamburger (dramatically served with a steak knife stabbing it on the plate) since the upstream tavern opened seven years ago. As Executive Chef Nick Shipp reveals, "the secret to why our guests love it is also their sheer curiosity of what's in it. " The answer is, a thoughtful lot."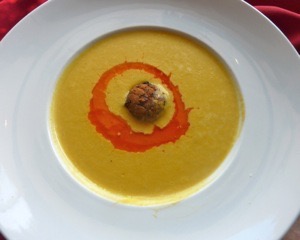 Other vegetarian dishes include Roasted Cauliflower with tahini sauce, pickled golden raisins and the special tang of preserved lemon. An entire category of veggie dishes include vegan Fried Sweet Potato with cimichurri, Queso Panela and Wild Mushrooms with garlic, leeks, Farro and Fig. There is even a housemade ROASTED VEGGIE BURGER with charred pineapple relish, the spark of piquillo pepper and smoked tomato aioli on a toasted brioche bun.
Upper West, 3321 Pico Blvd., near Centinela., Santa Monica (310-586-1111).
And for right out in the open American regional knockout salads, Chef Allison Trent creates the most beautiful and healthy composed savory and fruit masterpieces at Isabel and Laurel Hardware.
Ysabel, 945 N. Fairfax, Los Angeles, CA, please visit http://www.ysabel.la/ or call 323-366-2940.
The post Hidden Vegetarian Treasure Maps on Ethnic Restaurant Menus appeared first on Local Food Eater - Find Best Ethnic Local Food Places | Clorder.