(Gerry Furth-Sides) New restaurants offering with authentic cuisine, newly renamed ethnic restaurants with expanded authentic cuisine and even classic eateries that now have product highlighted the best ever event withoverflowibng genuine hospitality and generosity at Ppla Food Fare 2018. It was an over abundance of riches and good cheer.
And it all started with a cheerful, helpful and welcoming head valet form Chuck Pic's valet service. Even the lady in this grab shot is smiling!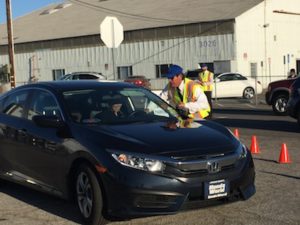 We love catching up with Los Angeles legendary chefs who are ethnic cuisine masters. It was so crowded this year that we did not get back to their booths!
At the same time we love to greet the youngest volunteer participants each year. Dedicated and still exuberant, they are often part of a third generation in their family to help out.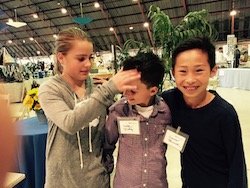 And then there is the food! (We did not even get a chance to look at the wine and beer samplings plus the silent wine auction – a full event in and of itself!
Long time favorites include Angelini Osteria with their signature spinach lasagna. We are so honored to have a corner piece! This was at the beginning of the evening because long lines quickly formed.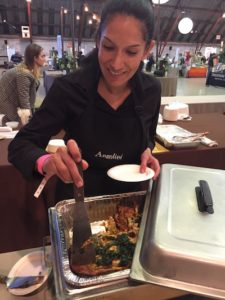 This year's news are the new products now being sold by restaurants. Famous chef Gino Angeleni has tomato sauces, olive oil and dressings.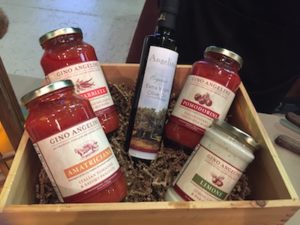 http://localfoodeater.com/39th-annual-ppla-food-fare-2017-is-best-yet/
Celestino Drago was a PPLA Food Fare honoree in 2014 and the The Drago family of restaurants are always well represented throughout the city and Pasadena. They brought their mushroom soup, always a favorite bite.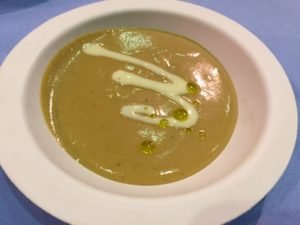 They year they also brought their newest product from Drago's Cantina: Cucumber Jalapeño cocktails – in a box.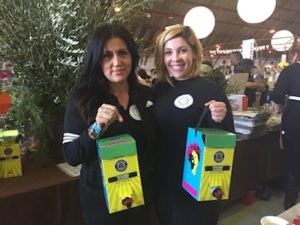 Other Italian restaurants include the Italian spired Porta Via in Beverly Hills and our own California-inspired Rosti Tuscan Kitchen serves up signature chicken and salads. Rao's Hollywood made famous in New York is always a draw.
The eastern European cuisine new restaurant DOMA in the marina area also served succulent meatballs, these made of chicken.
Asian cuisine was ready at the opening with Takami Sushi, one of the annual returning restaurants.
From Latino kitchens comes Border Grill, Petty Cash Taqueria and Pinches Tacos, inspired by Chef Toribio Prado.
http://localfoodeater.com/chefspotlight/star-chef-toribio-prados-meteoric-career/
Got Kosher? Bakery introduces their newly renamed HARISSA RESTAURANT to the event. Chef Alain Cohen has participated for the past ten years. http://localfoodeater.com/tempting-summer-sandwiches-the-got-kosher-restaurant-style/
Jeni's Splendid Ice Creams is such a community-minded outfit – and the creamy ice creams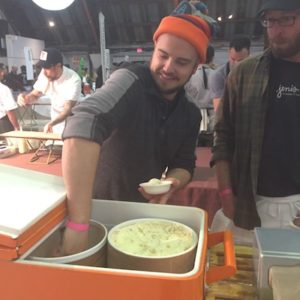 New restaurants and restaurants not even open were a welcome addition.
Other restaurants include: HomeState, Kato, Pedaler's Fork, Pink's Hot Dogs, Playa Provisions / Hudson House / The Tripel / Small Batch/Da KikoKiko, Poke 2 Go, Ray's and Stark Bar, Salazar, Simone, SOCA, , Sumo Dog, Sweet & Savory, The Bel-Air, Tuck Room Tavern, Upper West Restaurant, Vucacious Catering, and Wokstar Catering (Sweet & Sour Chronicles),AR Cucina, Baltaire, Boneyard Bistro, Castle's Catering, Clementine, Cookie Good, Craft Los Angeles, Doma Kitchen, Factor's Famous Deli and Friends and Family, and veteran supporter, Chef Olivier Rouselle of Luxe Sunset Hotel.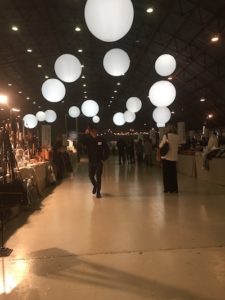 The post New Ethnic Restaurants + Products at Best-ever PPLA Food Fare 2018 appeared first on Local Food Eater - Find Best Ethnic Local Food Places | Clorder.