(Gerry Furth-Sides) The 2018 Kosher Wine and Food Event (KWFE) featured "the best of the best" of wines and food, "that just happen to be kosher," as Got Kosher?"s Chef-owner, Alain Cohen phrases it. Here are three of our favorite foods and wines from Israel, Italy and France that are also representative of the international flair of the curated event.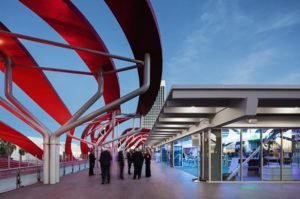 (photo courtesy of Petersen Museum)
The newly remodeled Petersen Car Museum penthouse venue only added to the buoyant mood of a show-off LA boldly sunny, warm winter day that converts tourists to residents.
A lavish display greeted guests at the door by the newly named, harissa restaurant (official on March 2018), formerly Got Kosher? Restaurant. Staffer Romina welcome guests, along with Chef-owner Alain Cohen and crew.
The Got Kosher? Bakery and Deli name remains the same. And ooh-la la, what desserts there were to taste, along with the mountains of challahs. This display was replaced over and over as guests finished 1200 samples. Alain's mom's restaurant namesake "harissa cake" was always finished first.
Tabor winery in the foothills of Mt. Tabor stands boasts a famous ancient location in the heart of the fertile Galilee. Its ideal climate for growing grapes, also works for cultivating different soil types. A highly skilled and dedicated team works to bring out the natural grape aromas and flavors.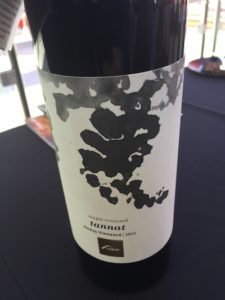 Fourth generation vineyard owner and manager, Oren Sela was born in Kfar Tabor. He continues the family business in the village out of his love for wine culture, grapes, and the people who make it.
The Adama label translate into "soil" in Hebrew, also signifying the variety of soils matched with specific grapes in the well groomed vineyards at the foot of the mountains with wind blowing all around. The Adama red wines are aged for a year in French Oak barrels.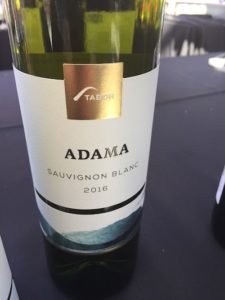 With such a stellar reputation that they were chosen in a blind tasting as the best of their Tuscan territory, the Della Seta-Pellegrini wines are the pride of Italy. The Della Setas come from an ancient Jewish family settled in Rome since 2000. The Pellegrinis are an old Tuscan family, from Pitigliano and Capalbio villages, with three generations of strong tradition and experience in wine production.family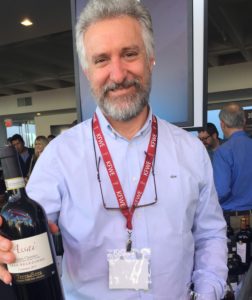 In 2001, the family purchased the winery and after adopting organic agriculture methods, added the strict kosher certification in 2008. Certification includes adhering to kosher law and using advanced technologies to facilitate some traditional procedures without compromising the high quality level of the wine, so typical of the Chianti Region. The same tradition and technology also goes into their production of extra-virgin olive oil and honey.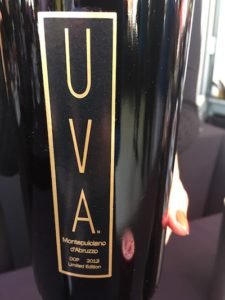 The carefully chosen winemaker was friend and experienced, award-winning oenologist Enrico Paternoster, renowned for his refined and elegant wines that reflect the area. Enrico is in also charge of wine cellars at the Agricultural Institute of San Michele all'Adige (IASMA, Trento), the most important and internationally respected Italian wine school and wine research center.
Visitors are welcome on farm holiday accommodation and wine tasting tours. New projects are developed each year.
The Edmond de Rothschild Heritage champagne proved to be a light blend of refreshing and just dry enough. Rather than investing in proven terroirs, the Compagnie Vinicole Baron Edmond de Rothschild has always preferred to purchase properties with potential and develop their value.For the Compagnie Vinicole Baron Edmond de Rothschild, giving land the opportunity to express its full potential means that each terroir has its own history. The company is careful to work with the natural cycles and local customs of each one. Customisation and attention to detail are major aspects of the Compagnie Vinicole Baron Edmond de Rothschild's approach to wine-making. They are prerequisites for producing exceptional wines.
http://univers.edmond-de-rothschild.com/pages/patrimoine-rothschild/wine-making-en.html
More information about all things food and wine and events that are kosher can be found at http://www.kosher.com.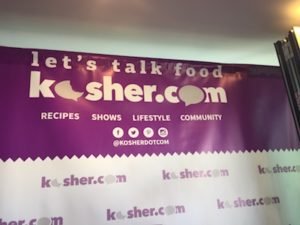 The post The Best Kosher Wines and Food at KFWE 2018 appeared first on Local Food Eater - Find Best Ethnic Local Food Places | Clorder.