KITCHEN CREATIVITY: Unlocking Culinary Genius-with Wisdom, Inspiration, and Ideas from the World's Most Creative Chefs by Karen Page is a voluminous book filled with secrets and strategies from more than 100 leading culinary minds.
Congenial author Karen Page was dismayed to learn that "only one in ten Americans reportedly enjoying cooking today," and she decided to dedicate a guidebook to changing these facts. The 400- page textbook size volume includes more than 275 four-color photographs by her husband and collaborator, Andrew Dornenburg . When she gave instructions on how to use Kitchen Creativity at a book signing and demo, it was mostly for readers to, "to dip into for insights and inspiration."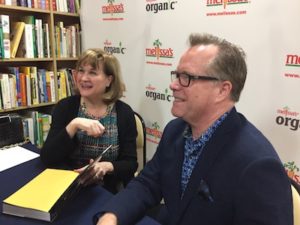 Karen's idea was to tap into the minds some of the most publicized high-end chefs or as Page describes them, "the world's leading creative professionals currently." The goal is for readers from home cooks to professional chefs to understand how their process of creativity works and use them in their own cooking.
The book includes profiles, snippets of wisdom, historical pages (on ice bream) and segments of aggregated ideas about creativity in the kitchen and outside of it. Interviewees include José Andrés, Dan Barber, Rick Bayless, Daniel Boulud, Amanda Cohen, Kyle Connaughton, Curtis Duffy, Emily Luchetti, Eric Ripert.
The book's A-to-Z section has segments of random information. It is meant as a series of freeform prompts or starting points for creative inspiration, from flavor pairings to dishes that chefs like to prepare at home.
Not a cookbook (no recipes) but more a collection of ideas, KITCHEN CREATIVITY's mission to a more inventive and intuitive approach to cooking (without recipes!). -Page's goal is to inspire readers to think, improvise, and cook like the world's best chefs."
The technique is not new – master the craft, know what elements work with what and then be creative.
In Stage 1: Mastery, a cook copies the masters-their dishes, their techniques, their seasoning-to develop a knowledge and skill base. Here, Page recommends essential books for the chef's library, explains the difference between enhancing flavor and adding flavor, lists trusted food sources for the best-quality ingredients, and demonstrates how to learn time-tested flavor pairings and affinities.
During Stage 2: Alchemy, a cook integrates and applies new knowledge and experience, converting ingredients and classic dishes into something fresh. This section overflows with examples of converted classic dishes, chefs' sources of inspiration, and the thought process behind reinventions. Page also breaks down the principles behind the creation of individual flavors, especially those that contribute to the taste of familiar dishes, showing how to apply such principles to the invention of something new.
The principles are used in "meatless meatloaf" because the flavors and even the textures to a certain degree are similar though there is no meat in the dish.
Two-time James Beard Award winners author Karen Page and photographer Andrew Dornenburg, wrote the 400,000-copy bestseller The Flavor Bible. Their book, Becoming a Chef, won the James Beard Book Award for Best Writing on Food and has won every major gastronomic award and translated into multiple languages.
Karen Page and Andrew Dornenburg have created "many definitive guides" (Wall Street Journal) on the craft and life of America's chefs and their restaurants" (The Splendid Table, NPR). Their books-including What to Drink with What You Eat, named the 2006 Georges Duboeuf "Wine Book of the Year" and the IACP "Cookbook of the Year"; Culinary Artistry, called one of the "World's Best Cookbooks" by Food & Wine Magazine.
The post Kitchen Creativity Book Tells How to Develop Classic Recipes appeared first on Local Food Eater - Find Best Ethnic Local Food Places | Clorder.