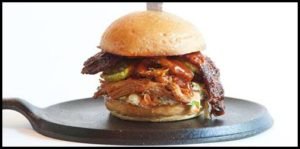 (Photos courtesy of Slaters 50/50 other than the root beer float) Slaters 50/50 ,Pasadena, CA, dubbed the "upper-echelon" burger dining experience and Home of the Original 50/50 patty adds ethnic-inspired appetizers, Brunch and Bloody Mary Bar to their new "excesstacy" Relaunch Menu. The concept of burger rises to an even higher level of outrageous, along with the popular furthers, sandwiches wings, salads, sides, custom milkshakes, craft beer and desserts.
The Backyard Furter or 50/50 Furter defines "excess". The frankfurter nests inside a poppyseed brioche bun served with relish, chopped onions, ketchup and mustard on the side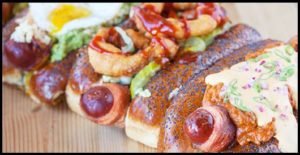 Without exaggeration, the original "best of the best"creations simply combine enormously popular ingredients. Dessert is no exception and sometimes combines sweet and savory (bacon!). Darien was impressed with the "Worlds best root beer" float with Marshmallow (below).
The novel combination of Sweet potato fries with Pumpkin Sauce (shown below) adds a seasonal touch. The fries dish was, in the opinion of our veteran restaurant writer, Darien Morea, "the best I ever ate."
Darien also loved the wings, a specialty of the house. The "uber-friendly" and helpful staff, enthusiastically suggested the wings. And, Darien, noted, "you can be a purist, as I am with a no-bun burger wrapped in lettuce" or a paleo or a vegan and still be very happy here."
Scott Slater founded Slater's 50/50 in 2009 in Anaheim Hills, California. The SoCal native was inspired by his a passion for over-the-top burgers, bacon and craft beer.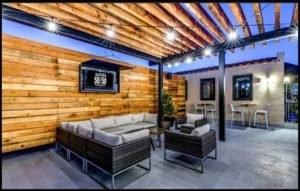 Inspired by the belief that bacon is meat candy, Scott fashioned the original 50/50 patty with 50% ground bacon and 50% ground beef. He matched this feat with a long evolving menu of over-the-top food and craft beers.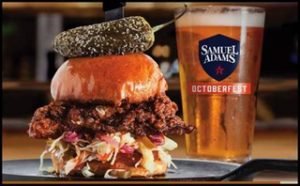 The concept named "meat candy" worked. Over the past six years, Slater's 50/50 has won numerous "Best Of" awards, continually mentioned among the best of the best in local, regional, and national media outlets.
The beer program is legendary. Every year Slater's 50/50 is the only restaurant in the country to tap over 1000 different craft beers.
The new "build-your-own" Bloody Mary Bar, currently exclusive to the Pasadena location, boasts a selection of 28 ingredients, includingfour kinds of bacon (thick cut, BBQ, Sriracha, and rosemary). Drinks start at the "roll back" price of $8.99 for a Three Olive Martini (Grace of "Grace & Frankie would approve!)
However, customer-designed burgers remain the star at Slater 50/50. How does it work? Customers build their own creations with SLATER 50/50 long list of ingredients and also. Slater makes it fun with the guests filling out a form at the counter .
SIZE IT
All sizes are weighed AFTER cooking
True Quarter LB
Real Third LB
Double It – 2/3 LB
Triple It – Full LB
CHOOSE IT
Brandt Beef
Durham Ranch Bison
50/50 Beef & Bacon
Sriracha Spiced 50/50 Beef & Bacon
Turkey
Grilled Chicken Breast
Vegetable Patty
BREAD IT
White Brioche
Honey Wheat
Udi's Gluten Free
Lettuce Wrapped
No Bread
CHEESE IT
American
Bacon American
Blue Cheese Slice
Cheddar
Pepper Jack
House-made Beer Cheese
Smoked Gouda
Swiss
TOP IT
Green Leaf Lettuce
Spring Mix
Classic Slaw
Cucumber
Dill Pickle Chips
Jalapeños
Peperoncino
Red Onions
Grilled Onions
Roasted Red Peppers
Roasted Green Chiles
Grilled Pineapple
Fritos
Tomato
Avocado Mash
Guacamole
Fried Egg
Sautéed Mushrooms
MEAT IT
Thick Cut Bacon
Honey Sriracha Bacon
Turkey Bacon
Jalapeño Bacon Jam
Guinness Bacon Chili
Spam
Cola-Braised Pork Shoulder
SAUCE IT
1000 Island
Bacon Island
Bacon Ketchup
BBQ Sauce
Blue Cheese Dressing
Chipotle Adobo Mayonnaise
Chipotle Mustard
Mayonnaise
Ranch
Sage & Garlic Aioli
Spicy Brown Mustard
Sriracha Mayonnaise
Tapatio Ranch
Teriyaki Glaze
The post Slater 50/50 Adds First Ethnic-Inspired Bloody Mary Bar in Pasadena appeared first on Local Food Eater - Find Best Ethnic Local Food Places | Clorder.