(Gerry Furth-Sides) Frida Mexican restaurant (group) proves that an ethnic restaurant can grow in number and also go casual while remaining one of the best because of their rich, authentic (consistent) dishes, colorful decor and outstanding hospitality. Challenging to write about; easy to enjoy.
The Frida location in Beverly Hills is on a walking street just south of Wilshire, an inviting street filled with strolling local office workers and residents day and night — this is the less touristy part of Beverly Drive to the north. Sixteen-year-old Frida has "good bones" – it was the first restaurant, Celestino, of legendary chef-restauranteur Celestino Drago, and displays all of the freewheeling spirit of the 80's.
Frida's cheery yellow awning and outside seating, plus ample close-to-free parking already puts you in a good mood before you even enter. Its a place for a mid-morning breakfast, mid-afternoon pick-me-up or any special occasion party – reflected in the 10 AM – 11PM hours.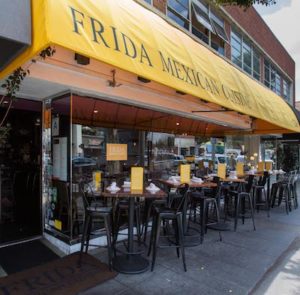 Yes, I admire the Frida Mexican Restaurant owners philosophy, "food as art." But at heart I'm a "front-of-the-house" girl and so "they had me" when hostess Valerie transferred my phone call into her office line so she could hear me more clearly to answer my question. And it just got better from there. Manager Mayra checked in on us from time to time while overseeing the whole room.
Chips and cocktails are the way to pursue the four-page menu although we could just go from top to bottom and be happy with all the bold, straightforward dishes in the categories of Desayunos (served till 2 pm and still appealing for lunch); Lunch Specials, Sopas, Entradas, Ensaladas and Ceviches, Pescados Mariscos, Aves Y Moles, Carnes, Desserts and a long list of Tacos (including a Tacos Tasting of 5).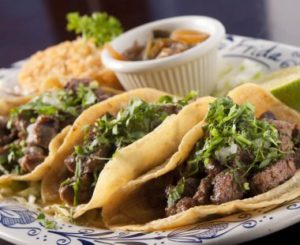 The crunchiest, freshest chips (no oil on the paper mat!) invoked a crisp, warm holiday spirit. Salsa Picante and Pico de Gallo liven them up to individual preference.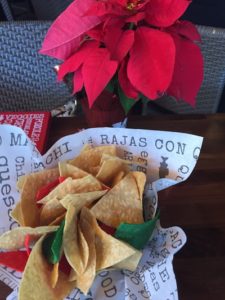 Frida takes its Tequila seriously. It is the first restaurant in Los Angeles to receive the T Certificate Award by The Tequila Regulatory Council from Mexico. This verifies that only tequilas that have passed all quality standards are served.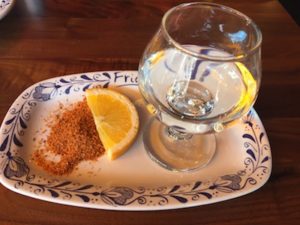 Both tequila and mezcal are beautifully honored in the "rectangular manner". The list is short but elegant with Silencio my choice. Mezcal's boasts the more untamed, smokier and more peppery characteristics within the tequila category. Strictly regulated, in order to earn their designation, both must list a Jalisco origin and a steaming process, in addition to containing blue roasted agave.
Mezcal is typically served with sweet, tart citrus and sal de gusano (salt ground with the dried caterpillars that infest agaves -that worm in the bottle of the bottle if you remember). Frida's enhances and contrasts the mezcal flavors with an orange slice plus TAJÍN, grains of confetti-colored dried lime and world-class chilies and sea salt.
Guacamole prepared table side shows the freshness of the best-available onions, jalapeño, tomato, cilantro and fresh lime juice. Daisy our server really wanted us to try it so she got the kitchen to offer it in an individual portion.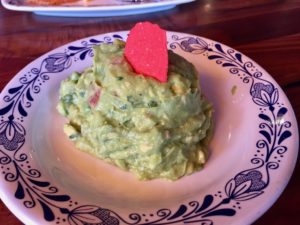 The featured Camarones al Ajillo (sautéed prawns in garlic, white wine, butter and lemon juice, served with white rice) features jumbo, succulent prawns and just the right touch of rich but delicate elements.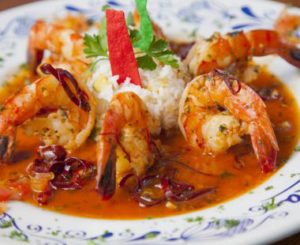 Also currently featured is the top-notch Arrachera Norteña, tender marinated charbroiled skirt steak served with a chicken enchilada Tapatia, guacamole, rice, refried beans and fresh man-made corn tortillas.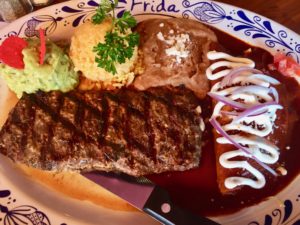 Pastel DeTres Leches was both incredibly moist and yet subtle Gluten Free dessert options are also thoughtfully available.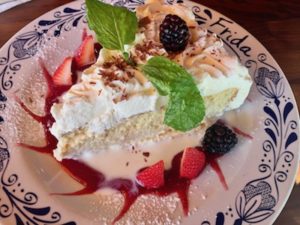 Frida Mexican Cuisine,under the direction of the Frixmex Hospitality Group has locations in Westwood, Sherman Oaks, Torrance and Cerritos. Fast-casual, sister Locations include Frida Tacos in Old Pasadena and East Pasadena, Brentwood and Westside Pavilion, Taco Libre in Santa Monica. For details, please see fridarestaurant.com,
Frida Mexican Cuisine, 236 S Beverly Dr, Beverly Hills, CA 90212, (310) 278-7666
The post Frida Mexican Restaurant: New California-inspired Menu, Old-fashioned Latino Hospitality appeared first on Local Food Eater - Find Best Ethnic Local Food Places | Clorder.