(Gerry Furth-Sides) Happy International Sachertorte Cake Day! Viennese Sacher Cake, also known as Eduard Sacher Torte is possibly the most famous chocolate cake of all-time. Apricot jam is thickly spread between a chocolate sponge cake cut into three layers, and on the top and sides of the cake. The Cake is then iced with a velvet-like chocolate and served with a side dish of whipped cream.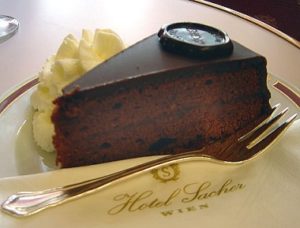 The Sachertorte was created by pastry chef Franz Sacher (1816-1907) in 1832 for Prince Clemens Lothar Wensel Metternich (1773-1859) of Austria, the Austrian State Chancellor. The prince enjoyed trying new dishes and ordered the chef to create a new cake. On this day, the head chef was sick, but Franz Sacher, a 16-year old apprentice cook created this famous chocolate cake with the ingredients that were available. The Sacher Torte and other recipes made him prosperous, and he operated several cafes and restaurant
But it was Franz's son, Eduard Sacher, who opened a grand hotel called the Hotel Sacher in 1876 which eventually became a national institution.
Franz Sacher Jr., a son of Eduard and his wife Anna, later sold his original recipe to the famous Demel's on the Kohlmarkt in 1965. Sacher's version has the layer of jam between two layers of the chocolate sponge. In Demel's version the jam is between the cake top and chocolate covering. I've enjoyed this delicacy at the beautiful art deco cafe- it puts you right back into luxurious head-of-the empire, Vienna.
These days, whipped cream has a rival: Truwhip. It is the only brand offering an all natural frozen whipped topping but with less fat and calories than original. truwhip original has 30 calories and truwhip light only has 25 calories and 2 grams of sugar in a 2 tablespoon serving.
The airy topping is fluffy and natural tasting, certainly not overly sweet. After it is unfrozen, it can be refrigerated.
Tru-Whip is sold in Sprouts, Whole Foods and we just saw it on the freezer shelf at Pavilions and Vons.
What goes with sacher torte? What about Cheese tea? Yes. You can find it at Little Fluffy Head Cafe, the newest boba shop specializing in this pairing of high-quality cheese and tea.
A surprisingly popular import that traveled from Asia to LA., it consists of a layer of decadent, creamy cheese foam paired with refreshing, sweet tea underneath (not shreds of cheddar or mozzarella floating in a cup of tea).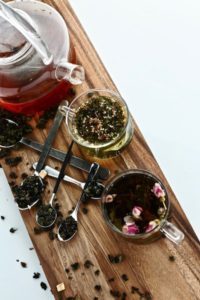 Founder Jenny Zheng is not surprised. She considered it so delicious, she left herBioengineering degree behind to open Little Fluffy Head Cafe, in the heart of downtown Los Angeles (203 W 7th St, Los Angeles, CA 90014).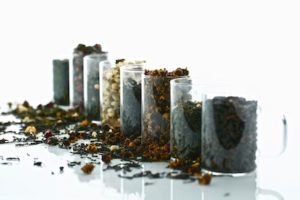 The staff at Little Fluffy Head Cafe ensures freshness by brewing all of their tea in small batches, rather than one big tank in the morning. For certain drinks, individual cups of tea are even brewed at the time it is ordered.
Little Fluffy Head Cafe's video helps explain cheese tea in more detail. The hot and cold drink menu includes flavors like sweet ginger and peach, and Jenny's newest flavor, Hot Rose Milk Tea.
The post Happy Sacher Torte Day with Tru-Whip Topping, Little Fluffy Head Cafe appeared first on Local Food Eater - Find Best Ethnic Local Food Places | Clorder.