Día de Los Muertos, Saturday, October 28th, 2017, NOON until MIDNIGHT at the Hollywood Forever Cemetery, this year features vendors from all over Los Angeles, offering Mexican flavors with a wide variety of styles and twists. just a few of the culinary vendors can be found below. For a view of details and the spectacular sights from last year, see the website: www.hollywoodforever.com.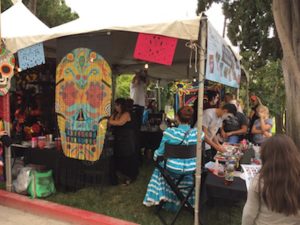 Tantalizing smells and children's activities at the front gate of the cemetery attract all eyes and noses in passerby cars to the face painting and vendor's sidewalk grills (above and below).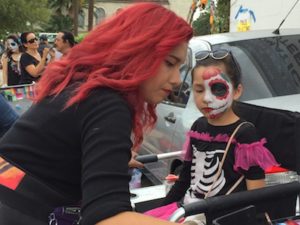 The Tamale Shoppe, established in Phoenix by mother-daughter team Patricia Mendoza Lugo and Irene Martinez is rooted in tradition that goes back three generations. Not surprisingly their joint love of tamales and family hospitality inspired them to create The Tamale Shoppe. The Day of the Dead has also been a long-standing tradition in the Mendoza family and has been their way of remembering and celebrating the life of Robert P. Mendoza, who gave them the gift of great cookery and love.
Romega Taqueria was founded in 2017 in Los Angeles, CA and is a branch of Romega, Inc. which is owned and operated by Chef Cameron Czekalla. Romega Taqueria specializes in authentic street style tacos while infusing flavor profiles such as American, Japanese, Mediterranean, French, and Korean
into our cuisine.
Aqualucha's mission is to make the best and most authentic Mexican drinks. All Mexican food tastes better with real aguas frescas (¡Sin Chingaderas!). Agualucha is a Latino beverage company owned and managed by Latinos (from México). We develop and sell Mexican style aguas frescas in ready-to-drink 15 oz. bottles. Our flavors are Mandarina, Jamaica, Limón, and Tamarindo. The theme of the brand revolves around Latino Culture, specifically Lucha Libre. We sell our products in Mexican restaurants, corner stores, events, and in taco trucks.
Pez Cantina is from the former Patina executive chef and co-founder of Milk Ice Cream Parlor, Bret Thompson. Pez Cantina is a sustainable coastal Mexican-style restaurant and bar serving the freshest sea-to-land dishes in an oasis-type atmosphere. Pez Cantina's menu focuses on dishes from the many distinct regions of Mexico, from Baja
and Oaxaca to the Yucatan Peninsula. Pez Cantina is located in Downtown, Los Angeles at 401 South Grand Avenue, Los Angeles, CA 90071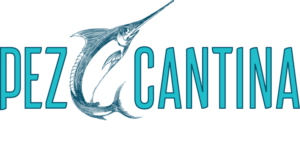 This year 18th Annual Dia de los Muertos, Hollywood "tips its feather and flower adorned hat to the Mexican artist Jose Guadalupe Posada" . Over 100 years ago, Posada gave us many of the foundational images of Dia de los Muertos that are still venerated today and which have become treasured images of Mexican culture and identity. J.G. Posada reminds us that art is power – political and social speech – mass produced by the printing presses and now social media.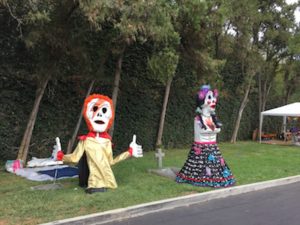 Posada's La Catrina asks us to embrace the beauty and grace inherent in facing our own death and the inevitable loss of those we love. By facing loss with love, and art, we find transcendence.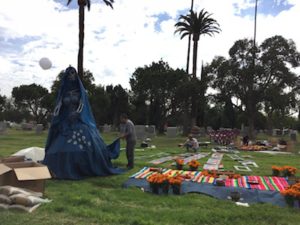 Saturday, October 28th, 2017: NOON until MIDNIGHT
The Ceremonial Altar Set-Up: Friday, October 27th, 2017 – 3pm onward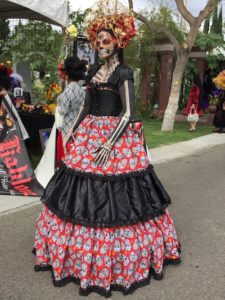 The post The Best, Biggest Día de Los Muertos at Hollywood Forever, October 28th, 2017: appeared first on Local Food Eater - Find Best Ethnic Local Food Places | Clorder.