Ik ben gek op tiramisu, het is een klassiek toetje die iedere Italiaan graag aanbeveelt. Maar hoe graag ik ook kook, dit had ik nog niet eerder gemaakt! Gelukkig mailde een familielid uit Italië mij dit recept. Het is de basis tiramisu, maar toch met een eigen draai. Naast een lekkere maaltijd ben ik ook gek op Licor 43.
Wist je dat Tiramisu "trek mij omhoog" betekent? Eigenlijk hetzelfde als "maakt mij blij", of "help mij erboven op". Dat lukte ook wel hoor, de tiramisu was verrukkelijk! Dit nagerecht valt ongetwijfeld bij iedereen in de smaak. De Licor 43 is natuurlijk optioneel maar geef 'm wel een unieke lekkere smaak. Zorgt er wel voor dat er niet teveel koffie in de lange vingers komt, dat zorgt ervoor dat het papperig wordt.
Veel mensen weten niet dat de oorspronkelijke tiramisu gemaakt werd op basis van masalwijn. Tegenwoordig is het met name Amaretto. Je kunt er in principe ook rum of cognac in doen, iedere drank geef een geheel eigen karakter aan de tiramisu. Gebruik je bijvoorbeeld limoncello of Tia Maria dan maak je het lekker zomers!
Deze ingrediënten heb je nodig
3 eieren
4 el suiker
300 gram mascarpone
1 pak lange vingers
1 kop sterke koffie
cacaopoeder
scheutje Licor 43
Zo maak je het
Splits de eieren door het eiwit en eigeel in een apart schaaltje te doen. Klop daarna het eiwit net zolang totdat je het schaaltje op de kop kunt houden, zonder dat het eiwit uit het schaaltje loopt. Zet het daarna weg in de koelkast.
Klopt vervolgens het eigeel samen met vier eetlepels suiker totdat het een luchtige massa is geworden. Schep daarna de mascarpone door het mengsel en voeg als laatst het eiwit toe. Giet de koffie in een bord en voeg hier een scheutje Licor 43 aan toe. Doop dan de helft van de lange vingers er stuk voor stuk door en leg ze op de bodem van een grote schaal.
Giet daarna de helft van het mengsel van mascarpone gelijkmatig bovenop de lange vingers. Herhaal dit met een nieuwe laag van lange vingers. De rest van het mascarpone mengsel kun je er nu bovenop gieten. Pak een zeef en bestrooi een ruime hoeveelheid van het cacaopoeder bovenop de tiramisu. Dek het daarna af en laat het minstens 8 uur in de koelkast staan.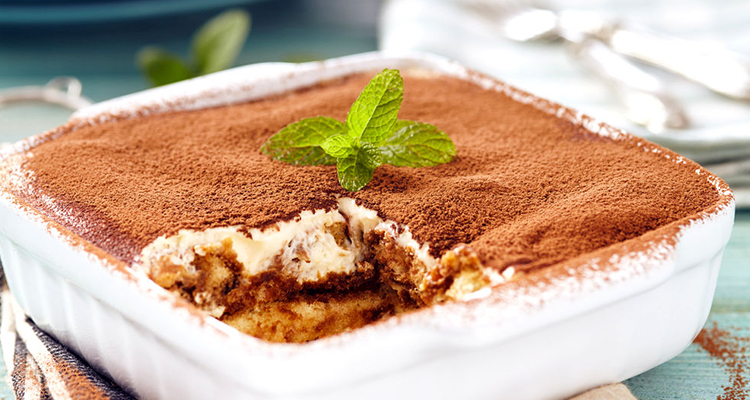 Je kunt de tiramisu het beste een dag van tevoren maken. Dan heeft het genoeg tijd om op te stijven!
The post De Echte Tiramisu Met Licor 43 appeared first on Lekkere recepten foodblog ✓ Lekkeremaaltijd.nl.