Regardless of whether you went through regular birth or c – section, it is very hard to get back to normal
Exercise
routine after childbirth. One thing that becomes glaringly obvious is when it's time to get back into a usual fitness routine. The nursing/sports bras are pretty sad and they usually don't fit breastfeeding moms properly. Don't even get me started about
Support
because I had to layer 3 different bras just to start jogging. My breast started to leak 5 minutes into my routine and my old bra didn't fit me because I am at least two sizes bigger. I immediately felt defeated before I even started.
New mothers are not looking for anything coated in lace, tangled in straps, or dripping with sex appeal, they are simply looking for a cute, stylish, and secure nursing bra for post-natal exercise or weekly mommy runs. This shouldn't be too much to ask for. Why should we settle for uncomfortable and unattractive?!
All of you that follow my blog and social media know that I have worked with several major brands repeatedly because I love the quality they bring to the table. This is why I jumped at the opportunity to review Reebook's New PureMove Bra! It was exactly what I needed at this stage of my post-natal fitness. I strongly believe that healthy mommies and healthy babies go hand-in-hand, as does a modern and functional design.
I have been putting on the Pure Move Bra for 2 weeks now for every exercise and it has performed exceptionally. It is both responsive and versatile enough to keep up with all of my activities through a groundbreaking new fabric technology. It's truly something I have not seen or felt before in a bra. Is this how Olympians feel like in their outfits?
Let's face it, there is a pretty bleak landscape for postpartum active-wear, but that doesn't mean we should settle for ordinary. The
Reebok Pure
Move Bra is available in 10 unique sizes – five more sizes than standard sports bra offerings. I am normally an M or L, but now that I am nursing XL fits me better. It is still very tight, in a good way (no one wants to look like a sack of potatoes while working out).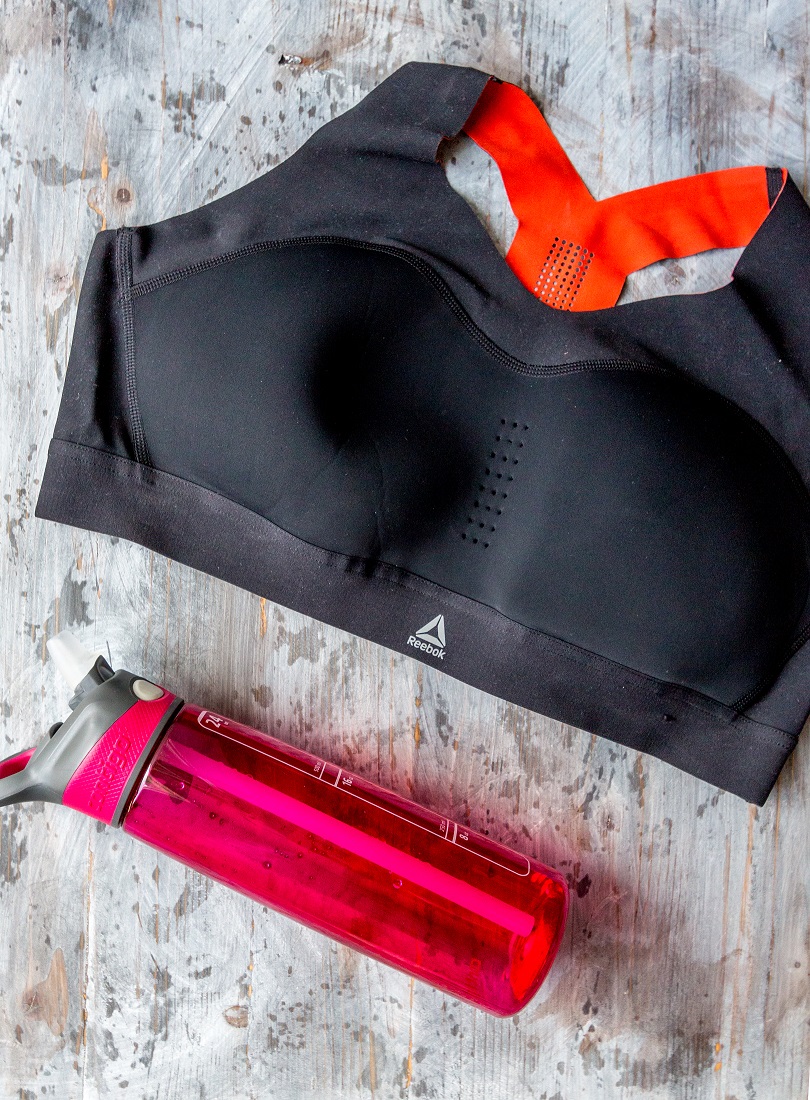 The bra comes in all black color with orange accents. It has molded front panel and free cut edges for a second-skin fit. The breathable perforations in front and back keep the body cool. Also, the fabric pulls away sweat. What I like the most is that the construction minimizes the bounce (run your heart out Momma, because your boobs are going to be pain free in this bra!).
To all the ladies who are not new momma's I have to point out that this is a high impact bra designed with responsive support: motion sense technology treated fabric that firms up more to support during heavy movements and less during low movements. It is for everyone who loves to do fitness and wants to feel good while doing it. Special shoutout to all the ladies with larger bosoms - THIS ONE IS FOR YOU! This bra is prices at $60, which I think is definitely on point when it comes to quality and what it delivers. It will last you a while and give you all the support you need during recovery or for training! It will grow with you and perform better as your strength and confidence returns to its original state!
You can purchase the braHERE ! It is a must!
Disclosure: I was gifted this product, but all views are my own.