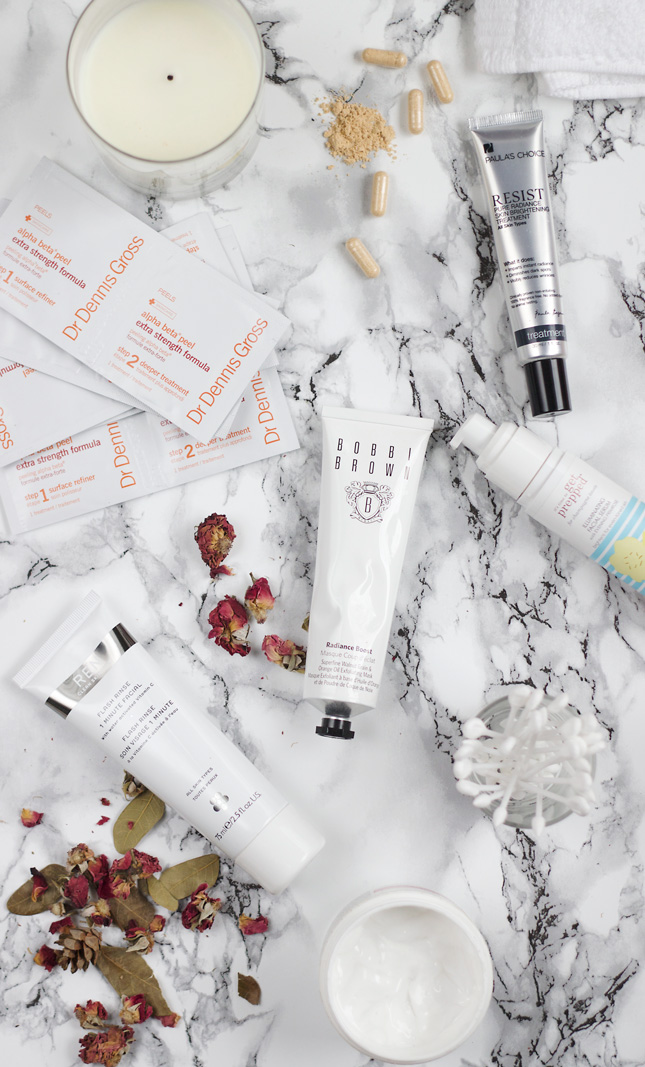 Do you feel like your Skin has lost some of its luster?
Cold weather, poor diet, high stress levels, lack of sleep- all of these things can affect the way your skin behaves. Thankfully, there are some some awesome beauty products that can help you get that gorgeous, radiant complexion.
And speaking of stress levels, what did you think of Sunday's episode of TWD? Are you a fan? I was on my knees, crying, cheering, screaming (pretty sure my husband is now certain that I'm out of my mind) and I still don't know how to deal with all the feels.
Right…. now let's talk about some of these skin-transforming gems.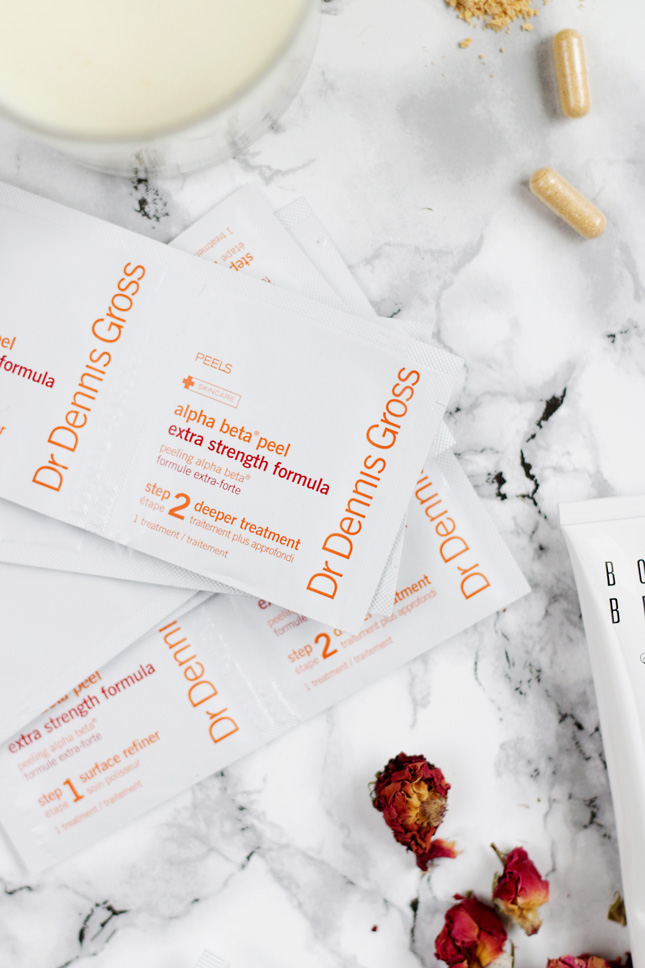 DR. DENNIS GROSS ALPHA BETA PEEL
Scrubs, like a lot of things in the skincare world, do have their limits: they only treat the top layer of skin and unfortunately, most of the trouble-making build-up cells are way beyond their reach. Chemical exfoliants, on the other hand, dissolve the bonds and intercellular cement between skin cells, allowing it to ease away. Alpha Hydroxy Acids (AHAs i.e. glycolic acid) and Beta Hydroxy Acid (BHA- salicylic acid) are chemical exfoliants that are most commonly used in skincare. Dr. Dennis Gross Alpha Beta Peel (Extra Strength version) is one of my favorite skincare products, of all time. Clogged pores, dull tone, hormonal breakouts and most importantly, acne scarring, are only few of the things that this product has helped me with. Immediately after the application my skin feels incredibly soft and smooth and I can just feel my other skincare products absorb a lot deeper into my skin. Even though I use the "extra strength" version, I have never experienced any discomfort after using this peel.Being an amazing product that this is, it's quite pricey. There is a great drugstore alternative for these, although not as intense: St. Ives Exfoliating Pads with a natural AHA complex. Sadly, these have been discontinued (seriously, why does this happen to so many wonderful products? I don't get it.) but I've stocked up on these and you can still find them on Amazon right here.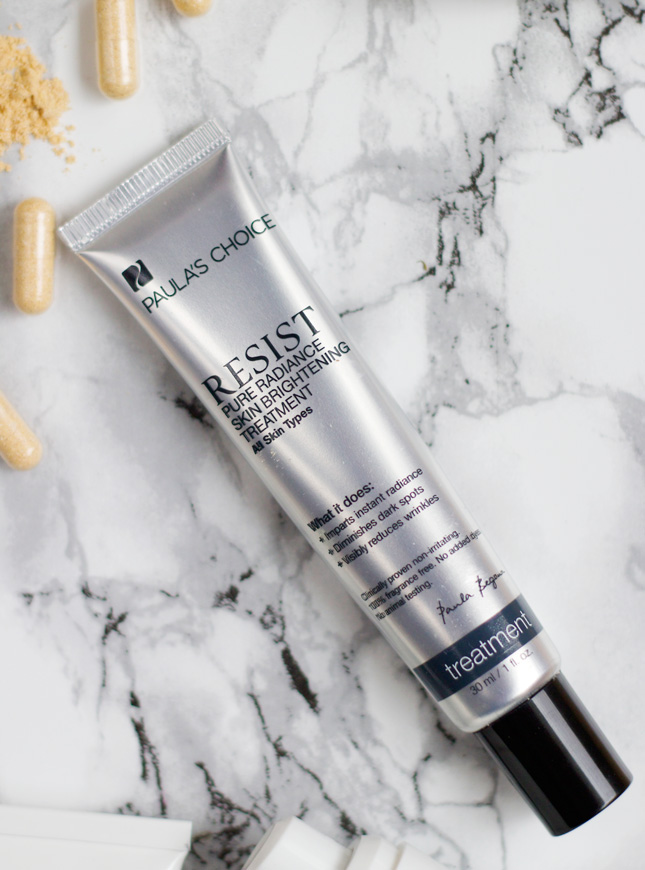 PAULA'S CHOICE RESIST PURE RADIANCE SKIN BRIGHTENING TREATMENT
Formulated with proprietary complex of proven vitamin- and plant-based ingredients that fade brown spots and refine skin tone this brightening treatment will give your skin radiant and youthful appearance. This product leaves your skin feel extremely smooth and you will notice it look brighter immediately after use. I love that it's fragrance-free and doesn't irritate my skin.
FREEMAN ILLUMINATING FACIAL SERUM WITH EVENING PRIMROSE
This is another great option if you're on a budget. It's hydrating and smoothing at the same time and leaves your skin looking healthy and dewy. Formulated with Orange Blossom it also helps to brighten age spots and post-acne hyper-pigmentation.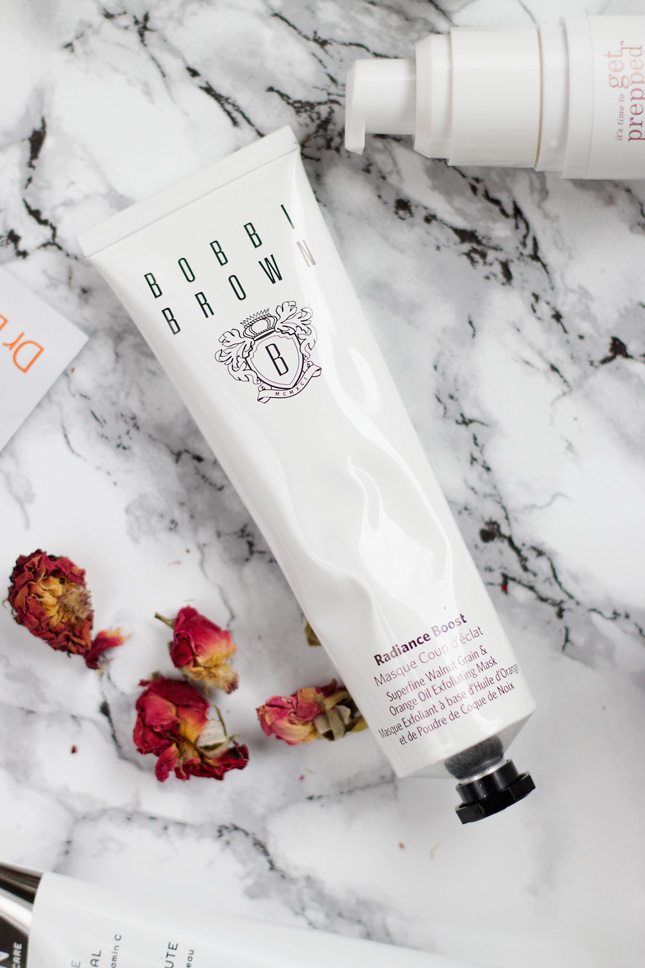 BOBBI BROWN RADIANCE BOOST MASQUE
This is a new product from Bobbi Brown and I fell in love with it right after first use. It's great for when you need something that's a bit of a quick-fix- it's brightening and exfoliating. It's an instant boost for glowing skin it gently smoothes, re-texturizes and softens skin to reveal a more even, fresh-faced glow. It's formulated with absorbent Kaolin Clay and moisturizing Algae Extract and Sodium Hyaluronate that reduces excess oil while balancing skin's moisture levels. A light, energizing touch of Orange Oil is an extra wakeup call for tired, dull skin and it has a that fresh, energizing orange scent. I also love that this mask works in 2-5 minutes, which is perfect for someone like me who can get a little impatient when it comes to face masks. Serums and moisturizers apply like a dream after this!
REN FLASH RINSE 1 MINUTE FACIAL
This is is an express treatment that is formulated with water-activated Vitamin C that reduces small skin imperfections and turns dull-looking skin to a bright, toned and smooth complexion. I love that this works quickly and brings such great, instant results. If you have sensitive skin though, I'd either stay away or do a patch test- this product does make your skin *tingle* and might cause slight discomfort. Love using this stuff on my face, but avoid using it on my neck as recommended, because that's where my skin is very delicate and sensitive.
STUDIO 35 AHA CREAM
Having an acne-prone skin means that I have to deal with post-acne hyper-pigmentation and AHA products seem to work the best for me when it comes to fading those. One of my all-time favorite AHA moisturizers is Acne.org AHA which contains 10% Glycolic Acid but Studio 35 AHA Cream is probably one of the best budget-friendly products I've ever come across- you can find it at Walrgreens for about $10.00. It contains 8% Glycolic Acid. It's a thick cream that absorbs quickly into the skin. I apply a thick layer every other night and always wake up with my skin looking bright and feeling supple. On days when my skin feels extremely dry, I top this off with a very thin layer of vaseline at night and wake up to bright, glowing skin.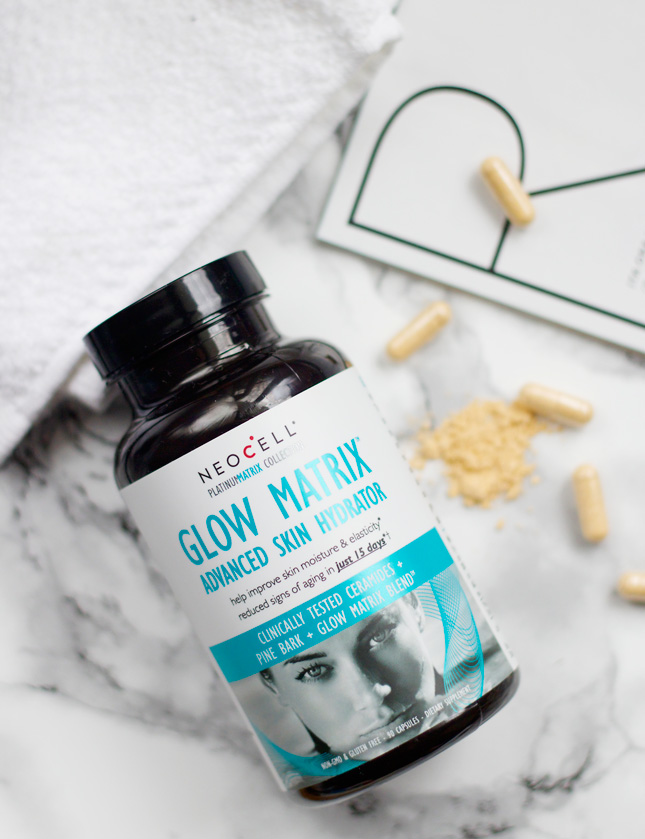 NEOCELL GLOW MATRIX*
The only skin supplement that I've been taking religiously for years now is Omega 3, but for the last couple of weeks I've also been taking these Glow Matrix* supplements and I love them. Ingredients include: Vitamin A as blend of Palmitate Beta Carotene (5000 IU, 100%), Vitamin C as blend of Amla Extract Ascorbic Acid (60 mg, 100%), Vitamin D3 as Cholecalciferol (1000 IU, 250%), Vitamin E as mixed tocopherols (60 IU, 200%), Vitamin K2 MK7 (200 mcg, 250%), Vitamin B2 as riboflavin 5phosphate (25 mg, 1471%), Vitamin B6 as Pyridoxal 5Phosphate (10 mg, 500%), Selenium as Selenomethione (50 mcg, 71%), Glow Matrix Blend (689 mg), Coconut Water (500 mg), Hyaluronic Acid (100 mg). I noticed that after about two weeks of use my skin started to feel hydrated, plump and looks brighter.
In addition to good skincare, you also have to pay attention to your diet if you're after that gorgeous, radiant skin. Avoid sugared drinks (soda, juices) stick to water and make sure that your diet is rich in Omega 3 Fatty Acids.
*PR sample/gifted item
The post How to get seriously radiant complexion- 7 products that will revive dull skin appeared first on Thirteen Thoughts.