Last Wednesday was the last day of school for our kiddos. Remember when I wrote about summer childcare options? We ended up going the babysitter route for MWF during the summer so I'll still have some extra time with the girls to go to the zoo, library, parks, pool, etc. etc. etc, but I'll also have some dedicated work days. I'm hoping the mix will work out well.
When the girls' last day of preschool rolled around, I was kind of at a loss. I would have loved to do some Pinterest-worthy Craft, but that was in the middle of all the Rocky stuff and I simply lacked the time/energy/focus to do anything super fancy or nice.
Quick craft to the rescue! (Am I getting good at these last-minute crafts, or what!?)
We made two crafts; one for each of our two teachers. One said "Thank You" and the other said "We'll Miss You" (because one is actually moving away and the other we'll see again next school year).
I wrote out the message in dotted lines, then the girls traced over it, and then I wrote a really nice and heart-felt message on the back. I also bought $20 gift cards for each teacher (the most I've ever bought before!) because our preschool costs were lower this month (since we were gone for a solid 1.5 weeks last month for the cruise), and because they really deserved it. We had a couple issues this year that I haven't talked about on the blog just out of respect for our kids' privacy. Nothing crazy, but some general adjustment stuff as I started working full-time for the first time since their birth. Our teachers were just amazing and really acted as extensions of our family. I'm truly so thankful for them!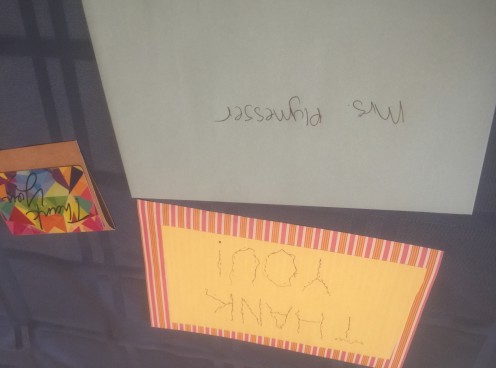 Regarding these quick little crafts, I'll tell you the best buy I've made was a box of these colored oversized envelopes (they sell plain white, but since I use them mainly for mailing crafts back to family in Texas I wanted some fun colored envelopes). I bought the box last year so I can't remember how much I spent (probably $3?), but I use them for EVERYTHING! When you're sending pictures/crafts through mail, you don't want to use a regular envelope where the picture will have to be bent to fit. Having these larger-sized envelopes has been clutch! I love them!
So I simply use some scrapbook paper cut into rectangular shapes (to fit the envelope) and a piece of solid-colored paper to glue on top. Color a picture on the front (or trace words, or whatever other craft idea you have), and write a message on the back. BAM! Done!
What do you do for an end-of-year teacher gift?
As it's Memorial Day today in the U.S., I'd also be remiss if I didn't take a moment to thank those who have served or are currently serving our country – particularly to those who have given the ultimate sacrifice. I also want to extend a special thanks to our Service men and women's family members! I cannot imagine how tough it must be with all the frequent relocations, deployments, etc. THANK YOU!!!