Hi friends! Hope you're having a good week! Any fun frugal plans this weekend? Our local children's museum is doing an Art After Dark event totally FREE on Saturday night that I'm thinking of taking the girls to. I say that….but one of them was sent home from school today sick (she's got a low-grade fever and is just acting a bit sluggish. We haven't been hit with the flu or any serious illnesses this season so I'm crossing my fingers this is just a random quickly-passing bug and not something worse)… So, I guess we'll see how the Weekend goes. 😉
I know it's a bit delayed, but I also wanted to share something super awesome that we did last weekend! Our kids' school held a Daddy-Daugther Dance that our kids attended with hubs last Saturday.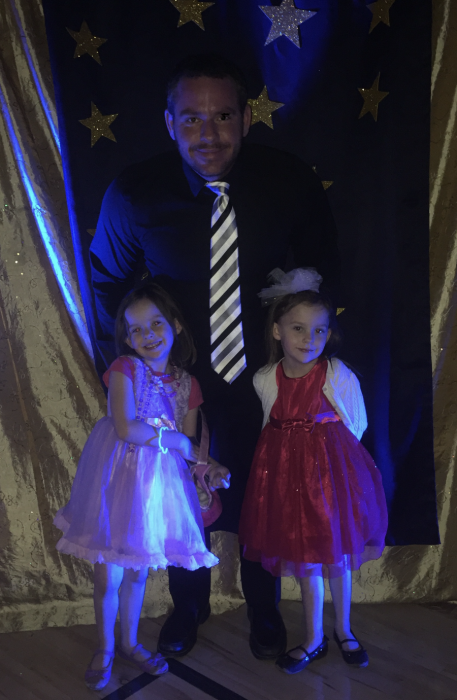 It was, I believe, the FIRST time in the 5.5-years since having children, that I have had an entire night HOME ALONE with the whole place to myself! I mean, hubs and I have had date nights out alone together, I've had nights home with the kids when hubs' is out, and I've had nights where I've traveled for work so I've been alone in a hotel. But all that is different than having an entire night to myself in my own home with no kids or anyone around!
LOL!
I had all these big plans for things I was going to do and, in the end, the 2.5-hours passed faster than I could have even imagined! But the kids came home with huge smiles and dad was proud to get to show them how to be treated on a date (welllllll….except we hope they don't grow up to go on dates with more than one female-to-male ratio, lol).
Everyone wore clothes they already had (no new purchases), and the ticket purchase went to benefit the PTO ($25 for all 3, event included food and entertainment.) Not a bad way to spend $25.
Anywho, I hope all are well! I have a post in the works to lay out all of our 2018 Financial Goals. But in the meantime, I wanted to pop in and tell you about our weekend!
Do you have any favorite frugal weekend activities? Some of our favorite FREE fun includes: hiking, biking, going to the park, going to the neighborhood pool, just playing outside in the cul-de-sac. 🙂
The post Daddy-Daughter Dance appeared first on Blogging Away Debt.