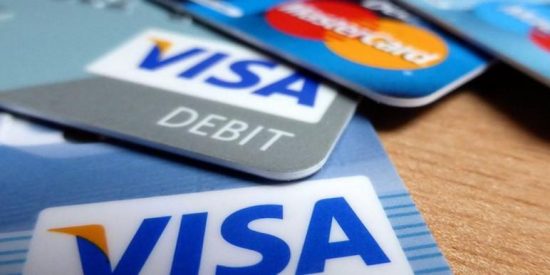 Finance can be boring, and the perception is that money management is challenging at the best of times. Fortunately, there are ways to take control of your financial situation so that you can sleep better at night. A few statistics are necessary to understand precisely how important effective money management is nowadays. Credit card Debt is at record levels in the United States.
In August 2017, reports started surfacing about US credit card debt exceeding $1 trillion. This debt is known as revolving debt, and you're paying interest on your interest. The Federal Reserve released data indicating that outstanding revolving credit debt (June 2017) amounted to $1.021 trillion. The last time debt reached such levels was in April 2008 during the global financial crisis.
Credit card utilization is not inherently a negative, or ominous for the US economy. In fact, credit utilization boosts spending, encourages economic activity, and results in higher GDP. There is of course a caveat: The debt needs to be managed effectively in order for it to provide sustainable economic growth.
Reviews conducted by CreditLoan.com confirm that debt to income ratios need to be as low as possible to remain manageable. The pressures on US households increase as the DTI ratio rises. Acceptable debt to income ratios will vary from one individual to the next, but experts caution that the lower the number the better.
Mortgage brokers typically accept applications with debt to income ratios as high as 43%. This percentage is particularly important. It is calculated by adding all monthly debt-related payments, and then dividing that by the gross monthly income figure. Lenders use this ratio to gauge an individual's ability to repay money.
When borrowers have high debt to income ratios, they are more likely to default on their repayments. The 43% figure is typically the limit when it comes to receiving a qualified mortgage. Small creditors with under $2 billion in asset value and less than 500 mortgages approved in a year will stick to the 43% figure.
When these ratios are low, the risk to the lender diminishes, and the likelihood of being approved rises. They prefer clients who have a debt to income ratio (DTI) of less than 36%. Many expert financial advisors try to get their clients to reduce their debt levels to a maximum of 30% of their income levels to be on the safe side.
Debt Riddled or Debt Manageable?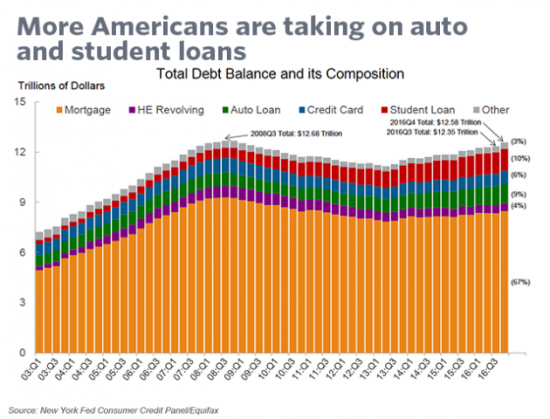 In the United States, credit card debt has been increasing at 4.9% annually. In Q1 2017, some 171 million customers across the country had access to credit cards. This figure has been increasing year on year. There has been a shift in the way that lenders are allocating credit facilities to individuals today. In the past, more people would have received higher limits on their credit cards, personal loans, business loans and other lines of credit. Today, large numbers of people are enjoying credit card privileges, but at lower spending levels.
This is part and parcel of the rules passed by the Obama administration to deal with the global financial crisis that erupted in 2008. In 2017, total household debt finally exceeded the record high levels of debt from 2008. Among the fastest-growing debt in the country is Student Loan Debt and mortgage-related debt. However, the importance of credit card debt cannot be understated. Since many more US citizens and permanent residents are racking up automobile debts, student loan debts and mortgages, the overall debt burden is now growing. Statistics indicate that mortgage-related debt remains the largest component of overall household debt.
A recent report in the Washington Post found that the sheer burden of student loan debt has delayed homeownership for 7 years. According to the National Association of Realtors (NAR) in tandem with America Student Assistance (ASA), the imposing burden of $1.4 trillion worth of student loan debt is creating a financial quagmire for millennials. The far-reaching implications of student loan debt are impacting future generations by delaying big-ticket purchases. The average student debt is now $41,200 – $2,400 more than their average annual income.
Millennials have been complaining of rising debt levels for quite some time, and the oppressive burden of student loan debt is delaying their quest for homeownership. Since down payments are required on real estate purchases, high student loan debt makes it difficult to come up with these funds. Once again, the vaunted debt to income ratio comes into the reckoning. Since lenders want borrowers to have a maximum DTI of 42% – 43%, millennials are in trouble. This ratio is adversely affected by high student loan debt.
Overall, some 86% of people surveyed have sacrificed to make their student debt repayments. For example, millennials are not getting married at an early age, since this constitutes a high cost. Further, they are not continuing their studies at postgraduate level since this would add additional burdens to their student loan debt. Perhaps the most shocking revelation of the recent study is the fact that students are not contributing to their 401(k) retirement plans since they simply don't have the funds to do so.
Auto Loans and Credit Card Debt: The Shifting Burden
Credit-related concerns are evident in other sectors too. Some 67% of US automobile leases or purchases were financed through loans. This places a tremendous burden on the average consumer, since auto loans come at high interest rates. Additionally, more elderly people now shoulder the debt burden than ever before. People 60+ years of age accounted for some 22.5% of overall US household debt heading into 2017.
By comparison, that figure was just 12.6% back in 2003 and just 15.9% at the time of the global financial crisis. Older people are also racking up greater balances on their credit cards. As more elderly people incur rising credit card debt, their quality of life may be adversely affected due to a diminished savings ability. On a positive note, most people holding debt in the US today have a credit score higher than 760 (41.3% of total debtors).
The post The Most Effective Ways to Manage Your Credit appeared first on Blogging Away Debt.