When I think about Christmas time growing up, one of the things I think about the most is just the appearance and festivity of all the beautiful decorations. The twinkling lights, holiday music, and all the handmade decorations. My grandfather took up carpentry in his retirement and hand-made a ton of the decor used in my parents' home.
I inherited one piece of handmade Christmas decor (tree below), but most of what we own we've had to acquire slowly across time.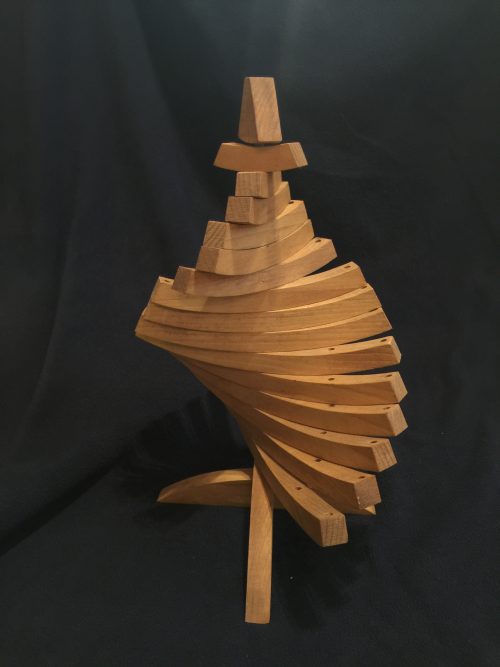 Our house was pretty sparse for many years, as we've accumulated very slowly. And although our house still isn't "decked out" like many others, I think its quite lovely. The best part? Most of what we've acquired has been extremely inexpensive!
We have relied on Dollar Tree for lots of cheap holiday decor. I was laughing the other day at our totally "decked out" towel rack. Check out all those holiday towels!!!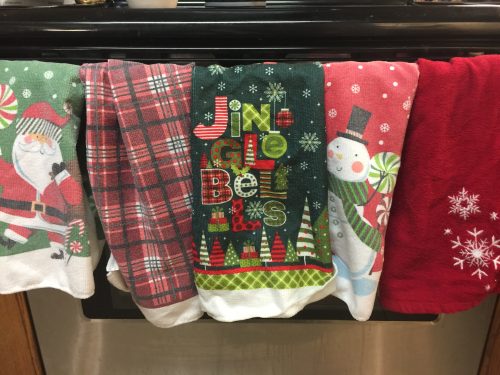 Most of our towels have either been gifted to us (my MIL likes to gift holiday towels) or have been purchased for a buck at Dollar Tree. Even though they're cheaper material, they last because we only use them seasonally. Once Christmas time is over, I take the towels and put them up with the Christmas decorations. We don't wear them out all year long, so they last for several years.
Even our hearth is Dollar-Tree made (note – this is not a sponsored post or anything; I just love DT!). All of our stockings are the classic red/white trim, a buck a piece from Dollar Tree. And we have some beautiful garland that looks $$$ but only cost $15 from Costco a couple years ago. Hubs inherited some nice pieces from his parents, including a vintage nutcracker and a ton of Christmas ornaments.
I love passing on some of the fun and "feeling" of Christmas to our kids. Everything is so magical to them at this age and it really makes holidays the best!!!
Does anyone else love Dollar Tree holiday decor? Any other cheap holiday decoration tips?
The post Cheap Christmas Decorations appeared first on Blogging Away Debt.