Harrison Ford is a lucky man.
Actor Harrison Ford recently lost his credit card at a beach resort near Sicily, Italy. A tourist found the card, saw the Hollywood star's name, and handed it to the local police station. The police contacted the actor and handed over the card to him.
Not all of us can be like Harrison Ford.
Applying for a new credit card or reapplying after losing one could mean taking the snail's route. Each card issuer takes different periods to deliver a physical credit card to customers. White credit card approvals can be quick; it takes several business days to mail a physical card to the customer. If you need a replacement credit card because yours was stolen or lost, there may be a fee for replacement and expedited shipping.
You have to fill out an application, mail it, then wait for the credit card company to receive your application, review it and send the approval decision back to you – The snail route.
Imagine the ordeal of losing your credit or debit card in a foreign country. The manual process can slow things down by a few days or even weeks, depending on the company's review policies.
What are virtual cards?
How do virtual cards work?
In every physical card, there's account information encrypted within a chip. Upon swiping the card to finish a purchase, the data is securely passed to the point of sale machine. The machine then gives the data to the bank to complete the transaction.
Similarly, in a Virtual card, the details such as name and account number are converted into a random alphanumeric hashcode called 'token.' The transaction is approved after verifications. The transaction is entered into the account statement post-checkout, similar to a physical card payment.

How Virtual Cards work
How easy is it to get a virtual card?
Download a Card BNPL app, complete KYC, and get a credit limit in less than 10 mins!
It gets only as simple as that.
Take Slice, for instance. Once you sign up on the Slice app, you can receive a virtual credit card instantly on the app and opt for a physical card. Unlike traditional credit cards, where the interest clock starts ticking from the first billing cycle's payment date, this Buy Now Pay Later (BNPL) app allows users to postpone payments for three months at no extra charge.
An example of virtual debit cards would be Zigii – Users can load money as desired, depending on their KYC. The virtual debit card works like any other debit card, offline and online.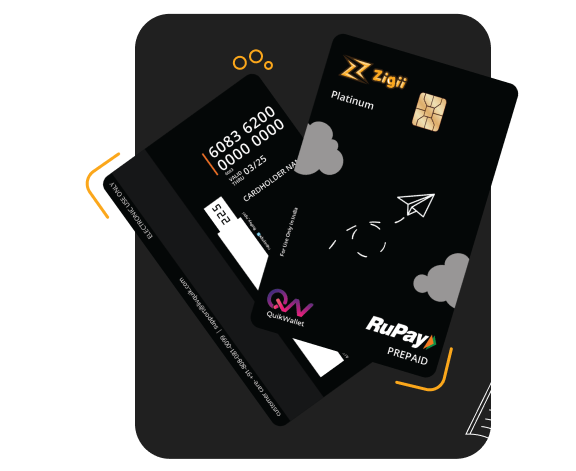 Zigii Virtual Card
Advantages for businesses & consumers
Organized spending
Virtual cards allow businesses to organize spending and align it to business goals and budgets. Companies can assign virtual card numbers to specific employees or merchants and manage budgets securely. Virtual cards are a simple solution to opening several business accounts or providing multiple physical cards to different stakeholders. Consumers can make quick and easy payments through phones without the hassle of passing around a card.
Fraud protection
Customers who use co-branded virtual cards reduce the fraud impact on a business. Some virtual cards are only for specific merchants; this way, fraud on that card cannot occur outside the merchants. If fraud is reported on co-branded virtual card numbers, the specific virtual card number is blocked while other virtual card numbers continue to work. Virtual cards do not carry magnetic strips and visible card numbers, making them even more secure.
Subscription management
Business users can manage online subscriptions through virtual cards. When you set up virtual cards for each of your subscriptions, you can easily see if a merchant overcharges and cancels the card. Users can manage multiple free trials or take a free trial without being charged post the period.
Convenience
As compared to physical cards, co-branded virtual cards are hands down convenient. Consumers can make quick and easy payments through phones without the hassle of passing around a card. Also, there's never the hassle of lost or misplaced cards.
How can Decentro help create your virtual card?
Decentro provides a single powerful platform to issue virtual cards & is already integrated regulated/financial institutions such as 1) NBFCs, 2) Banks, 3) Card Networks 4) PPI issuers.

Card issuance and management
Our full-fledged APIs for card issuance enable fintech brands, NBFCs, gig economy players, neobanks, and any other business to launch their own co-branded virtual cards.
Businesses can instantly issue secure co-branded virtual cards that are safe, fully compliant with RBI's and PPI guidelines, and have the backing of stable regulated institutions. The bank acts as the license holder for the PPI or Prepaid Payment Instruments at the backend and for managing any audits, reports, and more with the regulator.
Decentro's card issuance platform also takes care of all the reporting to and from the banks.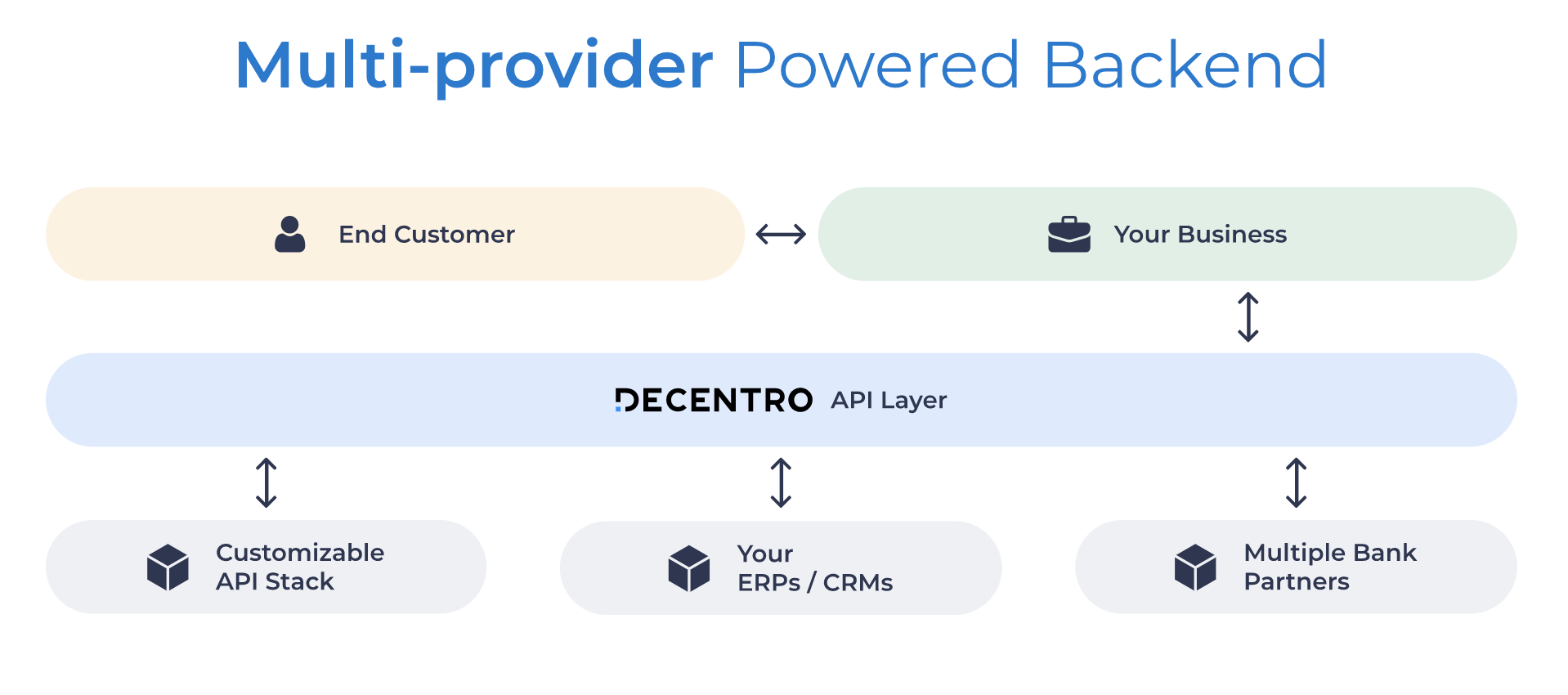 Decentro Card Issuance Flow
All-in-one KYC APIs
Decentro's all-in-one KYC APIs enable comprehensive background checks on customers before approving their eligibility for credit. The KYC APIs help verify identity via Aadhaar, PAN, income data, CIN, DIN, behavioral data, negative lists, etc.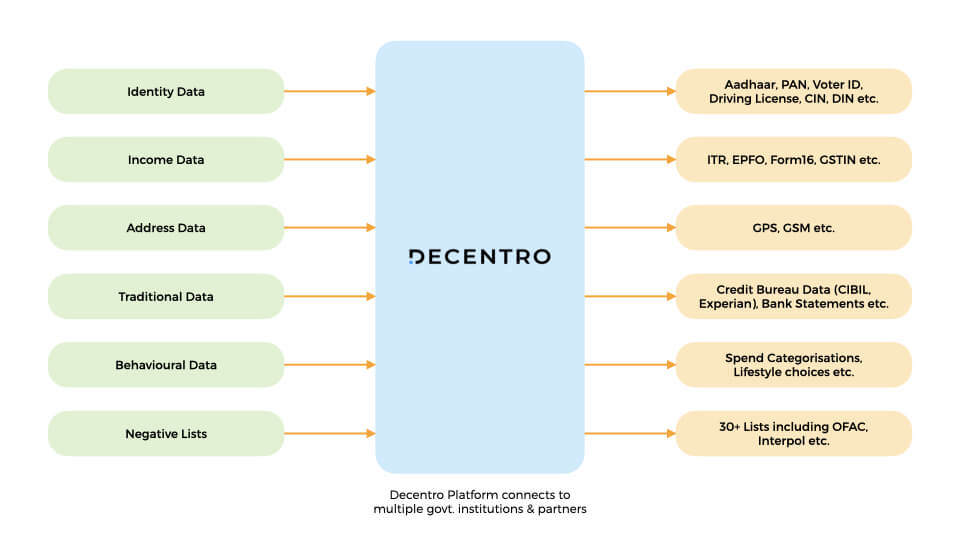 Decentro's All-in-one KYC APIs
Additionally, with our CKYC APIs, businesses can prefill customer onboarding information to save time, and drastically reduce fraud instances.
The Decentro edge
Dedicated dashboard to track and monitor spending on virtual cards.
Complete compliance checks from start to finish.
Integration with multiple bank partners.
Reload virtual cards quickly via NEFT, RTGS, IMPS, or UPI.
Reconcile card transactions in real-time to save time and effort using virtual accounts.
Create and issue new virtual cards as needed.
Easily deactivate old virtual cards that are no longer required.
There's a growing importance for lending and virtual cards in the economy. Are you looking to launch your virtual cards and unlock new revenue streams from existing products? We at Decentro want to be part of this revolution with you.
Signup to speak with our in-house experts on how you can create a virtual card program! Questions? Feel free to write to us at [email protected]; Now's the time!
The post Virtual cards – The hidden power tools for businesses and consumers appeared first on Decentro.