If Shakespeare or any Rennaisance writer were to describe the buy now pay later scheme, what do you think would be their definition?
Thou art can't pay now? No worries!
But what thou hearts will, pay thou shall at will!
Before we go any further, my apologies for a feeble attempt to reconstruct what these great souls have given the world.
Renaissance or otherwise, we know the charm behind Bnpl. A super-smooth payment experience, easy credit without excruciating efforts for procurement, flexible repayment efforts, among others. The numbers speak for themselves; just take a look below
India's BNPL or Buy Now Pay Later market is estimated at $3-3.5 billion today but could potentially grow to $45-50 billion by 2026, according to consultancy firm RedSeer. The firm also estimates that the number of BNPL users in the country may touch 80-100 million by 2026 from the 10-15 million estimated currently.
But before that,
What is BNPL?
Buy Now Pay Later is a financial offering that helps consumers purchase a product without paying the amount upfront. This arrangement offers an extended period for repayment that makes purchase decisions easier for customers and lowers their hesitation significantly.
Today, let's look at the top and upcoming BNPL players that are already or getting ready to disrupt the space.
P.S. As is the case for all our listicle blogs, we aren't ranking these BNPL platforms, just curating the list for you!

We do understand that this isn't an all-encompassing list of buy now pay later platforms in India. So, stay tuned; we'll keep updating this list with more players in the future! If your company is not covered, please reach out and we'll be happy to incorporate this.
We've segmented the platforms into different categories for your ease! Hope it helps.
Card-based BNPL Platforms
These players provide a prepaid payment instrument, a card, for consumers to pay, avail credit easily, and pay at a preset, convenient time. A prominent use-case includes POS payment using cards.
UNI Cards
UNI cards, or the Pay 1/3rd Card as it is called, is a card-based BNPL app that allows users to split their transactions into three installments, over a period of 3 months, at no extra charges.
If the user opts to pay the entire amount at one go within a month, the app also offers 1% cashback.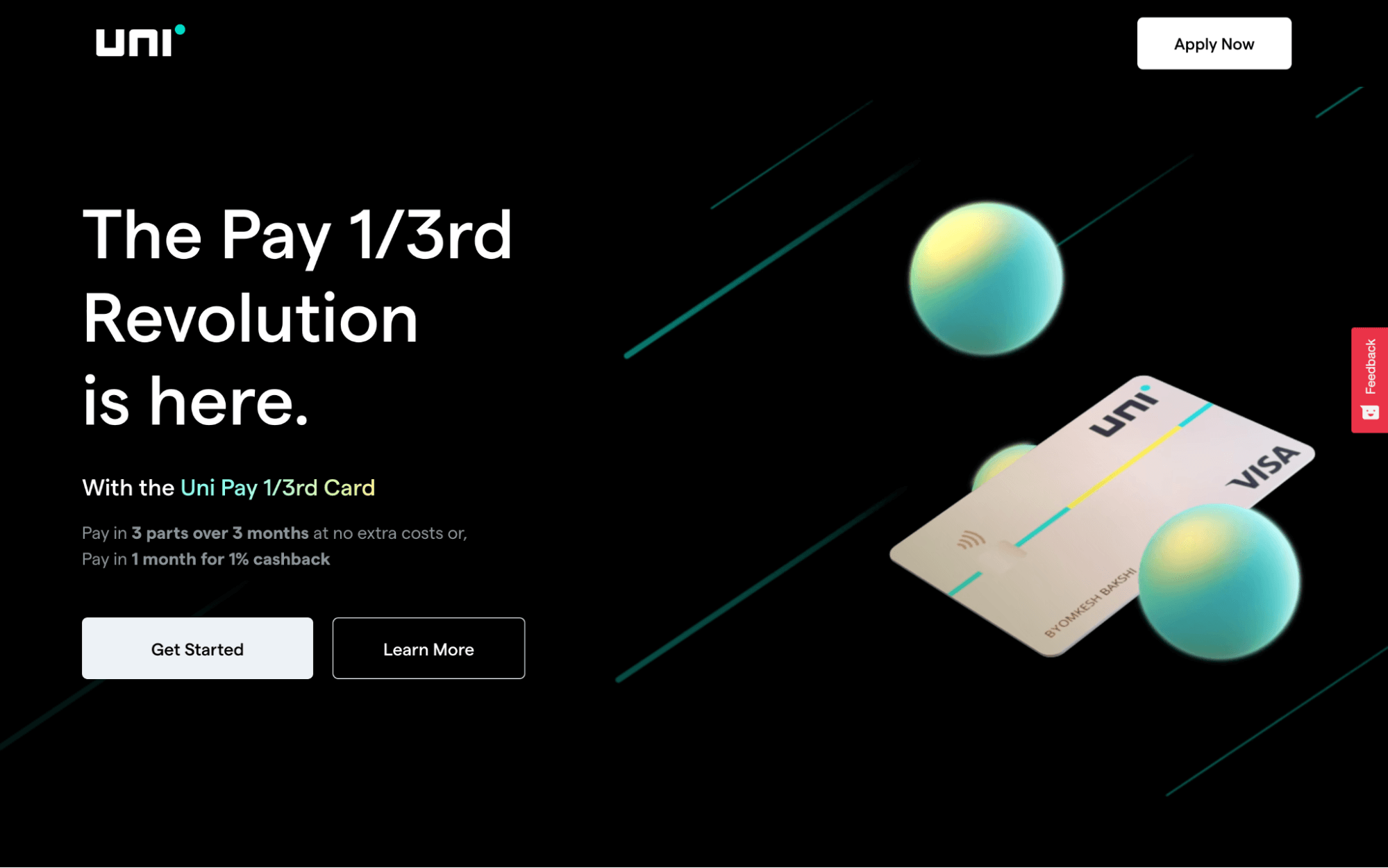 UNI offers both physical and virtual cards that can be used for both online and offline purchases. UNI has waived joining fees and annual charges for early customers as a limited offer.
According to Uni, since its beta launch in June 2021, the BNPL app has amassed 12,000 customers along with 80,000 downloads.
Slice
Slice is a fintech that provides credit to users who have no prior, impeccable credit history without hassle. This BNPL app is one of India's finest credit card challengers to pay bills, manage expenses, and unlock cool rewards. Slice currently has about 7 million registered users.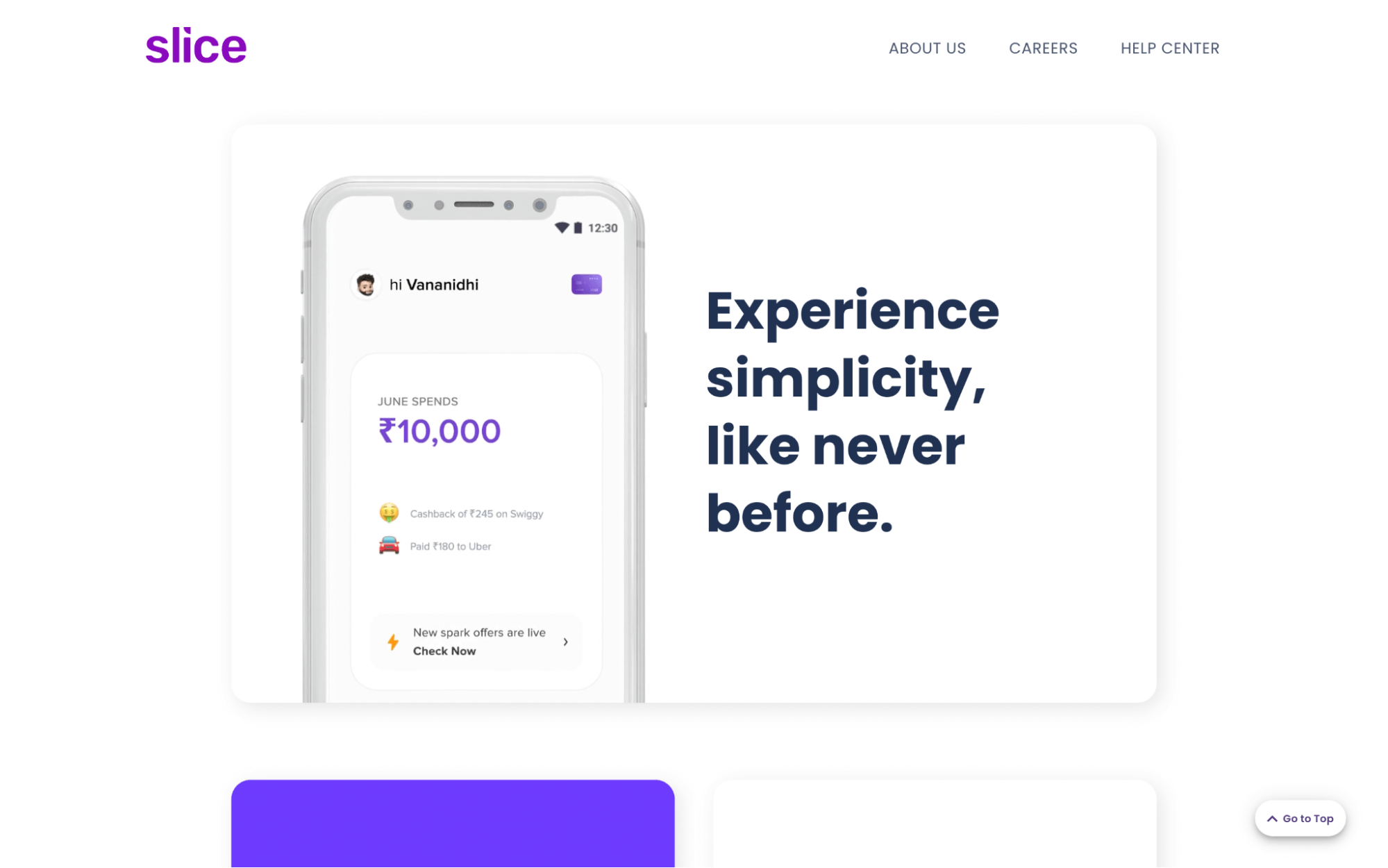 Slice offers a zero-fee BNPL card and comes with no hidden charges or annual fees. It also offers the feature to split bills and pay within 3 months, at zero interest or extra charges.
In addition, Slice offers up to 2% cashback on each transaction.
PostPe
PostPe is a BNPL platform, part of the parent company BharatPe. Users can download the PostPe app, available on Play Store, and get started easily. After KYC verification via PAN & Aadhar cards verification, users get spending limits based on their credit scores.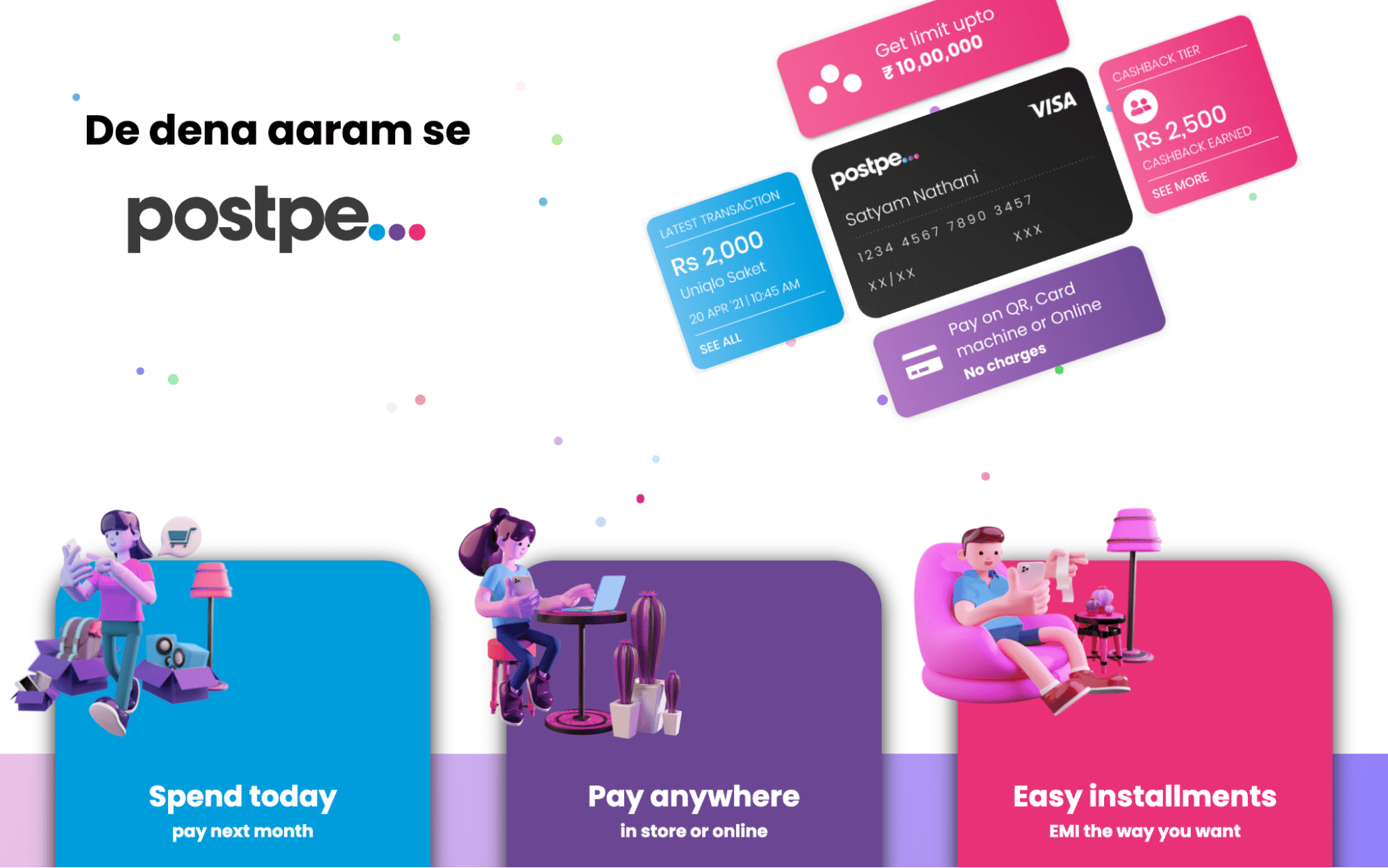 The platform offers a Credit Limit of up to ₹10Lakh and comes interest-free for both macro & micro-purchases. The BNPL service can be availed either via Q.R. payments, card-swiping, or any online payment.
Users can easily track transactions, due dates, credit limits, and more with a dedicated dashboard. PostPe offers personalized cards, and users also get to win cashbacks on transactions.
Shop offline and Pay Later
Freo Pay
Freo Pay offers its customers up to Rs.6000 to shop now and pay later. Customers can scan any QR code in stores and the app makes the payment instantly. Customers enjoy the convenience of clearing their dues after 30 days at Zero interest. The app is used in 1200+ cities in India today by customers for their daily shopping needs.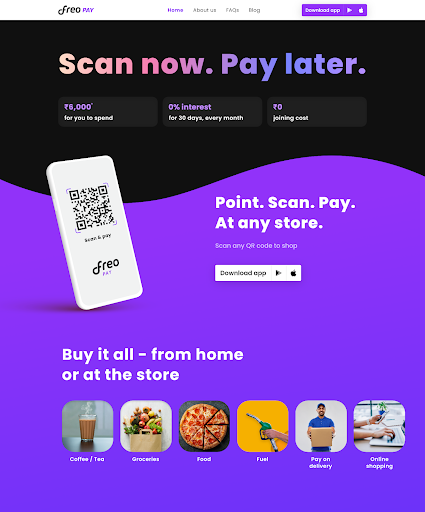 Aspire
Aspire is India's Digital Credit Card. Aspire provides lower-income and self-employed customers a fair and transparent path toward financial services. Their target market is ~100 million users who might not qualify for a traditional bank credit card.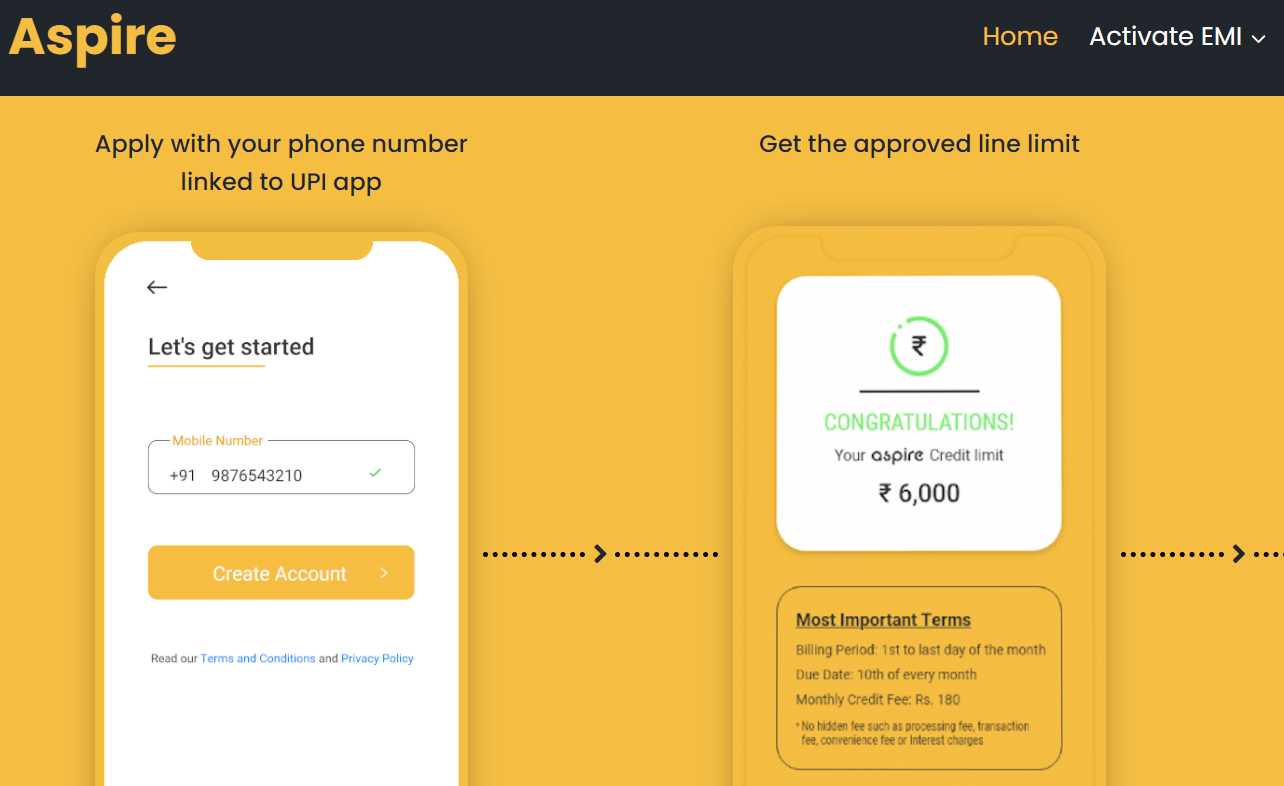 Mobikwik Zip
MobiKwik ZIP is a small credit offering with a credit limit up to INR 30,000. ZIP users pay bills, shop for clothes, groceries, electronics, order foods, medicines and much more with this credit offering.
Checkout-based BNPL Platforms
LazyPay
LazyPay is one of India's leading BNPL platforms that offer easy credit facilities to users. It is part of the global fintech firm PayU Finance.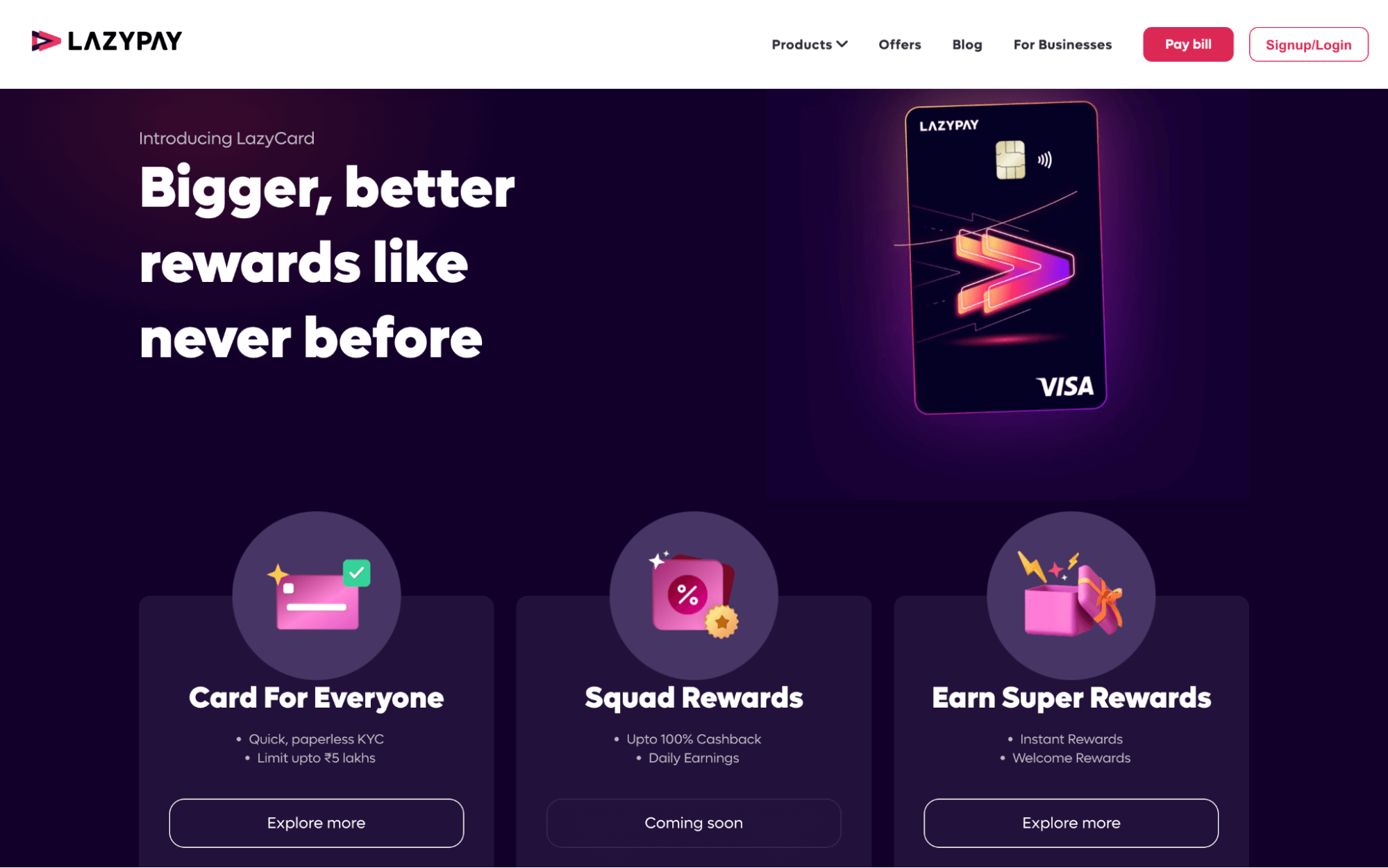 Users can download the LazyPay app, signup, undergo KYC, and start transacting. The platform comes with a repayment period of 15 days. LazyPay can be used anywhere, offline or online, where UPI payments are accepted.
The key products of LazyPay include:
LazyCard
Merchant Checkout
UPI on LazyPay (LazyPlus)
Credit Shield
XPRESS Cash
Users can also win exciting rewards & cashbacks while making payments via LazyPay. Further, it also offers personal loans of from ₹10,000 to up to ₹1 lakh along with EMI plans for 3-24 months and interest rates between 15% and 32%. Further, LazyPay also levies a 2% processing fee on the amount.
Simpl
Simpl is a credit platform whose mission is simple- "provide simple, transparent financial services to everyone using just a smartphone and one click of a button in real-time."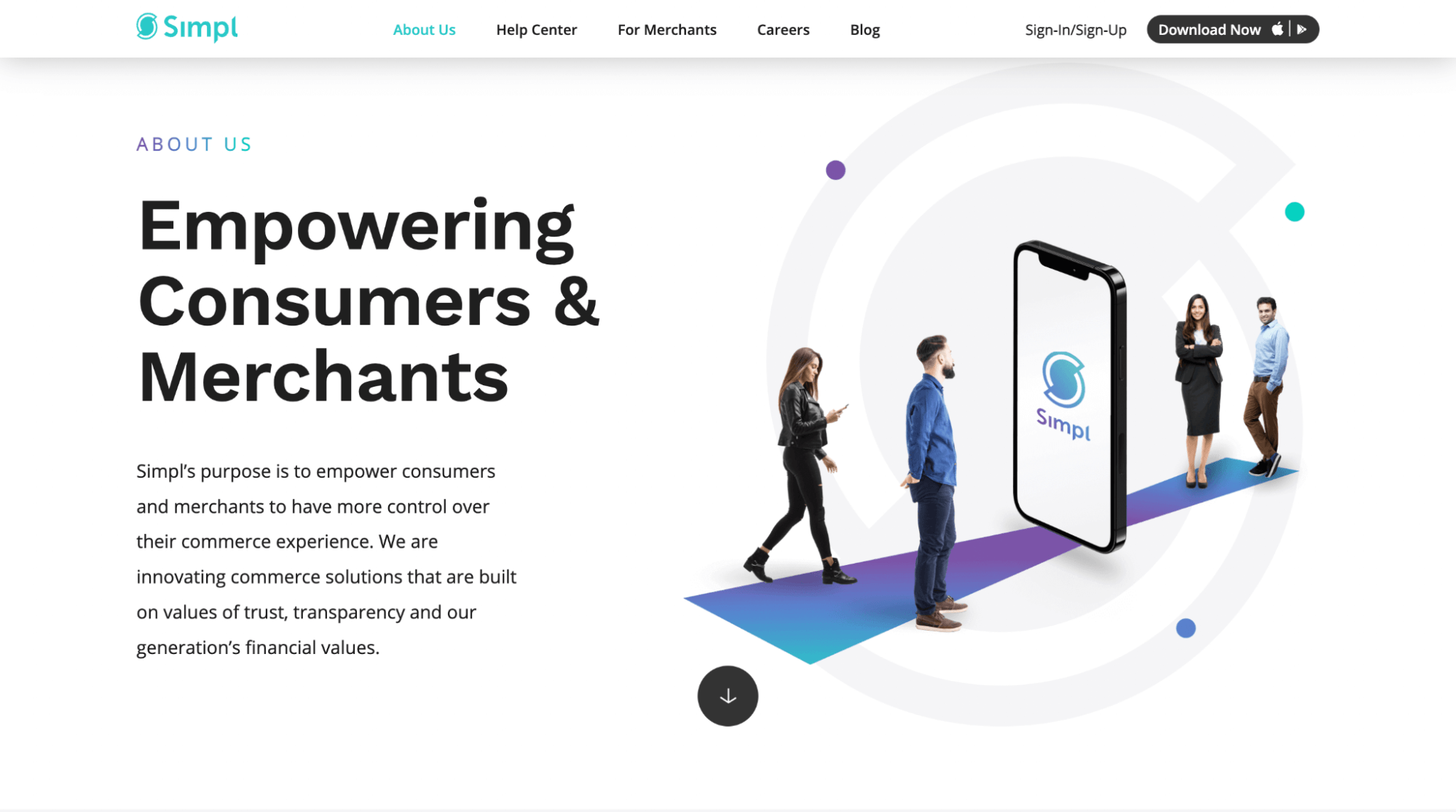 One of the top BNPL players in India, Simpl has partnered with 10,000+ merchants across sectors, has processed 49 million transactions, and serves more than 7 million users.
A user can download the Simpl app, sign up, and get credit approvals instantly. The repayment cycles are every 15 days. Further, you can also pay utility bills like water & electricity via Simpl.
Simpl offers a 0% transaction failure rate to its merchant partners, 20% growth in cart size, and up to 2x increase in purchase frequency.
ZestMoney
ZestMoney is a BNPL platform that allows users to avail credit with a quick 3-step approval process minus paperwork and credit card requirements. It helps you to pay at a go and split the repayments into smaller amounts, with 0% interest.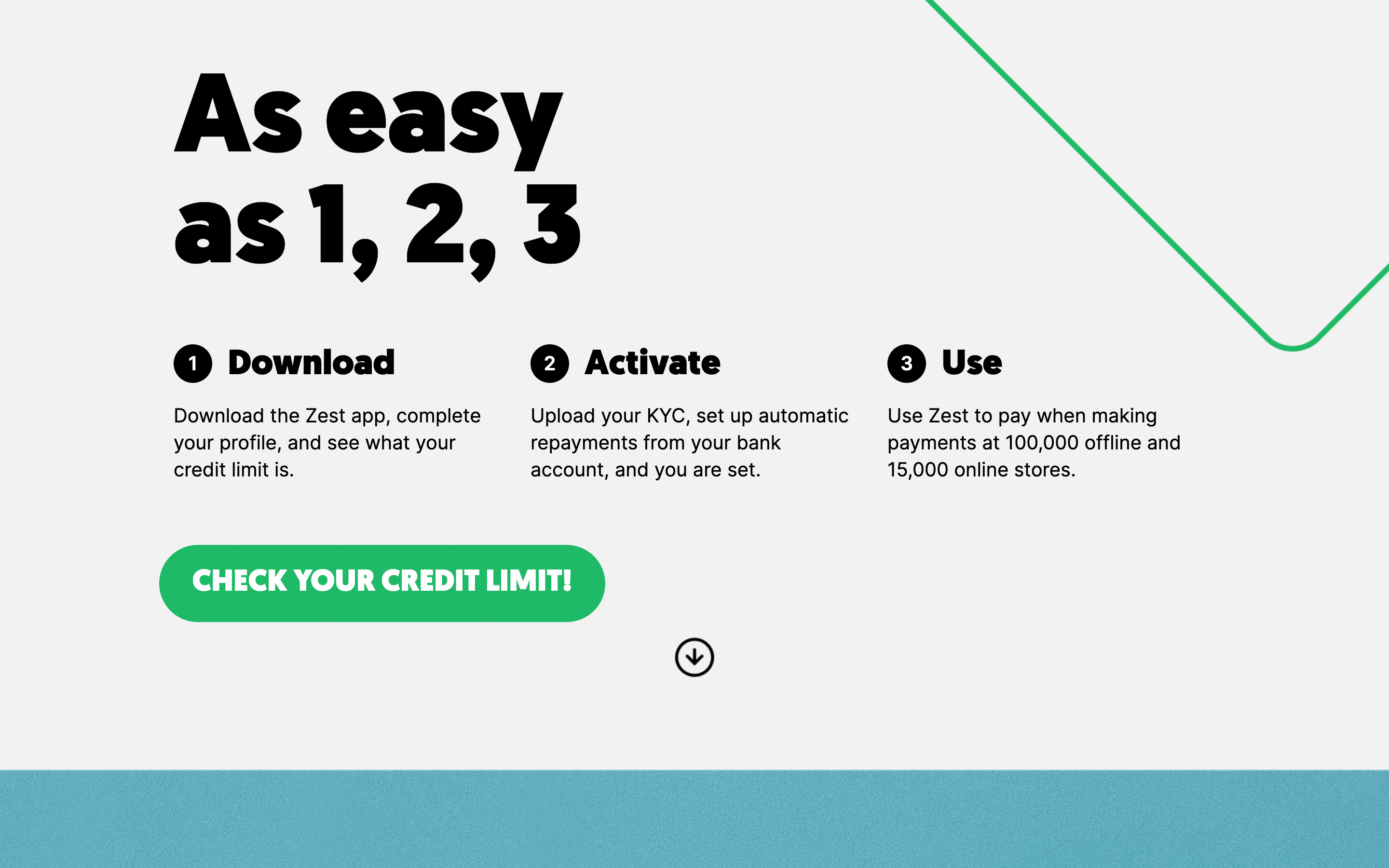 ZestMoney doesn't levy joining fees or any hidden charges to users and provides a credit limit of up to ₹2 Lakhs.
ZestMoney is accepted in over 10,000 online stores and 75,000 physical stores across India and has 11+ million users on board.
Shopse
ShopSe is an instant EMI platform that allows users to make purchases with efficient, no-cost EMI options. It allows seamless & instant digital EMI facilitation without any documentation.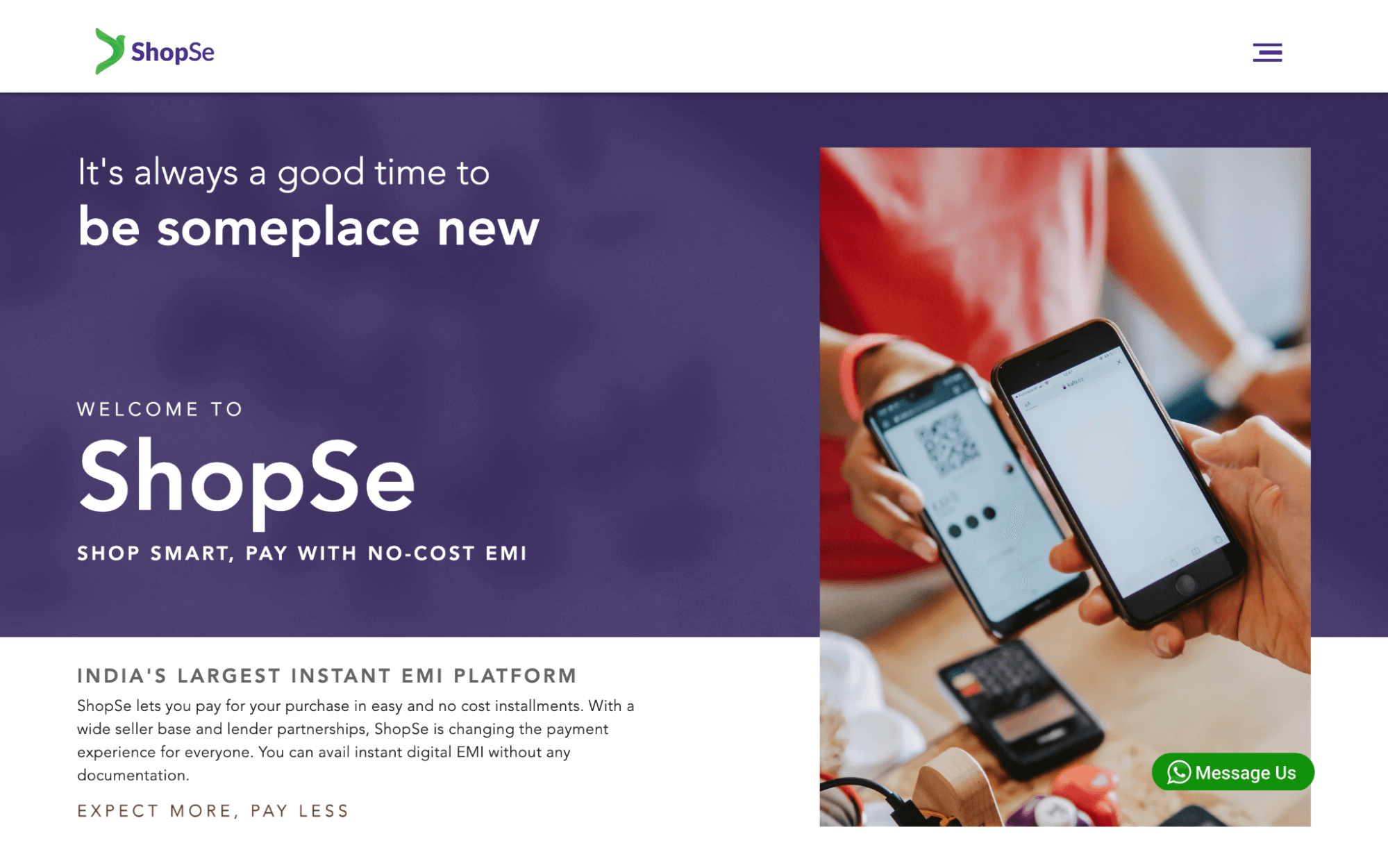 Shopse facilitates real-time credit eligibility checks and provides swift approvals for enabling users to shop anywhere, anytime. The BNPL player has over a 25-Million pre-approved 'cardless' EMI credit lines from 6 trusted Banks and NBFCs and has a customer base of over 50 million.
BNPL by Banks
Banks aren't far behind when it comes to providing pay later services to their customers. Let's take a look at some of the finest players in the same.
HDFC FlexiPay
FlexiPay is the BNPL service of HDFC Bank.
It comes with a host of benefits such as:
Zero Convenience Fees, Zero Processing Fees, and No Hidden Charges.
Flexible repayments from 15 days to 3 months at nominal interest rates.
Instant access to a credit line from ₹1000 up to ₹20000.
Feature to pay utilized principal and interest at the end of tenure.

Only pre-approved current account and savings account holding customers of HDFC Bank are eligible for the FlexiPay facility. Flexipay has merchants across sectors such as Ecommerce, ravel (Flights & Hotel Bookings), Fashion & apparel, Small Appliances & electronics, and more!
ICICI PayLater
PayLater is the BNPL service offered by ICICI Bank. It helps customers to shop online, pay bills, recharge prepaid, and even scan & pay at a go in offline stores.
The repayment tenure is within 45 days, and it comes with zero interest until then. Post that, the PayLater dues will be debited automatically from a user's ICICI Bank Savings Account.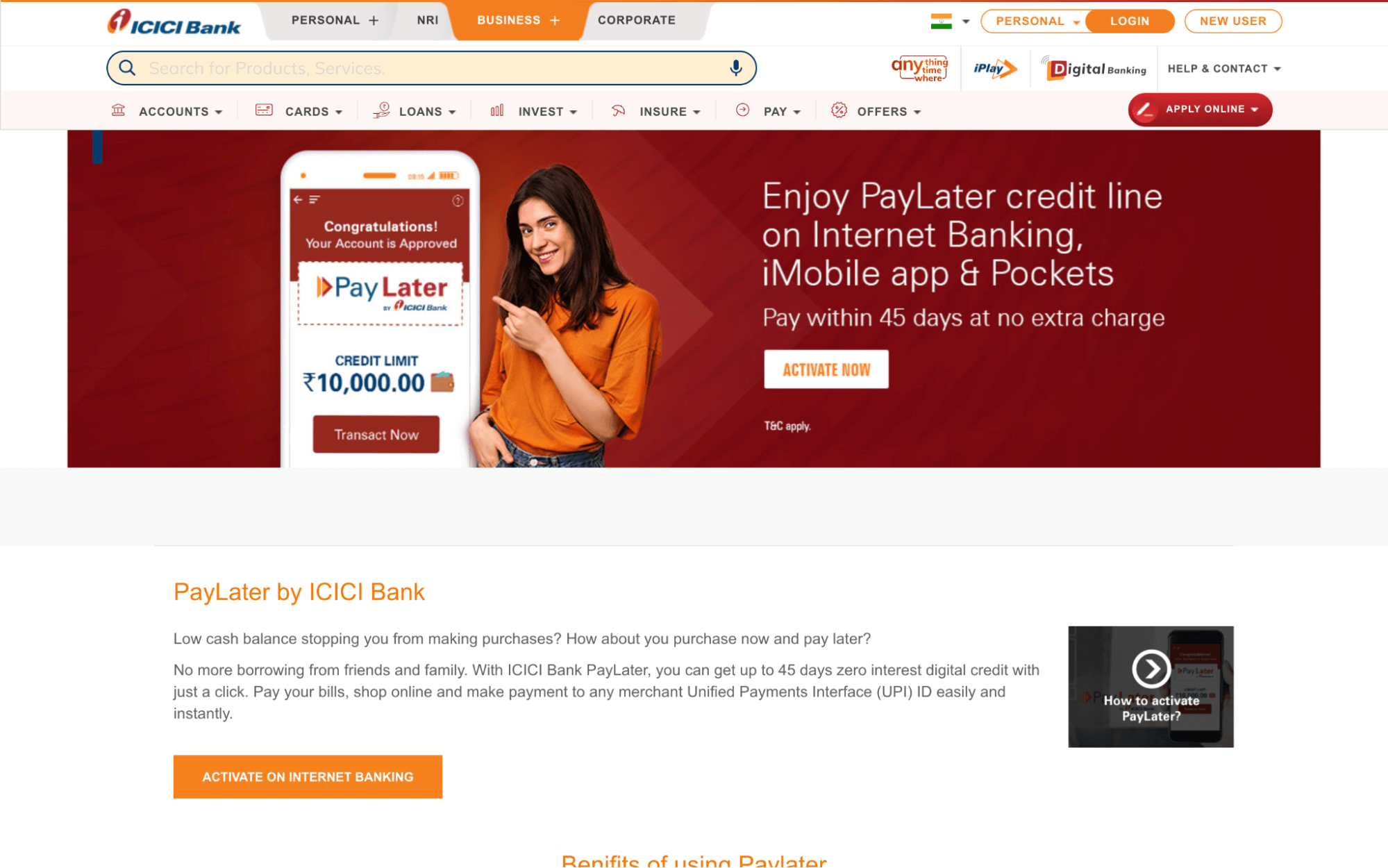 The BNPL space is rapidly growing, and the sheer volume of players stands the testimony for that.
We're happy to do our bit to help businesses like your launch custom BNPL product in a span of 2 weeks and at 90% reduced capital expenditure. If you wish to hop on board, we'd be happy to help!
Do you have any further suggestions that we can add to this list? Drop a reply to this blog! Or, do you wish to put your BNPL-wheels in motion? Ping us at [email protected]!
Until we see you next time with yet another read.
Cheers!
The post 12 Top & Upcoming BNPL Platforms In India In 2022 – Decentro appeared first on Decentro.