Multiple invoices, delayed payments, vendors following up, does this sound familiar? If yes, then you are at the right place!
When we talk about payments for vendors, it encompasses a wide horizon of money movement; be it for services & products to run the company smoothly or for customers & 3rd parties involved in your business model.
Today, let's dive deeper to understand more about Vendor Payments, how to optimize this process, and the overall money management within your organization.
What is Vendor Payment?
A part of every business' accounts payable process, vendor payments also marks one of the final steps in the Procure-to-Pay Process or P2P Cycle.
Vendor payment refers to the payment settlements raised against invoices by vendors engaged via services or products with your business.
The accounts department receives an invoice from vendors, verifies it, and processes it for approval. Sounds simple, right?
Hardly, in reality!
Why is Vendor Payment Important?
However, if this isn't handled correctly, a business can have tidal waves of money mismatch and poor cash flow cycles.
On-time payments to vendors clear liabilities for a business

It also eliminates any penalties/interest that could be present for any delay in payments

To ensure compliance with MSME Act
Filling bills & tax returns for GST & TDS.
What are the Challenges with Vendor Payments?
If your business operates with multiple vendors with varying payment cycles, timely settlements can be challenging. Having various outlets for your business would require a master consolidation of all the payments & invoices to ensure the reconciliation process is not disturbed.
Instances of Error
Most businesses are yet to tap into automation for streamlining their financial processes. Especially when it comes to reconciliation and invoice entries, we all know the problems tied to manual processes, no matter how carefully done.
At the same time, it's an equally time-consuming process that drains a team's time.
Delayed Settlements & Chunky Payment Processing
The process of initiating payments for invoices is no easy task. Multi-department approvals, transferring money via banks or any external payment processor takes its own sweet time. For instance, if you opt for wire transfers, cooling periods for beneficiaries is a default time-taker. Additionally, if you employ a payment service provider, the settlement delays are between T+2 or T+ 4.
Processing Taxes & Bills
Tax Deducted at Source or TDS is money a business needs to pay before settling the amount with a vendor. Based on the nature of products/services availed, many vendors will have varying TDS amounts, making the process even more excruciating. Moreover, filing GST for your business after showing the cumulative expenses made is necessary to comply with tax regimes in the country.
Security Concerns
Ensuring sensitive information such as bank details is necessary for your accounts payable process. While processing payments, it's all the more important to ensure you don't end up exposing any data or transferring the improper payments to a different vendor.
Vendor Payments: A Comparison
Let's break this down into three parts:
A manual process set up by your business
A vendor payment process via any payment service provider[PSP].
Building your custom, automated process via an API banking platform
Manual Process
Like we saw previously, the chances of error is high and the entire process is effort-intensive and time-draining.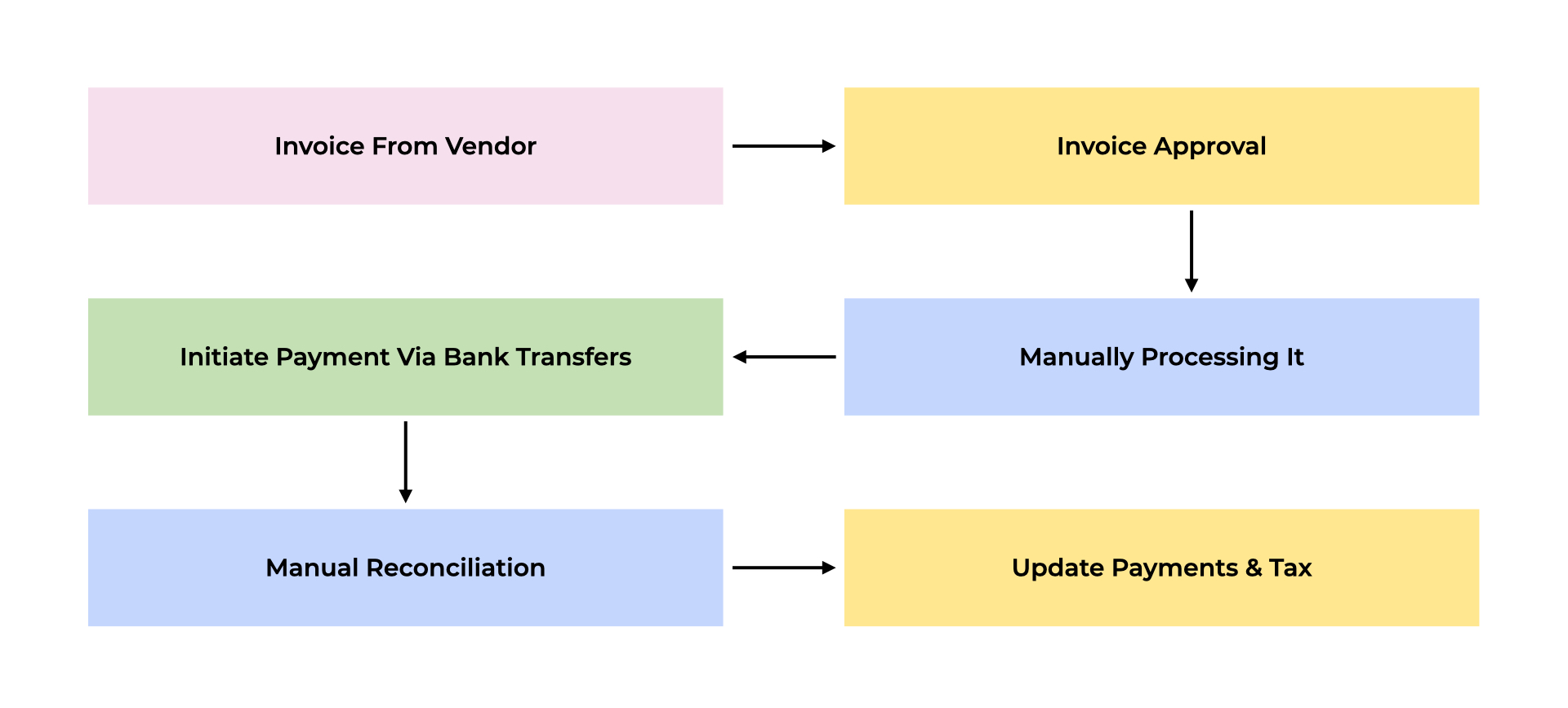 Manually processing vendor payments
Using A PSP
Using a payment service provider will definitely let off some steam and help you move faster. But is it a foolproof method? Perhaps not always!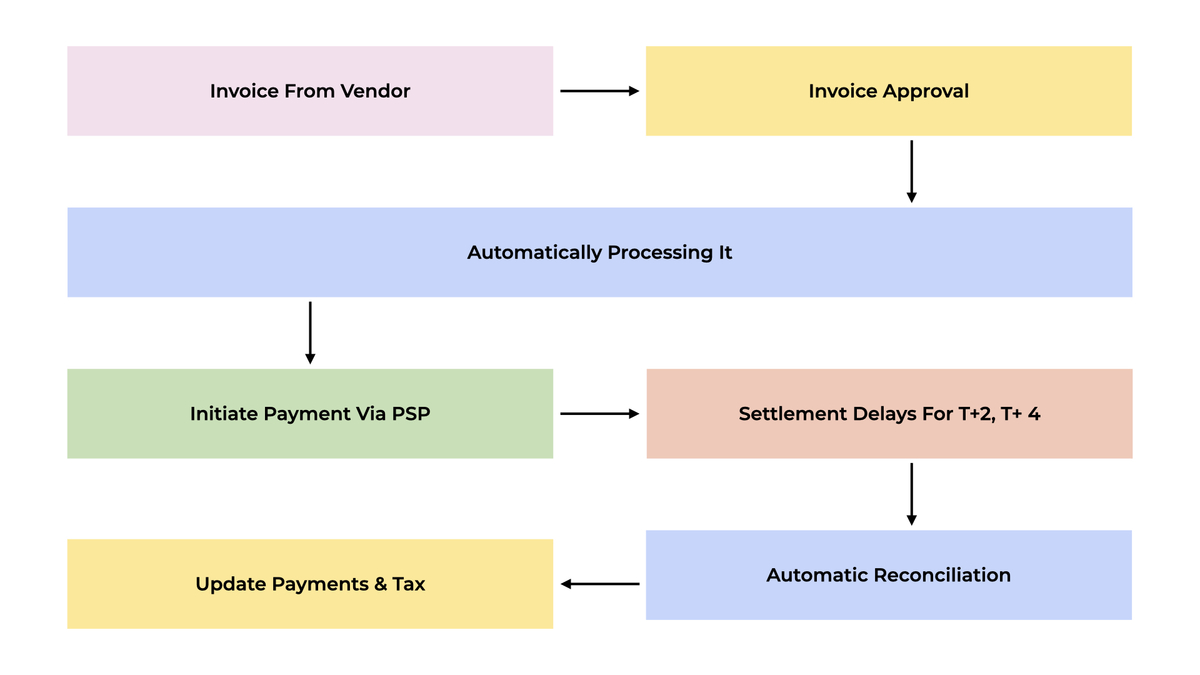 Vendor payments via PSP
Building Custom Workflows Via API Banking Platform
Are you willing to make your vendors wait for days together? Or, do you want to move faster? Banking & financial APIs can help you build a custom internal process within your business to manage vendor financing. You decide how the money flows, and when!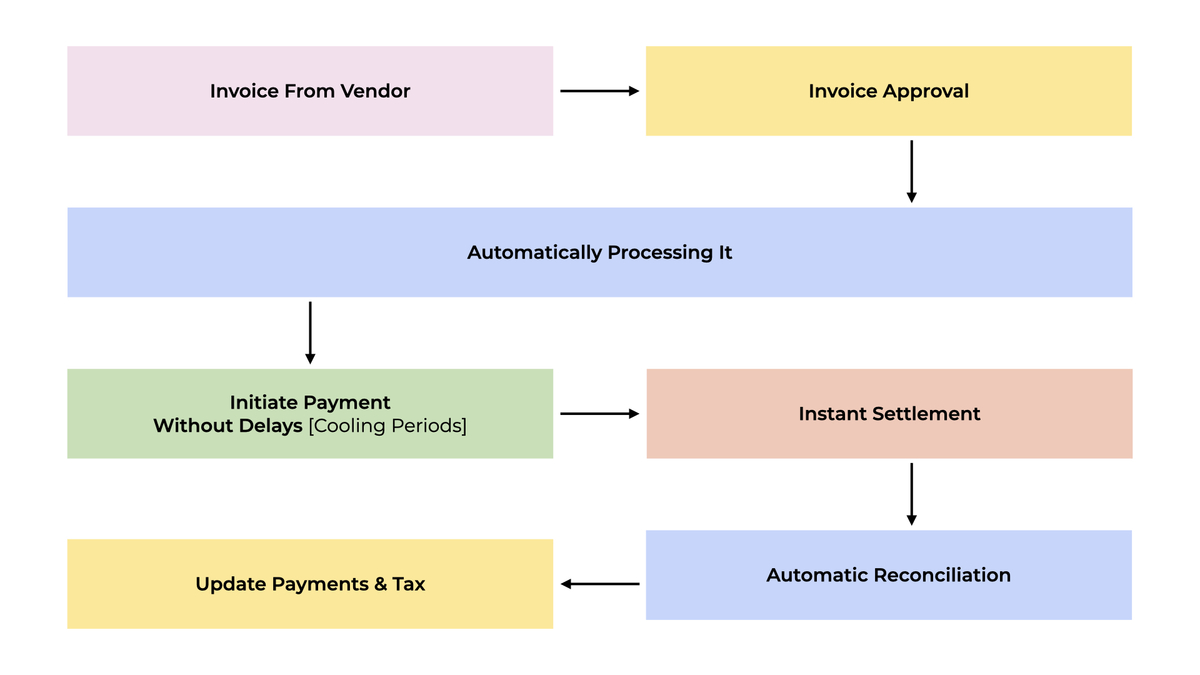 Vendor Payments via Decentro
How Can Decentro Empower Your Vendor Payments
You saw the different scenarios of approaching vendor payments and optimizing the process in the section above. Many businesses are struggling in the 1st approach, counted a few stuck in the second, and only a smart few are on the 3rd!
Which is yours?
With Decentro's banking APIs, you can move to the 3rd category. How can banking & financial APIs help your business, you ask?
For starters, you don't need to create brand new accounts to process vendor payments. Simply link your current accounts and simplify your entire banking experience by bringing it to one place. Decentro's connected banking module helps in exactly that.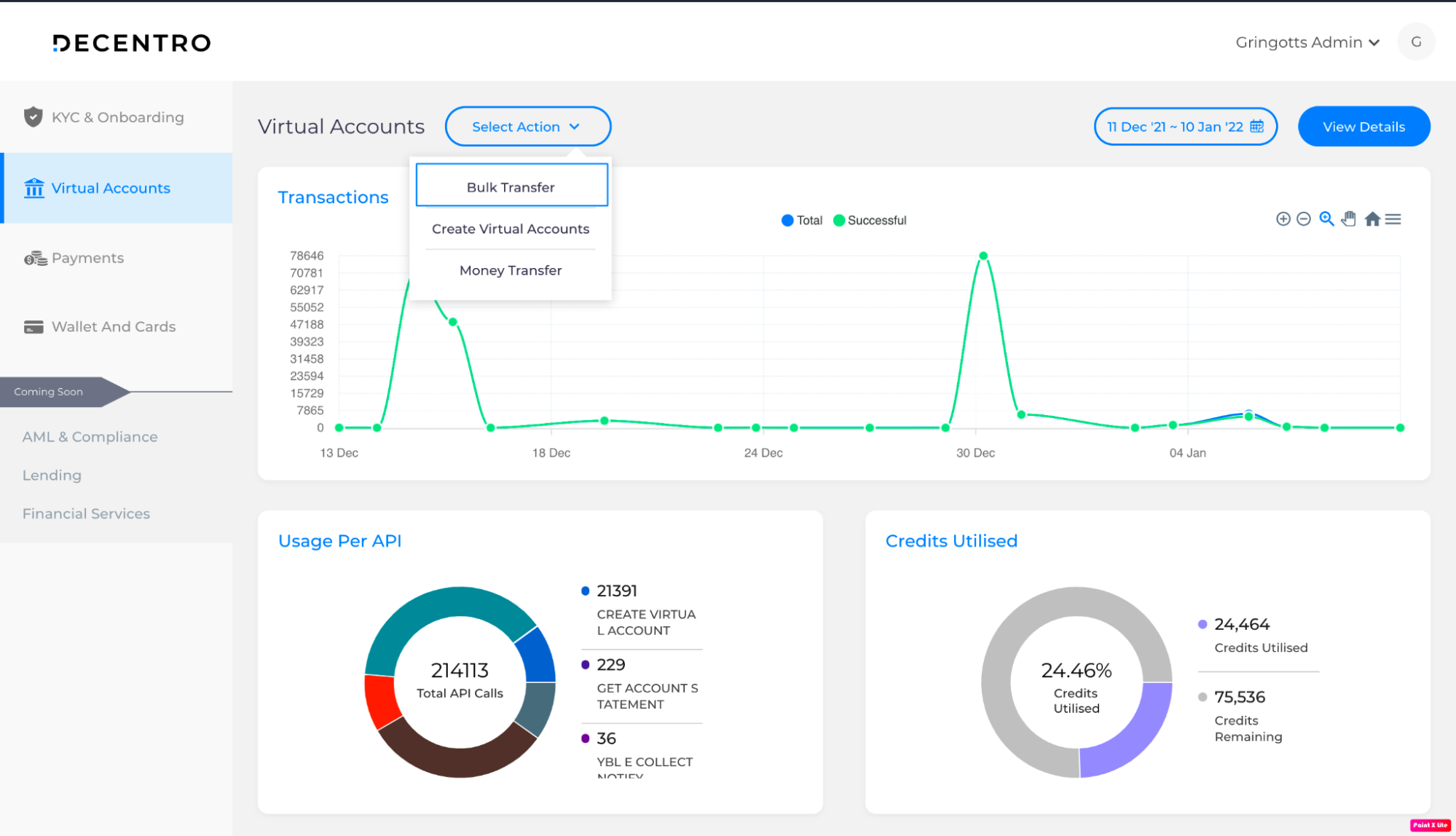 Reconcile Easily With Virtual Accounts
You can create custom virtual accounts for each vendor to track and reconcile all payments in real-time. It takes just a few minutes, and you can create as many accounts as needed. A master virtual account and vendor accounts will help you move funds quickly without losing track of payments.
Track even failed transactions and keep your ledgers up-to-date. In addition, you can move funds from individual accounts to your master account at any time and in one a go!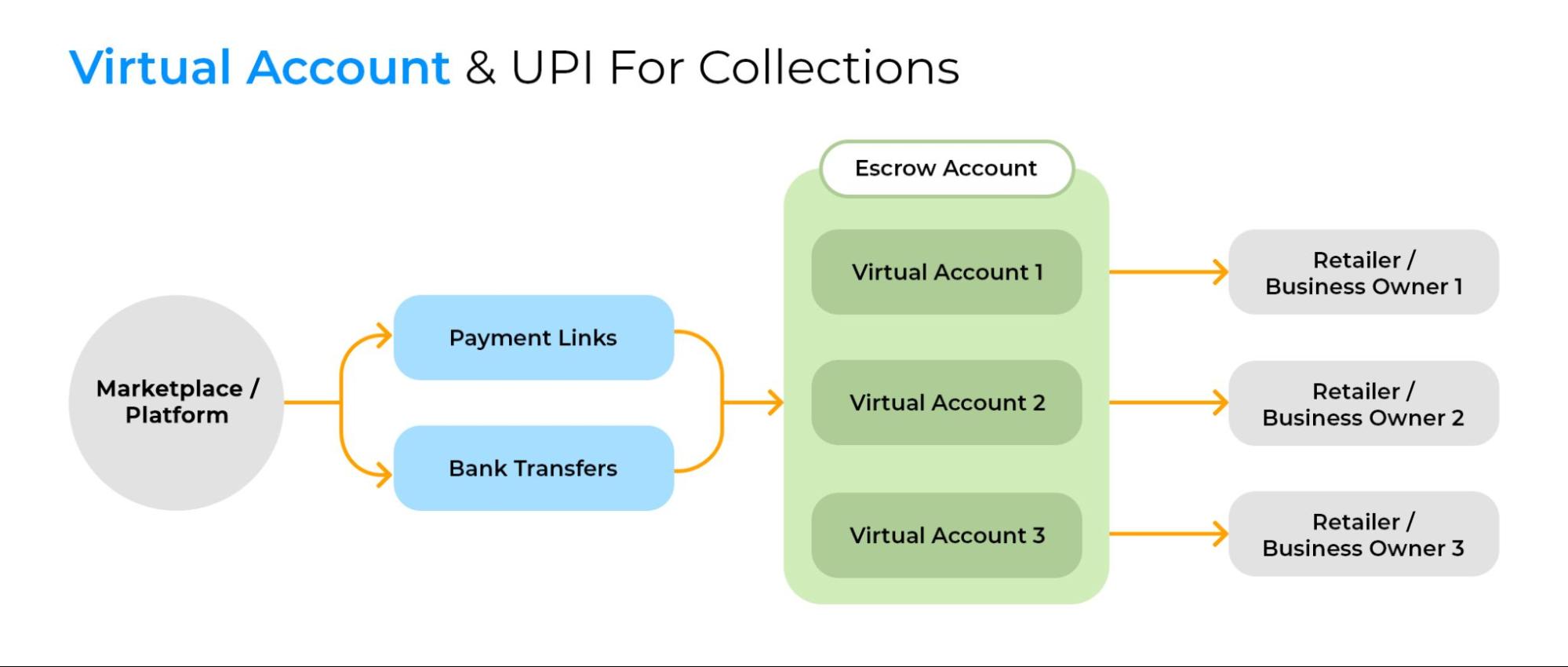 Initiate Instant Payouts (NEFT/IMPS/UPI/RTGS)
Transfer payments to your vendors without any beneficiary cooling periods or settlement delays. You can employ diverse methods such as NEFT, IMPS, UPI, RTGS. Utilize our APIs for UPI, skip paying transaction charges to PSPs, and utilize the zero MDR on high-volume transactions.
Process Bulk Payments
Settle payments with multiple vendors at one go using bulk payouts. Simply enter the invoice details and beneficiary details, and leave the rest to us. With a simple API call, get high-volume bulk settlements done instantly, along with the reconciliation.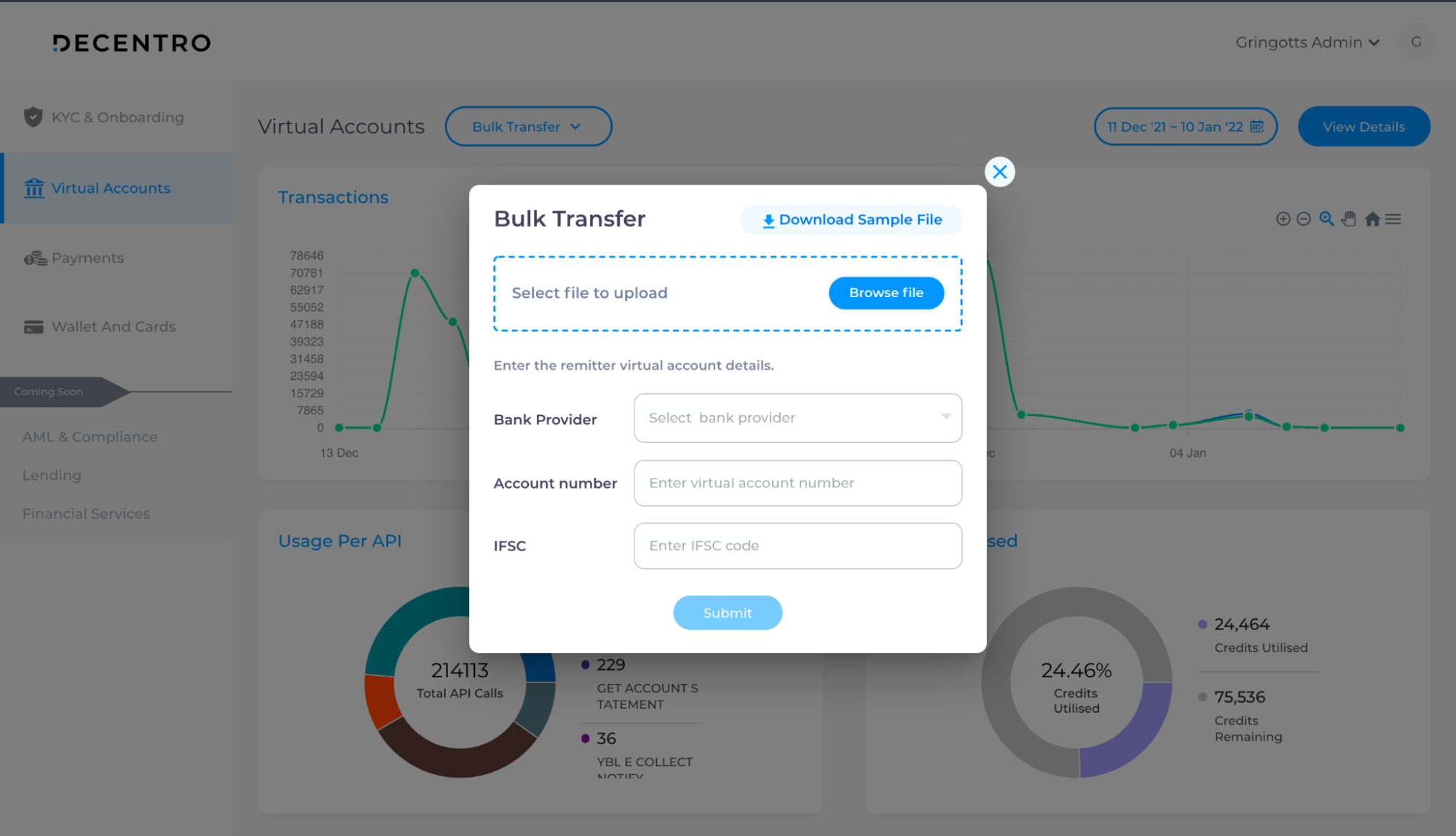 Manage Invoices Easily
Manage invoices easily with Decentro's API banking platform. Upload CSV files containing all required details such as due date, payment amount, and beneficiary bank account details, and process invoices automatically. Once settlements are successful, get notified! Analyze the status of your invoices at any time.
GST Data In One Fetch
Our GST APIs fetch all crucial data for you to
Enable Split Payments & Commissions
Don't worry about the bookkeeping process if your business has multiple outlets and requires funds to be routed to multiple vendors at once. We've got you covered with split payments APIs. No matter how many destinations your money circulates, it is a cakewalk now to bookkeep them efficiently in real-time without compromising the cash flow cycle!

Collect Payments With Ease
Simplify collection process just like settling invoices with your vendors. Generate a payment link, or collection request to facilitate one-tap payments from your vendors/customers. Leverage conversational banking via social platforms like WhatsApp, and make it simple for your vendors even further.
We're happy to empower many leading SME aggregators in India to streamline the hassles related to payments. Tech in Asia covers this journey of ours beautifully in its article.
Got any questions? We'd be happy to walk you through the answers! Do drop us a 'Hey' at [email protected]!
We've enabled businesses from diverse industries, such as neobanks, NBFCs, marketplaces, to solve many critical challenges tied to payments, customer verification (via KYC & CKYC), credit & BNPL, banking as a service, and more!
We're a chat away!
Cheers!
The post How To Place Your Vendor Payment Process in Autopilot appeared first on Decentro.