The most important conclusion one can draw from the Indian Equity Markets after January 2020:
Small and mid caps are now clearly outperforming the large caps!
Small and mid caps versus large caps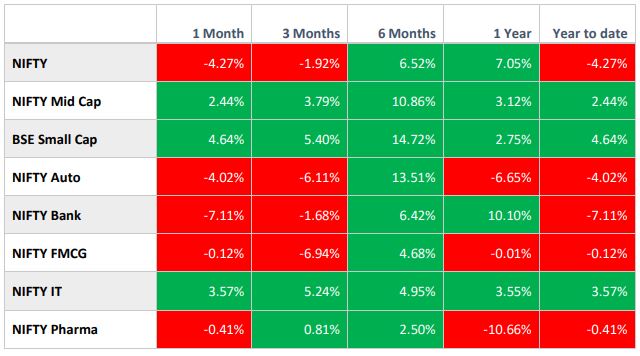 As you can see, NIFTY 50 has lagged the the mid and small Cap indices for 6 months now!
Of course, only time will tell whether this trend will sustain or fizzle out. This primarily depends on what drives the stock market from here – easy liquidity or earnings growth!
The outperformance of the small and Mid Caps over the large caps can be solidified by the following: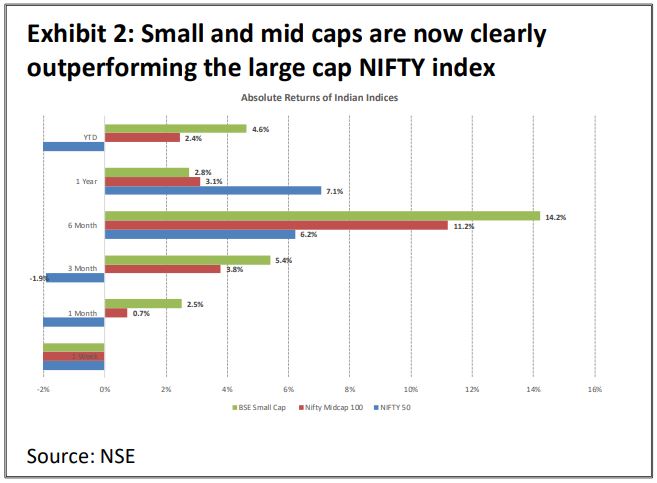 In the following chart, you can see NIFTY 50 compared with small cap and mid cap indices since September 2019. We start with a common base of 1000: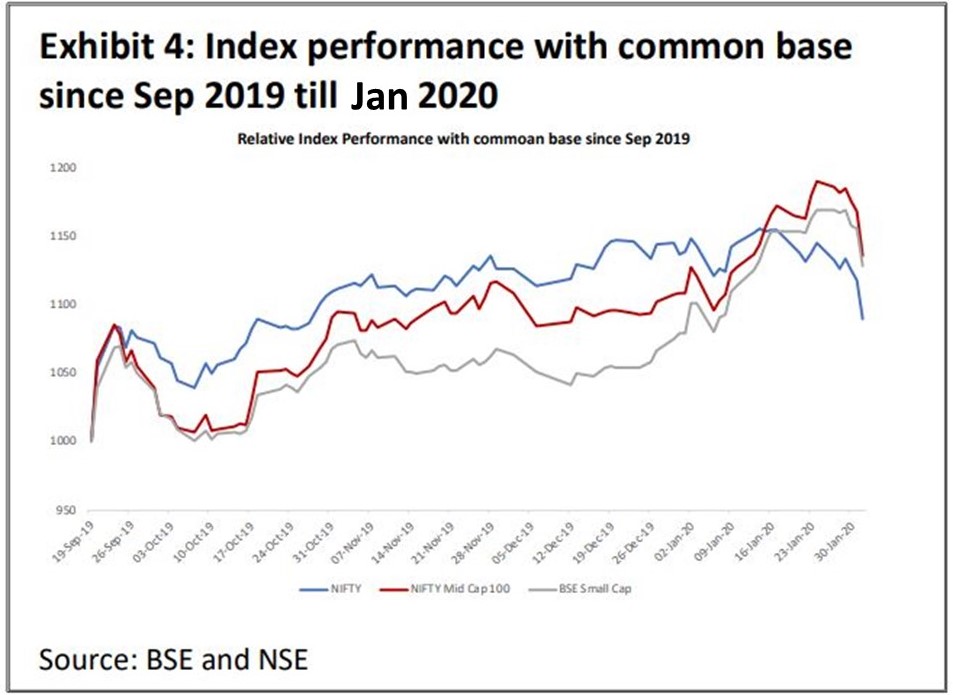 It is very clear that the small and mid caps have outperformed NIFTY since September 2019.
Read: Something (not tax cuts) happened in 2019 that changed the course of global equity markets
Equity Market Valuations
Despite the recent negative reaction to the budget, NIFTY 50 continues to remain overvalued as far as PE ratio goes.
NIFTY, currently, trades at around 1 standard deviation higher than its historical average trailing PE ratio.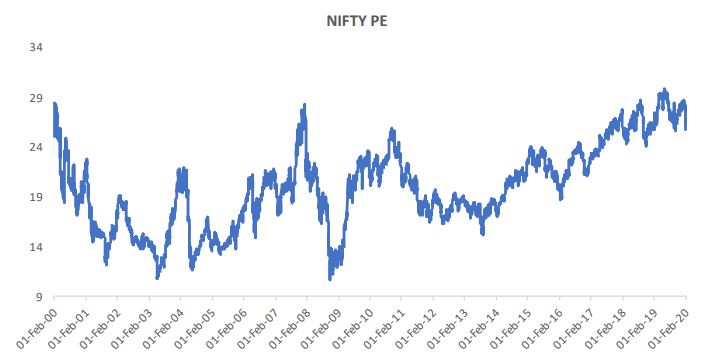 However, on a 1-year forward basis, the NIFTY doesn't look as expensive. But forward earnings are speculative. A 20-25% earnings growth is predicted – this almost never happens!
Secondly, the forward earnings estimates haven't got the chance to adjust to the recent Corona Virus scare emerging out of China. Given how China is everybody's (including India's) trading partner, the Corona Virus will impact the global economy and earnings growth rate.
We cover the Corona Virus in much more detail our monthly newsletter – The Alpha Investor.
Read: The Alpha Investor (January Issue)
In short, odds are stacked against a 20-25% earnings growth.
On the other hand, small and mid caps that have been beaten down for most part of the last two years seems reasonable. In fact, it could be said that small caps are in the attractive territory.
However, this doesn't mean that one should blindly invest in small and mid caps expecting a repeat of 2013-17. Rather, these calls are best left to competent fund managers.
Multi-cap mutual funds should be resorted to during these times.
Read: Best Multi Cap Funds to Invest in 2020 | Best Small Cap Funds to Invest in 2020 | Best Mid Cap Funds to Invest in 2020
The post Equity Market Wrap Up – January 2020 appeared first on Finpeg Blog.