Bitcoin continued its slump after losing 12 percent Wednesday and triggering the biggest cryptocurrency sell-off since February.
The 10-year-old token fell 3.4 percent to $5,362.96 as of 10:30 a.m. in London after it plunged through a key resistance level
Many of Bitcoin's closest peers also slid Thursday, while Bitcoin Cash, which will split today into two coins, rose 1.5 percent.
As the dust settled a day after the Bloomberg Galaxy Crypto Index's 15 percent tumble, speculation over its causes includes today's debut of the new version of Bitcoin Cash. Traders are mulling whether the coin, which itself broke off the original Bitcoin in 2017, is sucking investment and minersaway from the largest crypto.
"The Bitcoin Cash hard fork is proving far more destabilizing than initially thought as numerous competing factions muddy the landscape," said Stephen Innes, head of trading for the Asia Pacific as Oanda Corp.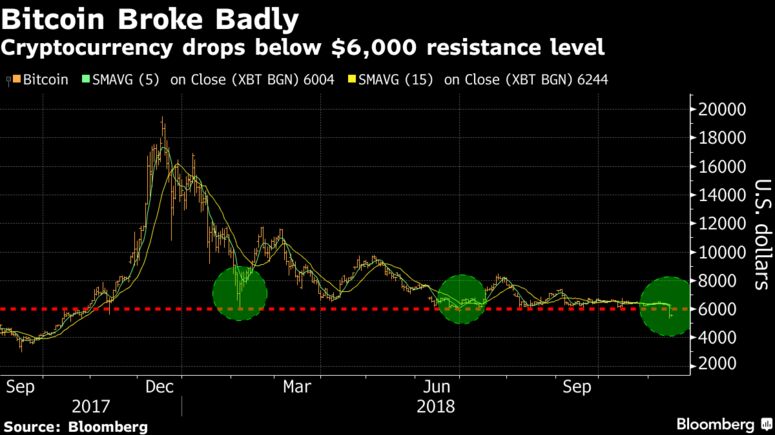 Oanda's Innes said the disruption over the new Bitcoin Cash fork has created too much "noise" that triggered a "when in doubt get out´´ cause and effect. He said an eventual break below $5,000 for Bitcoin "opens the door to a test of $2,500 as Bitcoin retail traders move from buying on dip to full-out panic mode."
Bloomberg