We're two weeks into the school year and things are actually going pretty smoothly.
I love it! By the time September rolls around, I'm ready for the 6am wake up and all those hours a day of doing whatever the heck I want. In silence. And I'll happily trade being a taxi driver from 3 p.m. until whenever just to have from 6:30 a.m. to 3 p.m. all to myself. I get SO much more work done and occasionally some reading and coffee sipping is accomplished during those coveted school hours. PLUS my girls are older (middle and highschool – *cries*) so lunch packing is no longer my job. #fistbump
I honestly don't know what I get more excited for, back-to-school or Christmas morning. Or wait, there's also hunting season and dinnertime!? *steeples fingers* How does one choose? All are equally exciting!
Speaking of dinner, this gorgeous plate of food is my latest and greatest cozy dinner creation. Meat sauce, sure it doesn't sound that thrilling but this ragu is brimming with flavor, thanks to San Marzano tomatoes, a massive amount of garlic, and both fresh and dried herbs. It tastes like something my Italian grandmother would make, if I actually had an Italian grandmother.
Stop buying those jarred pasta sauces, this ragu is all you need.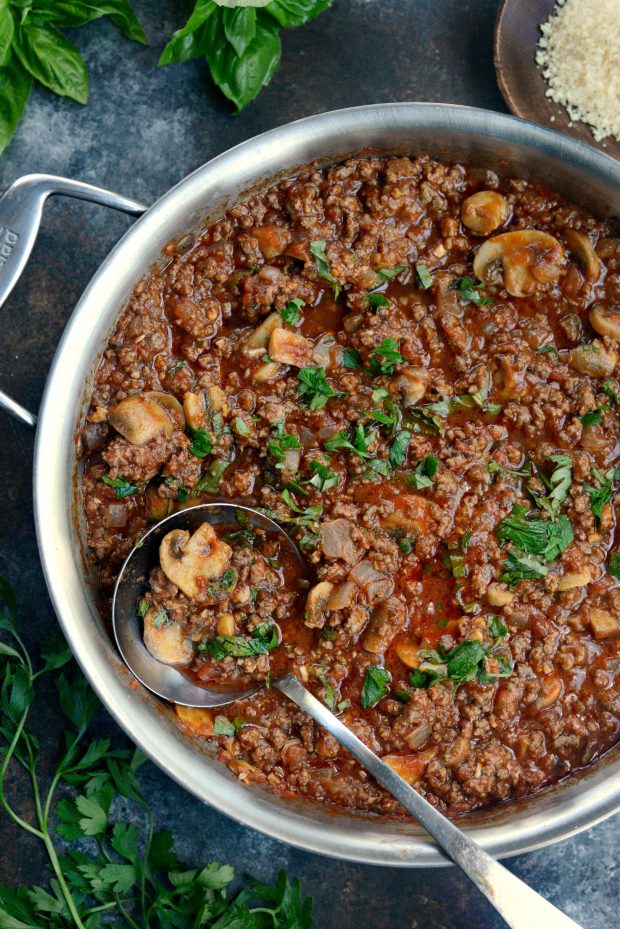 Beef and Mushroom Ragu. Let's talk about it. Ragu essentially means meat sauce that is served over pasta. This ragu starts off just like any sauce does by sautéing onions and garlic in olive oil, then seasoning with Italian seasoning (I make my own!) and then fully cooking ground beef before adding in the San Marzano tomatoes and sliced mushrooms (there's a little more to it than that, but you get the point) and it only needs to simmer, covered for 20 to 25 minutes. You know it's done when you start to smell something resembling heaven.
Of course this can be made with or without the mushrooms (don't worry mushroom haters, I've got you) and yeah, it can be served over pasta, but why be basic? Try spooning it onto crispy, pan-fried Polenta. I love pasta, but I think now I may love polenta more. It's such a nice change up!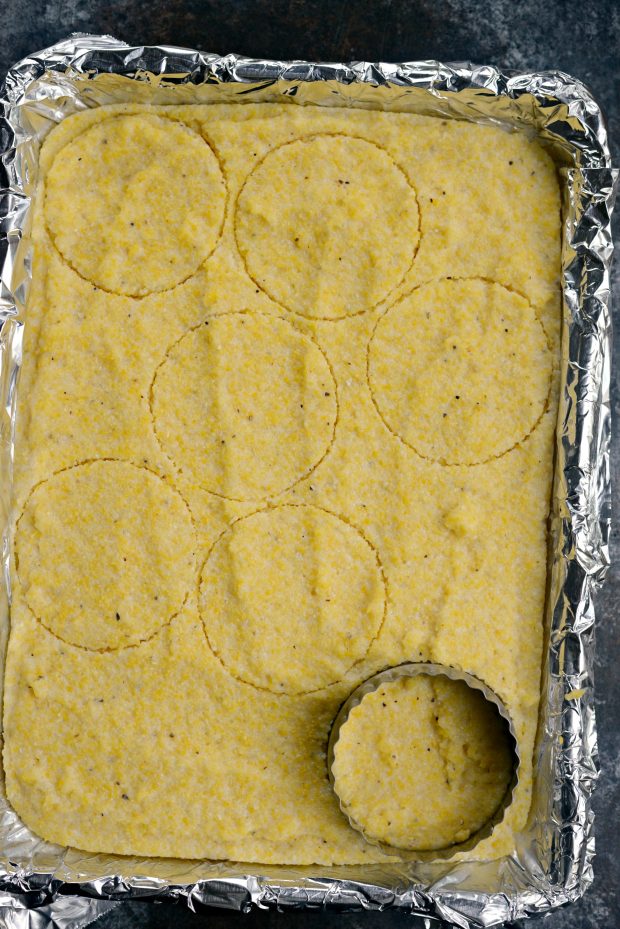 I make polenta just like I do in this recipe (if you need a visual). Then I pour it into a buttered, foil-lined, rimmed 1/4 sheet pan and let it cool. This is something I have done the night of or before or the morning of, heck you could make this 2 days in advance if you wanted to. But really it just needs enough time to cool and firm up.
Now because I was photographing it for the blog, I made a double batch so that I could cut cute, little rounds out of it. Normally I'm not so high maintenance and make a single batch and just cut them into squares. Either way you slice'em (tee hee) you want and fry them, smooth side down first, in a little olive oil in a non-stick skillet until browned and crispy. I work in batches, transferring the fried polenta rounds to a paper towel lined plate and continuing with the remaining. You could also buy a tube or two of prepared polenta at the store, if you're strapped for time, and slice it 1/2 an inch or so thick. No one will judge. Swear.
And I thought creamy polenta was delicious… fried is just out of this world amazing!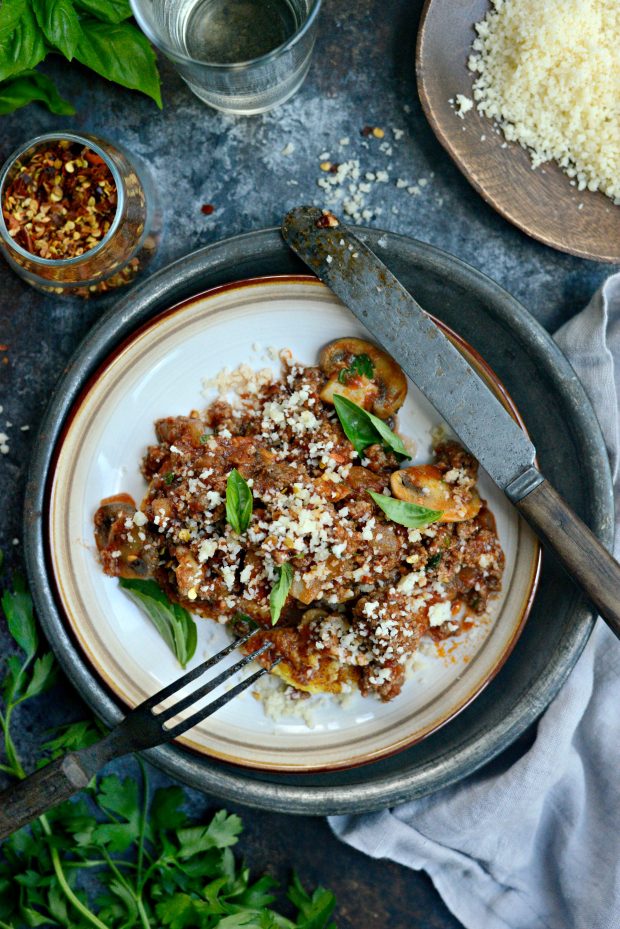 I serve a few (2 is perfect for me, unless it's my husband then he gets three) fried polenta rounds with a couple generous spoonfuls of the beef and mushroom sauce over top. I sprinkle mine with red pepper flakes, freshly crumbled Parmesan cheese and a few extra basil leaves.
Unbelievably delicious.
Robust sauce, crispy polenta and a glass of Malbec is all I need to ring in this school year.
Cheers!
My cookbook Simply Scratch : 120 Wholesome Homemade Recipes Made Easy is now available! CLICK HERE for details and THANK YOU in advance!
Beef + Mushroom Ragu over Fried Polenta
Crispy fried polenta topped with a hearty and robust sauce of ground beef, mushrooms and herbs.
Yield: 6 servings
Prep Time: 20 minutes
Cook Time: 25 to 30 minutes
Total Time: about an hour *see notes
Ingredients:
FOR THE POLENTA:
2 cups whole milk
1 cup low-sodium chicken broth
1 cup grits
3/4 teaspoon kosher salt
1/4 teaspoon coarse ground black pepper
FOR THE BEEF AND MUSHROOM RAGU:
1 teaspoon olive oil
1 cup diced yellow onion
5 cloves fresh garlic, minced
2 teaspoons Italian seasoning
1 (28 ounce) can San Marzano whole tomatoes, pulsed in a food processor until slightly chunky
1 (8 ounce) can tomato sauce
1 teaspoon kosher salt
1/2 teaspoon black pepper
1/2 teaspoon sugar
2 pounds ground beef (I use a combination of 1 lb. chuck and sirloin each)
8 ounces sliced mushrooms
1 tablespoon chopped fresh parsley
1 tablespoon chopped fresh basil, plus more for serving
Parmesan cheese, for serving
red pepper flakes, for serving (optional)
Directions:
FOR THE POLENTA:
I like to prepare the polenta the day before and then fry them up while the sauce is simmering.
Line a small rimmed baking sheet with foil and grease with butter.
Bring the milk and broth to a simmer, stirring often to avoid scorching. Once bubble start to form around the edge of the pan, whisk in the polenta, salt and pepper.
Reduce heat to medium, whisking continuously until thick. About 5 minutes or so.
Pour polenta into the prepared pan, smooth with a spatula and let cool and firm up. If making this advance, stop at this point. Cover with plastic wrap and refrigerate.
When ready to serve, cut into squares or stamp out circles (may need to double the batch if using a biscuit cutter) with a biscuit cutter.
Heat a tablespoon of olive oil in a large non-stick skillet over medium heat. Once the oil is shimmering, place the polenta, smooth side down, into the oil of the pan. Cook 2 to 3 minutes, or until golden and crispy. Flip and repeat, then transfer to a paper towel lined plate and repeat with remaining polenta.
FOR THE BEEF AND MUSHROOM RAGU:
Heat a teaspoon of oil over medium heat in a large, deep-sided skillet.
Add the onion and a small pinch of salt and cook until soft and translucent, about 5 minutes.
Add in the garlic and Italian seasoning and cook for 1 minute before adding in both the tomato sauces, salt, pepper, sugar and mushrooms. Stir and bring to a simmer. Reduce heat to low, cover and continue simmering for 20-25 minutes.
Stir in the chopped fresh parsley and basil right before serving.
Serve crispy polenta with a few spoonfuls of the beef and mushroom ragu over top. Sprinkle with crumbled Parmesan, pepper flakes and a few fresh basil leaves.