35 Stunning Beach Outfits
One of the struggles of summer is getting some super Cute outfits together for your outings, and dressing up for the Beach is a tough one. Just wearing a bikini isn't always an option and if you are lucky enough to go abroad, then you will probably discover the town afterwards or go and grab a bite to it, so you need to be dressed! Finding inspiration for stylish outfits isn't always easy, so we have compiled 35 trendy beach outfits for you!
Timeless Look
This outfit will always make you look ravishing even when the weather isn't at its best. Worn-out shorts and a white floaty top will always look cute and beach-ready. Add some cute sandals and a wide-brimmed hat to finish off this look.
Co-Ords
Co-ords make the best beachwear. Usually, the shorts are large and floaty, so they are very comfy for your trip to the beach. We love this print, and trust us, everyone will be admiring you at the beach!
Bardot Tops
Bardot tops, which are off-the-shoulder tops, are elegant and slinky for summer, and ooze glamour by showing a bit of shoulder. Wear high-waisted shorts as they pinch you in at the waist and are flattering on all body shapes. You may not feel that your body is beach-ready but this cute outfit will make you feel confident and beautiful!
Shirt Dress
Shirt dresses are the perfect cover-up to go over your bikini. It is very important to add a belt so that the outfit still has some shape to it and shows off your curves. Blue stripes are part of the nautical look that has been a big success in stores all over the world, so we really recommend this style!
Maxi Dress
It may not be the ideal outfit to get a tan in, but maxi-dresses will make you look like a Greek goddess as you wonder around the beach. They also make a great festival look if you have got some beach concerts to go to!
Lace Rompers
We love this romper! White is so flattering and is definitely a color to wear at the beach. Make sure to layer lots of necklaces to liven your style up a bit! Don't be afraid to go a bit wild! You can't go wrong with this look!
Cut Offs
For the girls who are a bit too scared to have a dip in the water, then this outfit will do for your day! A nude crop top, that will compliment that tan of yours, cut off shorts and white sneakers. These cut offs are made of vintage Levis pants, and you can get them really cheap on Ebay! We think an anklet would look divine with this outfit, Dixi have so many cute anklets for you to wear with this!
Fresh And Bright
If you have an evening beach party, then you will want to dress to impress! This outfit is beyond amazing, and this print is so summery and tropical, you will love it! We think you should wear this with nude Gladiator sandals or nude platform heels to look super elegant.
Lace
This transparent lace top is the perfect cover up, and you definitely won't be too hot! Wear a cropped vest top and leggings or low-waisted shorts for the best summer style. Remember to wear a cute hairband – a floral crown or a lace hairband would look pretty.
Maxi Skirts
Have you got a date at the beach? Impress your crush with this look! It combines casual and dressy so you will not look overdress. Add any of your old basic vest tops to a flowing maxi skirt and sandals for a vacation-ready look.
Cache Coeur
We do love a good cache-coeur romper. It is flattering, shows a bit of cleavage, but doesn't give everything away, and it is light and easy to wear. This floral print one will look lush at the beach with tan sandals and accessories to match!
Gypsy Style
Gypsy-style tops are a must have this season as they are loose, cute and comfy to wear. You can wear them with denim or floaty shorts for a Boho vibe. We love the pompoms on this pair of shorts, which is so retro! Don't be afraid to go for daring shorts to attract all attention onto your pins!
Mesh Top
This mesh top is part of the 90's trend which is huge at the moment! Bloggers such as Zoe London and Helen Anderson are really inspired by this style and all their outfits have at least one bit of the 90's in there! Wear this over your black bikini for an on point outfit.
Crazy Prints
Don't be afraid to try out bold prints. If you can't wear crazy prints in summer when can you? Wear a slouchy printed blouse and tuck it in slightly for a laid-back beach babe vibe. Wear bronze jewelry to keep a chilled out look.
The Basics
You probably have thought of this look but your favorite bikini and torn denim shorts will always look great. It's a classic look but it is practical for the beach and it will allow you to sunbathe with you girl pals and gossip!
Surfer Girl
Drop arm vests are perfect to go over a bandeau bikini. They are so fun with witty slogans and cute drawings. Add washed out denim shorts for the ultimate surfer babe look.
Crochet Bralet
We love this crochet bralet and it will look pretty with anything, if you're not wearing it with floaty shorts then wear some palazzo pants with it and some flatforms to take the gorgeous look from day to night.
Adventurous Swimsuit
A key look for the beach is a vibrant swimsuit. Make sure there is plenty of color there to brighten the day of those you will meet. Get a bright neon Triangle bikini, or a pretty palm tree print like this one. Throw on a kimono over the top to cover up whilst getting your ice creams!
Black Dress
A black t-shirt dress will always look effortlessly casual as well as stylish. Keep your accessories to a minimum with a nude oversized bag and matching hat. Throw on a long necklace to keep the outfit from looking bare.
Beach Party
If you have a beach party, here is another idea – we love this gorgeous maxi dress. Though it may be designer, there are plenty of similar styles on Asos for you to wear. Wear with tossled beach waves for a classy summer look!
Hippie Style
If you want to cover up after a little swim, we recommend floaty hippie-style pants. You will look so Boho chic in these! Get some to match your bikini and you will look so 90's like in this picture! Tie your hair into a messy bun for a chilled out vibe.
Burgundy
Even at the beach, burgundy is hot! Picture this, you in this cute romper, going for a quick dip in the warm water with the sun beaming down on you, sounds like heaven right? It is also cute for evening beach trips!
Get Glam
If you have got a dinner date at a beach restaurant, firstly, lucky you! Secondly, we think this outfit will be perfect! It makes your crush know you made an effort without you getting all hot and flustered, plus you can go to the beach for a walk in the moonlight afterwards!
Fringed Jacket
You need a statement jacket for every occasion, and even when you're just heading to the beach, you absolutely do need one! Fringes are in and they will go with a crochet bralet, or a white romper. Team it with white for a crisp festival-inspired style.
Rock Chick
If your style is more rock chick, we have found a super cute look for you! We love the bandana and the studded jacket. If you want to change it up a bit, why not use your bandana as a neck tie? A black and white bandana round your neck will really transform your look.
Kaftans
Kaftans are ideal for walking about the beach looking for a spot to sunbathe. We love this black bikini, not only is it so classic but we particularly like the high-waisted bikini bottoms that are very flattering and smoothen everything out. Your body will look beach ready!
Peep Toe Shoes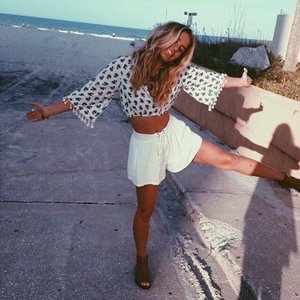 We love this outfit, particularly because it features two of our favorite colors right now – white and khaki! We need these peep toe boots in our lives! They will last you right into fall and are so versatile too!
Stripes
What is a trip to the beach without stripes? You have to have stripes somewhere in your summer wardrobe! A t-shirt dress with white Converse is cool and laid-back. This would make a great vacation outfit too!
Tight Shorts
You have seen denim shorts, baggy shorts, but we haven't shown you what you can do with short tight shorts. Skimpy shorts are cute, but for a classy look we advise you to wear a top and cardigan to show off your legs.
Skater Skirts
Skater skirts are a dressy option for the beach! Add a crop top or a basic tee to your skirt and a thin tan belt to define your waist line and create the perfect hourglass figure. Finish with a pair of gorgeous sunglasses – Quay Australia have the most beautiful range if you're stuck for ideas.
Double Denim
If you're planning on discovering the docks we have a lovely look for you! We love the baby blue suede Pumas and the cute palm tree tee! Team with double denim for a super cool style. A vintage denim jacket would look so edgy!
Dungarees
Dungarees are so 90s and remind us of our childhood. They don't have to look kiddy with a cute white mesh top or a dusty pink crop top underneath for an awesome look. Add black accessories for a classic monochrome look.
Elegant Beach Look
We definitely need this coral maxi skirt in our wardrobe! Wear this with your prettiest white crop top for an elegant beach look. Another great look if you need a dressier outfit for a special occasion. This will look stunning on brunettes in particular as your hair will look striking with this bright combination.
Denim Shirt
Denim shirts and dresses are so in right now, so you should totally bring this trend to the beach! Slip this over your cute bikini to wrap up warm in the windier weather. A straw bag will add a country vibe to your stylish outfit.
Lace Dress
You can't go wrong with a lace dress! Classy, elegant and floaty, everyone will be mesmerized by your fashion sense! Add a bright neon clutch for a summery look – Macys have a cute neon pink one which would look amazing with this dress.
[td_smart_list_end]