Small Elephant Tattoo Designs
Elephants are not only adorable animals, but they're also a sign of good luck. And, who doesn't need more good luck? That's why we're super fans of Elephant tattoo designs. But, how do we pick just one? There are so many to choose from and they're all so cute. Here is a list of some of our very favorite small elephants tattoo designs. Get ready to want them all!
Elephant With Flowers and Hearts
This cute little guy sits on this woman's ankle with a mix of flowers and hearts tracing his little legs. This simple elephant design is natural and girly and it's one that anyone could easily rock.
Elephant with Sunflowers
This simple doodled elephant is holding a bouquet of beautiful sunflowers. The pop of color from the sunflowers enhances the tattoo and gives it some extra flair.
Elephant in the Desert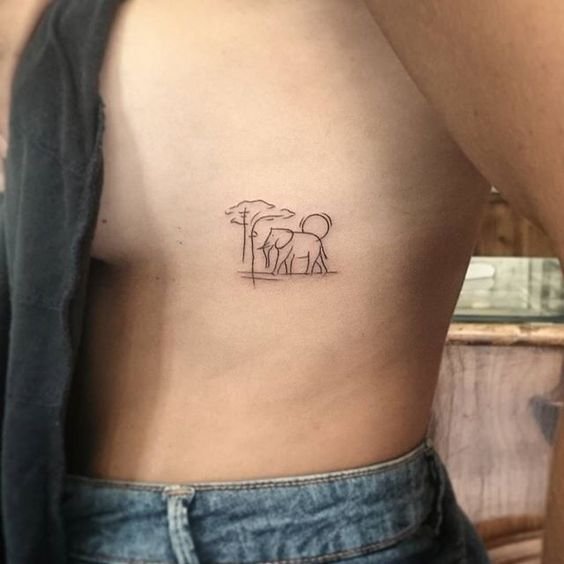 This simplistic sketched elephant in the desert scene is great for the minimalist. If you love the idea of an elephant tattoo but aren't into anything too bold, then consider this design.
Basic Elephant
This basic little elephant looks like a doodle on a piece of paper. It's cute and endearing, but with the bold lines, this design truly pops right off the page…uh, skin!
Elephant Behind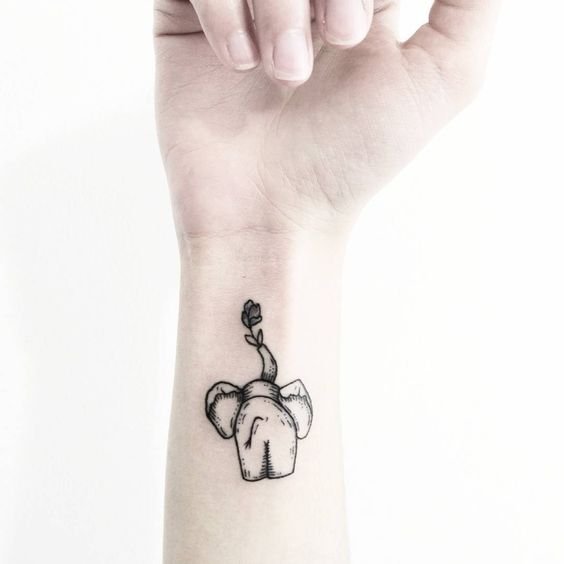 There are tattoos everywhere of heads of elephants and pairs of elephants, but it's not too often you see one of an elephant tush! This cute design is complete with the elephant holding a rose with its trunk. Now, that's just too darn cute!
Elephant With Balloons
This cute little guy is going for a ride up this woman's leg on a string of balloons and we don't think we have ever seen anything more adorable than this! Copy this tattoo, but be sure to utilize your favorite colors for the balloons to make it unique and personal.
Finger Elephant
By tattooing the head of an elephant on your finger, it's like you have a permanent lucky ring. And, this small design is not overbearing or bold. The natural-looking elephant head will blend right into your daily attire.
Detail Design Elephant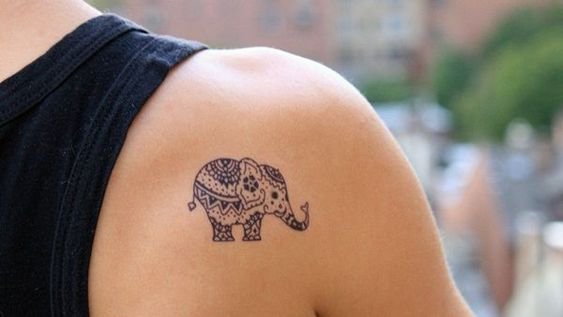 This small detail design elephant is super bohemian. It's for that yoga chick or backpacking babe who loves granola and matcha. In the picture, this tattoo is placed on the shoulder, but the truth is, this would look great anywhere!
Silhouetted Elephant
This silhouetted elephant is the perfect pick for something who wants something minimalistic in design. This black filled-in tattoo makes a great addition to an already tatted-up person.
Colorful Circle Elephant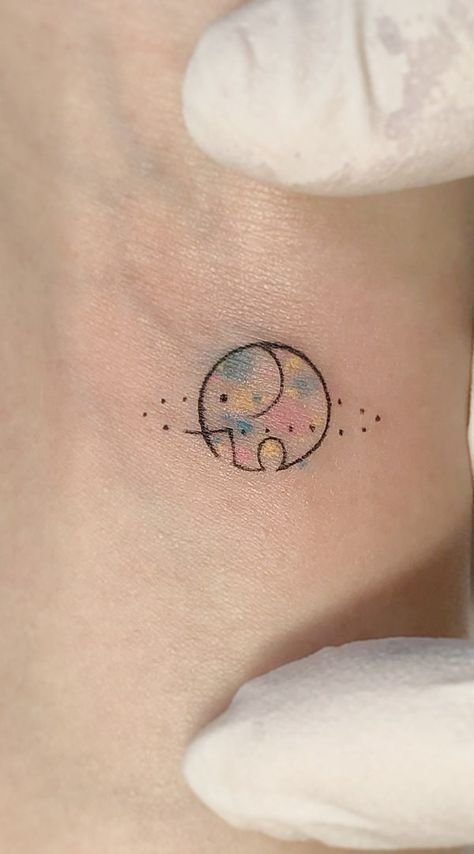 This cute little colorful circle elephant is just so round and chubby. We just want to squeeze him! And, we love the galaxy style colors he's rocking. So mystical!
Confetti Elephant
If you like to party, then maybe this elephant is the right one for you because, clearly, he likes to party too! Whoever thought a trunk would make the ideal confetti blower?
Elephant With Balloon Heart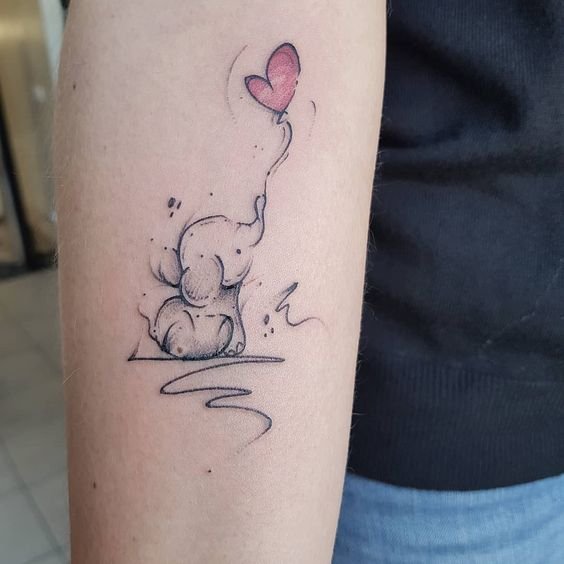 We don't know what it is with elephants and balloons, but we just can't seem to get enough. This little bugger is holding a heart balloon and our hearts are jumping!
Simple Line Elephant
This simple line elephant located on the ankle looks like a notebook doodle that we want to steal. It's simple and small, so it's the perfect starter-tattoo for any newbie.
Mother-Daughter Elephant
This mother-daughter elephant tattoo is the perfect tribute to your best pal. Your mom, of course! It's sweet, nurturing, and absolutely beautiful.
Henna-Style Elephant
This henna-style elephant tattoo is one you will want to try on immediately. Its boho design will have you belly dancing all the way home from the tattoo parlor.
Origami Elephant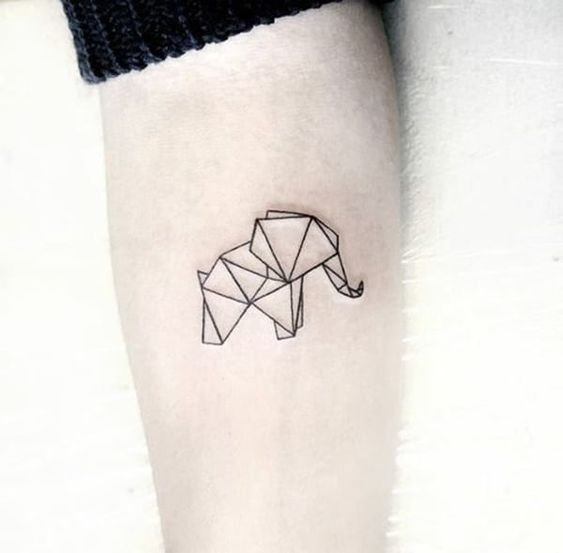 Combining elephants and origami into one unique design? It can't be real! But, it is! We just love the hard lines and geometric shapes. And, seriously, how cute would this be to rock on your body every day?
Behind-The-Ear Elephant
This whimsical silhouetted elephant design seems to be whispering into this woman's ear. Maybe giving her good luck and good fortunes. Or, maybe it's just a simple design that's easy to hide. You decide.
Family of Elephants
This family of elephants tattoo design is ideal for the girl who values her family over everything else. It's a beautiful tribute to the people you love the most!
Elephant in Space
This adorable elephant in space tattoo is ideal for the wanderlust girl. The plane circling around the elephant represents a love for traveling the world and seeing new sights.
Small Bold Elephant
This little elephant with bold lines located on the finger is an idealistic minimalistic tattoo. It's simple and small and does well to blend right into your everyday look.
Floral Vine Elephant
Gray Cartoon Elephant
Heart Head Elephant
Infinity Elephant
Scribbled Elephant
Sharing the Love Elephants
Mother and Child Elephants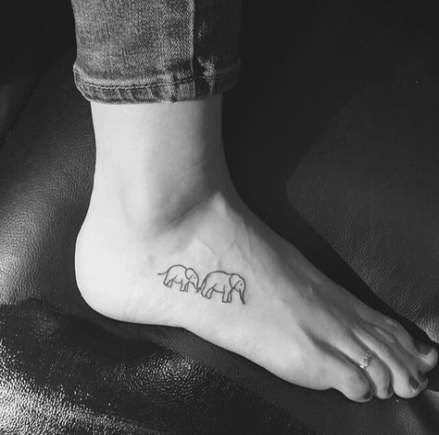 Musical Elephant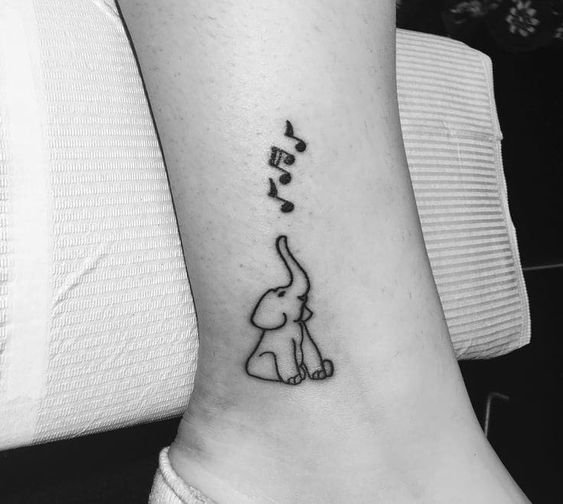 Elephant with Hearts
Simple Elephant and Flower
Watercolor Elephants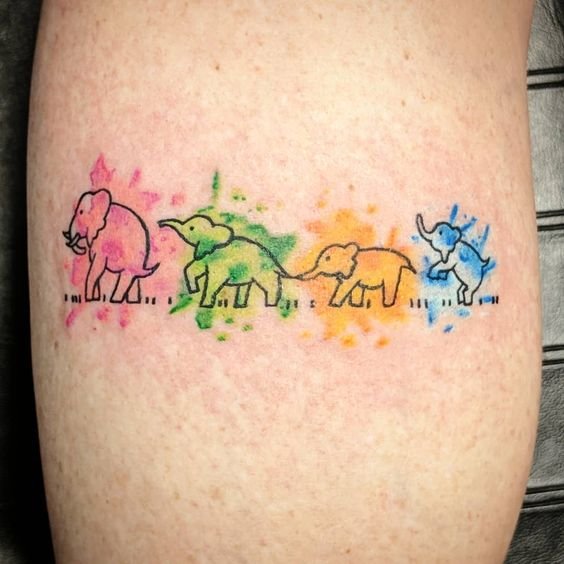 Small Doodled Elephant with Heart
Striped Colored Elephant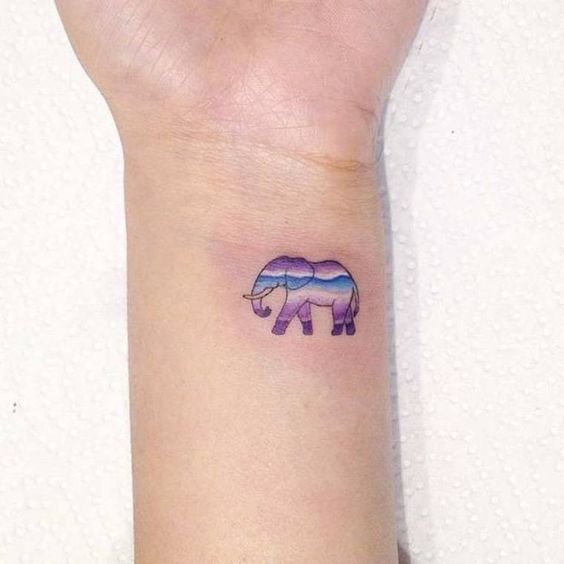 Gray Surreal Elephant
Elephant Friends
Wrist Elephant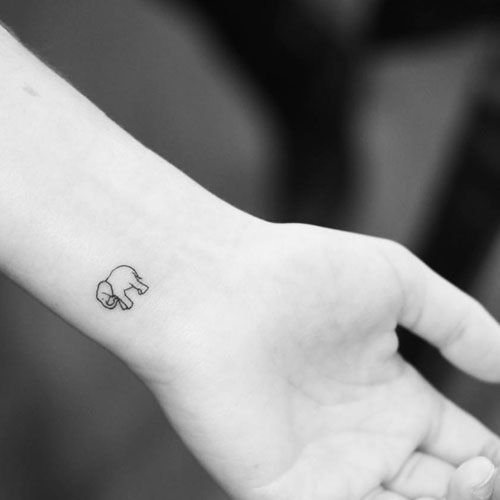 Curly Elephant
Triple Elephant Tattoo
Love and Flower Elephants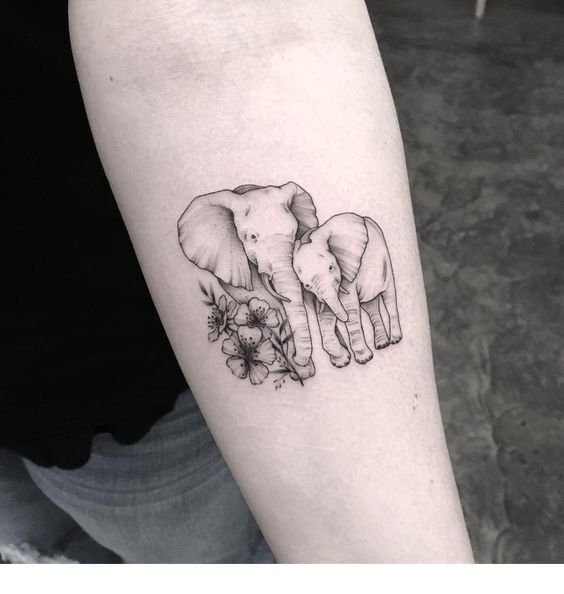 Winged Elephant
[td_smart_list_end]
We can't get enough of these cute small elephant tattoos. And, they come in so many varieties…which makes it super hard for us to pick just one!
There are elephant tattoos on this list that look like notebook doodles. These tattoos are best for people who are looking for a simplistic less detailed design. And, they can fit almost anywhere!
Then, there are tattoos on this list that are super intricate and boho. Some even look like henna! These designs are perfect for any traveler or girly to rock on their body!
We also love the colorful elephant designs that add a little extra flair. They come in stripes, bursts of color, and watercolor. So, you have so many options!
Plus, there are family-centered small elephant tattoos that are a beautiful tribute to the people you love most in this world.
Hopefully, this list helped inspire your next trip to the tattoo parlor!