Back Of Neck Tattoos
Tattoos that are positioned on the back of the Neck are great because they're easy to hide with your hair down and easy to show off when rocking a ponytail! Plus, there are so many cute design ideas that you'll be just dying to try on. For inspiration, take a look at this list of our favorite back of the neck tattoos.
Paw Prints
This tattoo design is for the animal-lover in you. It's also a great design for a tribute to a pet you have or have lost. Puppy prints, cat prints, bear prints, we love them all!
Music Note
Are you a musician or a singer? Then maybe you should ink this cute little music note on the back of your neck. It will show your passion to the world, without being too bold.
Queen Bee
Do you sting like a bee? Or maybe, you're just a Queen Bee with a big attitude. Whatever it is, consider this cute but fierce bee design, guaranteed to have all eyes on you.
Two Birds
We are a huge fan of bird tattoos. And this adorable two birds tattoo is no exception. It is a wonderful tribute to nature and being free…as a bird.
Pretty Bow
Absolute girly-girls will faint over this pretty bow design situated on the back of the neck. It's a feminine tattoo with total class, so you'll look fancy wherever life takes you.
Butterfly
Butterfly tattoo designs are all about transformation and change. By tattooing this design on the back of your neck, you are reminding yourself that life is full of changes.
Cat
Calling all the cat people of the world! This adorable simply doodled cat design is the one for you. This inked on your skin will make you feel like the ultimate cat-woman.
Ying-Yang
Life is all about balance. And, so is this tattoo. If you rely on harmony and delicate balance to make it through your everyday life, then consider rocking this classic symbol tattoo.
Constellation
Are you a total astrology nut? Then, you might want to consider tattooing your favorite constellation or the one that represents your zodiac sign on the back of your neck. That way, everyone will know you're a Capricorn.
Coordinates
Coordinates are always a fun choice for a tattoo. They are very customizable. And, it's a conversation-starter. Everyone will be asking what the coordinates stand for and what gives them meaning.
Paper Cranes
These paper cranes represent how delicate freedom really is. We often take our freedom of choice for granted. This tattoo is a great reminder that we should live every day to its full potential.
Knife
This tattoo is a little creepy, but that's why we love it. Horror buffs will gather around to admire this brilliant knife tattoo located on the back of the neck.
Dandelion
Are you a dreamer and a wisher? Then consider rocking this adorably whimsical dandelion tattoo on the back of the neck. It will remind you to keep on dreaming even when the going gets tough.
Diamond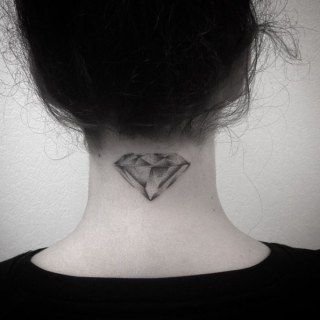 It's true that diamonds are a girl's best friend. And, you can never have too many. So, why not purchase one to ink on your neck? It will live longer than any other piece you have! Or at least, you'll wear it longer.
Dragonfly
Are you a total nature girl? Then, a dragonfly is a perfect tattoo for you. They're one of the girliest insects around, next to the butterfly. And, they look great on the back of the neck. Just look at those wings!
Third Eye
Don't you wish you had eyes in the back of your head? Well, now you can! Well…on your neck, at least. That's good enough, right? This third-eye tattoo design is one that every hippy-dippy will be craving.
Faith
If you're religious and want to carry your faith with you in a different form, then a back of the neck tattoo may just be the thing you've been looking for. It's a simple design that won't draw too much attention but will be special for you and for your dedication to your faith.
Pink Flower
We are absolutely in love with this beautiful pink back of the neck flower. Surrounded by greenery, it looks like a flower picked right from nature. It will certainly bloom envy in everyone's eyes.
Hands
This adaptation of a classic painting is ideal for any artist who believes in the power of human connection. It's beautiful and detailed and who wouldn't want to carry a work of art with them at all times?
Heart Line
Sometimes, we all need a reminder that we are alive and well. And, this tattoo does just that. Even through rough times, all we have to do is breath and feel our heartbeat to know there is a reason to keep going.
Texas
Infinity Arrow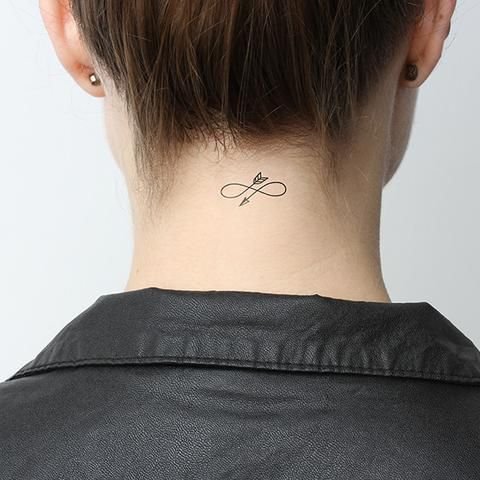 Intricate Detail
Backward Necklace
Key
Lotus Flower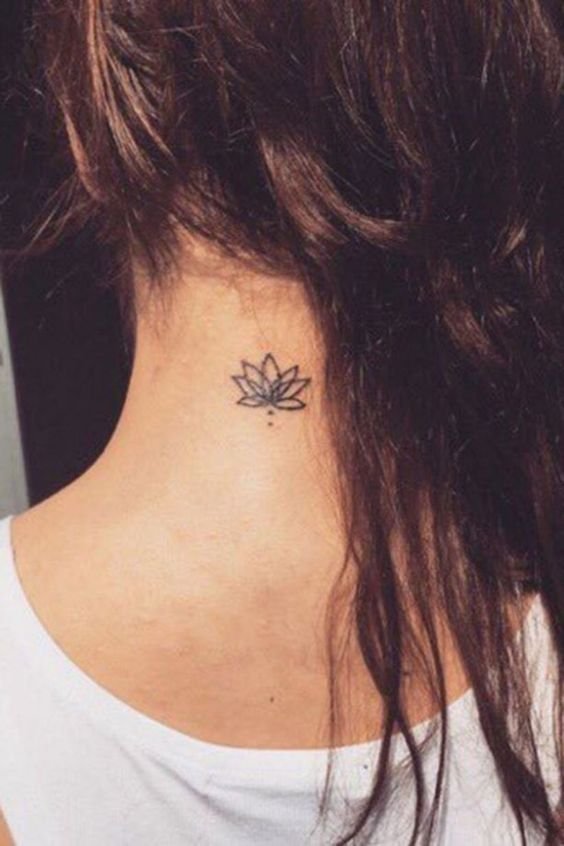 Moon Phases
Mountain Range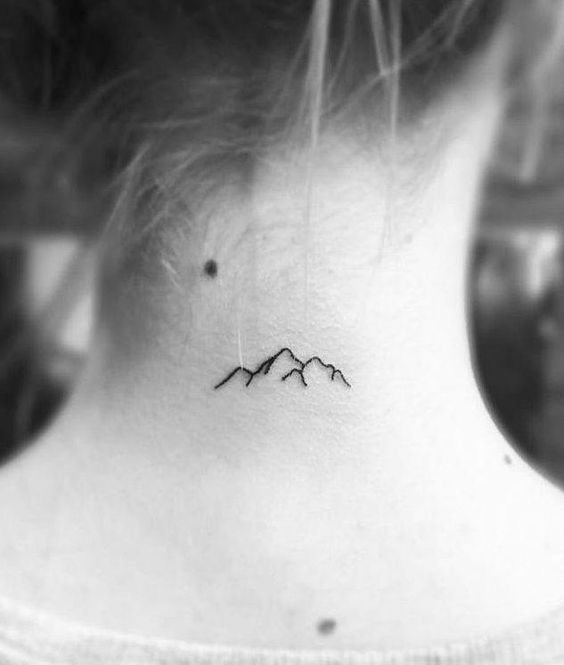 Pine Tree
Palm Tree
Half Heart
Lavendar
Spider
Stars
Sun
Sunflower
Back Of Neck Wave Tattoo
Whales Tattoo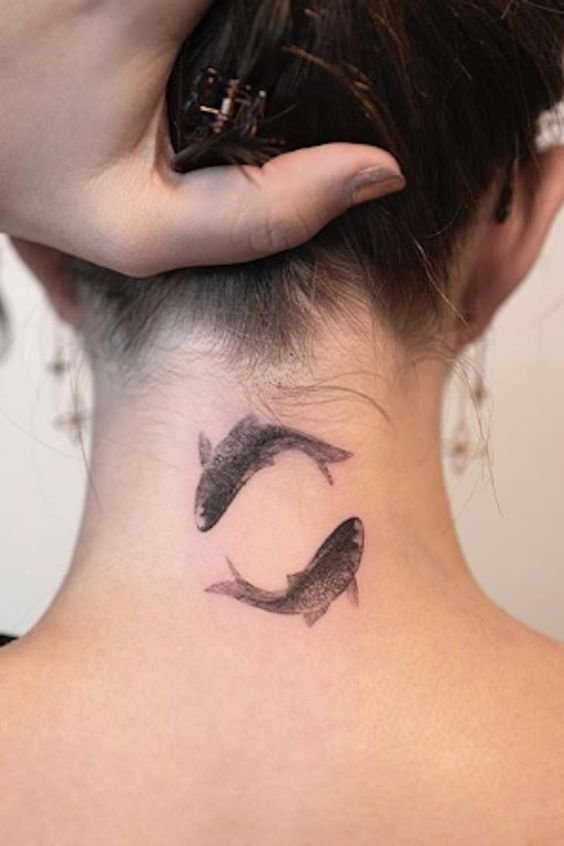 Wings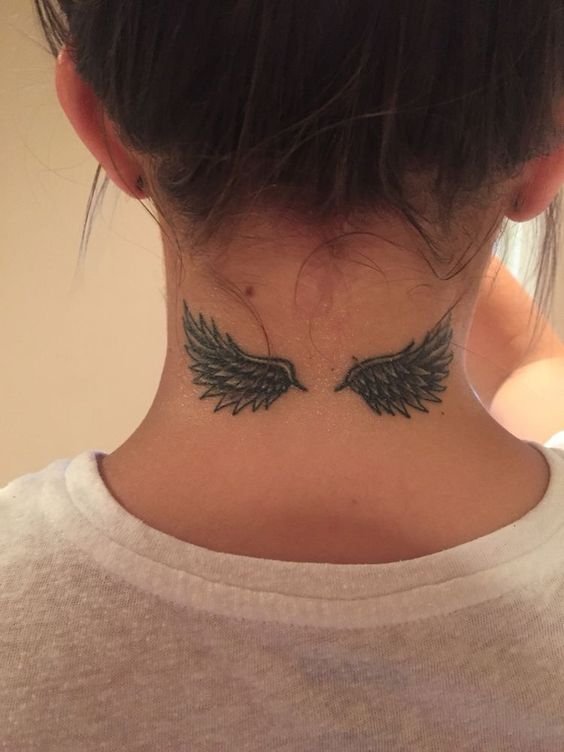 Winter Berries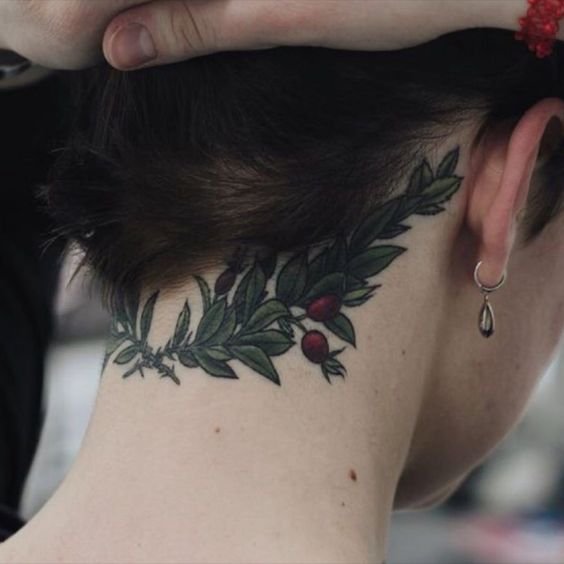 Back Of Neck Henna Style Tattoo
Dreamcatcher And Quote Tattoo
Analome Tattoo
Simple Quote Tattoo
God is greater than the highs and lows
Mandalas Tattoo
[td_smart_list_end]
We are so lucky to have all these options for back of the neck tattoos. Seriously, this list contains something for everyone, which is what makes these tattoos so great!
There are tattoos that are related to nature such as mountains, trees, plants, the moon, and the sun. These nature tattoos are spiritual in nature and help to ground us and bring us back to our roots.
Then there are the animal tattoos. This list features back of neck tattoos with birds, dragonflies, cats, and even pawprints, which could work as a tribute to a special animal in your life.
There are also tattoos on this list that are super girly and any girl would be proud to rock. These include diamonds, flowers, and of course, butterflies!
Hopefully, this list gave you the inspiration you needed to get a super back of the neck tattoo at your next visit to the tattoo parlor.