Disney Nail Designs and Makeup Inspiration
It's time to get lost in the world of fairytales and mesmerizing Disney characters with these gorgeous Makeup and manicure ideas, all inspired by famous princesses and Disney tales! Whether you are looking for inspiration for a dress-up party or would simply like to get creative with your manicure, these creative Disney makeup and Nail Art ideas will take your breath away.
Pocahontas Makeup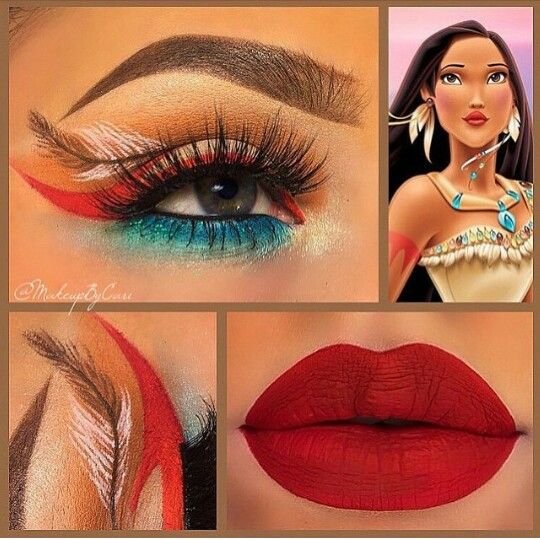 From the feathers to the incorporation of the blue, red and beige shades, this makeup look is simply perfection. The feather detailing on the crease mixes beautifully together with the red liner and the electric blue waterline (which was of course inspired by the necklace of Pocahontas), and the red lips are a stunning finishing touch to this look.
Belle Makeup
A softer, more wearable makeup even for night outs was inspired by everyone's favorite book-lover princess, Belle. The gold smokey eye makeup with a gentle cut crease and a black liner will beautifully frame and define your eyes, especially if you use a liquid gold glitter as a base on your lids. Keep your lips soft and rosy with a velvet matte lipstick.
Minnie Mouse Lips
Although it is not a complete look, this lip art is absolutely fabulous! To recreate this look, use a waterproof, creamy pink lipstick and liner (don't be afraid to overdraw your lips), and set it with a hint of translucent powder. Once you have the base color, use a black liner to carve out the shape of Minnie and fill in the dotted bow with a help of a white and pink liner. Once that's complete, fill in the rest of Minnie with the black liner.
Ariel Makeup
We are in love with the crazy detailing in this look! The red, arched brows remind us of Ariel's beautiful red locks, while the rest of the eye makeup plays with purple, ivory and green elements. Instead of a regular liner, there are green rhinestones on the lid, as well as on the lips, mixed with a classic, matte red lipstick.
Beauty and The Beast Makeup
Another makeup look inspired by the story of Belle and the Beast, but in a completely different way: instead of going with the classic yellow dress, this eye shadow symbolizes the rose surrounded by beautiful blue and white glass pieces.
Jasmine Makeup
This is definitely a look that you could wear anytime. Instead of a literal interpretation, this focuses on the color combination of blue, gold and black – three shades that instantly remind us of Princess Jasmine from Aladdin. It is also super easy to create: once you have a bright blue base lid and a crease gently carved out with beige and caramel shades, go in with a gold liquid liner to create a cut crease, and with a black liner on your lash line. To make the look even more dramatic, apply false lashes as a finishing touch.
Cheshire Cat Makeup
If you wouldn't like to do a princess look and looking for something more edgy and "mad", this Alice in Wonderland look inspired by the Cheshire Cat is the perfect idea for you. With the different brow shades, the intense white highlight on the inner corners of the eyes, the pink and purple liner and smokey eyes and the crazy false lashes are all important elements that make the look more than a simple, bold makeup.
Rapunzel Makeup
With the warm purple, gold and pink shades, it instantly reminds us of Rapunzel! Instead of a simple look, this makeup has a beautiful crown created with purple glitter on a pink and black base, and to make it even shinier and princessy, there are gold and silver rhinestones both on the lids and on the lower lash line.
Bambi Makeup
It's super simple, yet it's still one of our favorites from the list. This Bambi inspired look with the soft brown cut crease, bright white polka dots and "Bambi" lashes is almost like a perfect Snapchat filter, and once you master the cut crease look, it is also easy to recreate. When starting out the look, make sure to use a primer and set any cream eye shadow with the same shade of eyeshadow powder to lock everything into place. For creating the polka dots, use a thin brush and don1t be afraid to have fun with it and smudge out a few dots!
Mickey Mouse Makeup
After Minnie, it's time for a Mickey Mouse inspiration as well, and this makeup couldn't be more resemble to Mickey. To recreate this look, use a matte red cream base all over your lid and if you don't have a really bright white liner or shadow that could cover the red on the spots, take off the red shadow with a Q-tip at the spot of the dots. Once everything is done, use a black liner to create the iconic Mickey figure on the outer corner of your eyes and apply false lashes as a finishing touch. Don't be afraid if you mess up the first few tries – all of these looks require patience and practice.
Cinderella Nail Art
This manicure is amazing, even for everyday wear! Because of the subtle combination of colors (such as pastel blue, white, beige and powder), the stunning white lace design and the clear rhinestone details, this has got to be one of our favorite Cinderella inspired nails.
Lilo & Stitch Nail Art
With the fun colors and Hawaiian flower pattern, this manicure is a cute and youthful choice for summer! Besides the beautiful pattern of Lilo's dress (the coral and pastel pink floral print), Stitch also appears on this manicure.
Alice in Wonderland Nail Art
If you are looking for something more subtle with a more symbolic interpretation of the classic Disney fairytale, we've got the perfect manicure idea for you. While it looks like a simple French manicure for the first glance, it has the little black and red card signs, which instantly reminds us of the Alice in Wonderland scene. It is also a great choice because it is easy to recreate with only a few polishes (nude, white, black and red).
Peter Pan Nail Art
I believe in fairies! With the help of nail stickers, this manicure beautifully recreated the iconic Peter Pan scene. If you'd like to add a twist to this manicure, use a blue or pastel green base polish instead of white, or add green glitter to represent Tinkerbell as well.
101 Dalmatians Nail Art
Another black and white manicure that reminds us of a Disney classic is this beautiful Dalmatian nail art, that you can easily create at home as well! Use two layers of white base polish, and once it dries, apply black spots all over your nails with a help of a thin brush (or simply by a Q-tip). To make it even more 101 Dalmatians inspired, create a red dog collar on your ring finger.
Snow White Nail Art
How could we forget Snow White from our list? Although this nail art doesn't depict Snow White's face or an apple, it features her beautiful dress (with the mix of yellow, white, red and blue) and her hair with a pretty red bow. If you are just starting to experiment with nail art and would like to recreate this look, we recommend buying a few very thin brushes or nail art staples to make sure your lines are straight and the nail art is not too messy.
Mickey Mouse Nail Art
From the black and white strips to the silver glitter, the red gel polish and Mickey Mouse icon, this nail art is cute and glamorous at the same time. For the stripes, use a striped nail art staple to create a polished, detailed nail art super easily, and if you are not sure how to draw the perfect Mickey Mouse face, replace it with a tiny nail art sticker.
Ariel Nail Art
Although it doesn't show the red hair or beautiful face of Ariel, it still reminds us of the Little Mermaid with the purple and green glitters and black scales. For this look, use a gel glitter polish to ensure the glitters stay in place. Once it dries, it will be super easy to create the black scale pattern with a tiny brush and acrylic polish. If you want to make the nail art edgier, use a shell sticker (or simply paint it onto your ring finger!)
Ursula Nail Art
Let's not forget about the iconic villains of our Disney favorites: after an Ariel inspired nail art, it's time for an Ursula manicure as well. While at first, it looks like a vintage inspired, fun black and purple polka dotted nail art, if you take a closer look, you can see it resembles to Ursula's look.
Aladdin Nail Art
Another glitter based nail art design inspired by Aladdin: but instead of scales, this features a beautiful, golden lamp on a sky blue base that reminds us of Jasmine's beautiful dress.