30 Beautiful Diamond Nail Art Designs
Diamonds are a girl's best friends – we couldn't agree more with this quote! And even though most of us can not afford diamonds ring or statement necklaces, we can definitely add a few diamonds to our Nail art designs! Whether you would like to create something really unique for a special occasion or would like to experiment with a new and feminine manicure, we've got your back with 30 stunning Diamond nail art designs.
Princess Diamonds
Starting off our list with something very on theme, this design could be perfect for any special occasion, even for a wedding. The beautiful fade of the ombre nail art here is barely noticeable, as the focus is definitely on the little diamonds and rhinestones.
Mauve Manicure
The lace press-on motives and the contrast between the light and dark mauve nail polishes look really pretty and exquisite with the diamond swirl design. To recreate this nail art, play with matte and shiny nail polishes, and experiment with lace nail stickers for a detailed, perfect result.
Splash of Blue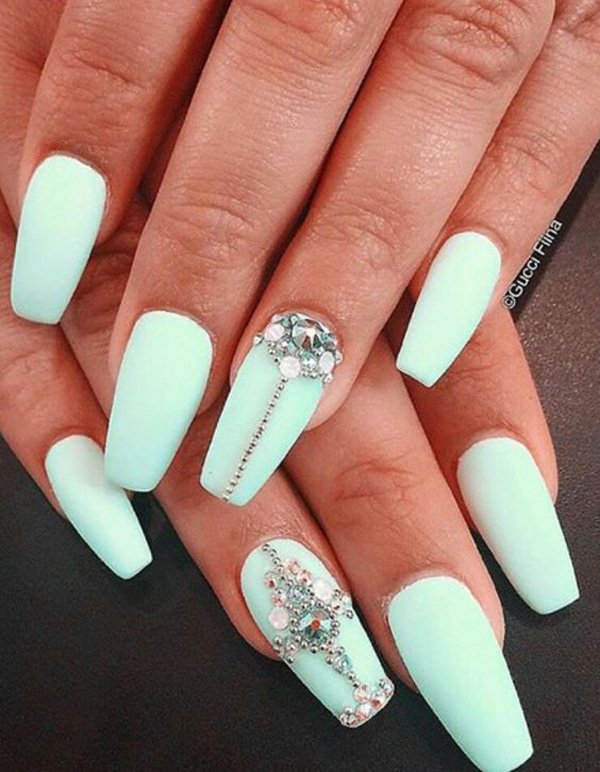 From the coffin nail design to the rich placement of the small diamonds and the vivid light blue nail polish base, this nail art couldn't be any more perfect for the summer. Match it with coral lips and a simple, all-white or powder colored dress!
Subtle Diamond
If you are looking for something sophisticated with just a very few, tiny diamonds as decor elements, check out this manicure with shorter nails and a modern mix of black and white and light mauve.
Crushed Diamond
This crushed diamond nail art design is probably even more shiny and eye-catching than a regular diamond nail design. If you wouldn't like it to be too over the top, only use the crushed diamond technique (you can easily get "diamond" powder or chunky silver glitter at any craft store) on one or two nails on each hand and keep the rest simple or use a silver/gray polish.
Blue Sunset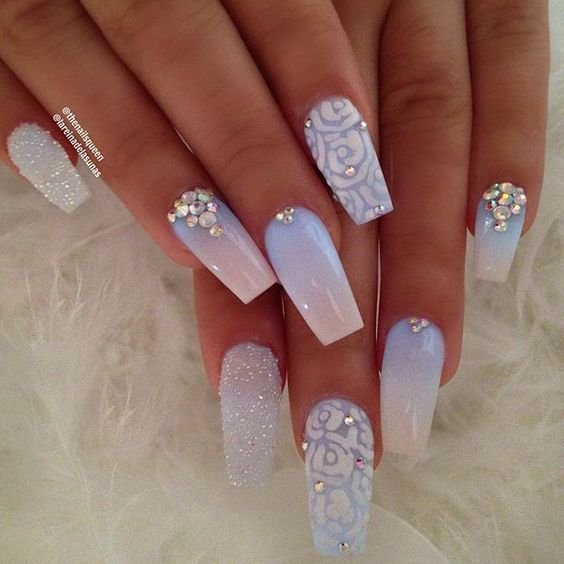 Ombre nail art designs just don't seem to go out of trend – and being honest, we are not mad about it at all. This one has a gorgeous lilac and pink transition with added white rose designs. Because the colors are so soft, the diamonds give them a nice shine instead of looking "too much".
Burgundy Diamonds
A diamond nail art can pop a lot more on dark nail polishes, such as on burgundy, emerald green, royal blue, dark brown or even black, especially if the base coat is matte. If you want to spice things up, use different shades of matte nail polish.
Monochrome Diamond
Instead of a small placement of a rhinestone or diamond, this nail art design actually makes it look like your nails are made from precious diamonds with the help of a 3D nail art technology.
Light Elegance
This manicure and its name speaks for itself: a soft, French-like ombré with small almond-shaped nails and a splash of shine with the help of small diamonds. If you'd like to create this look at home, use a sponge applicator for the ombré effect and before applying the rhinestones, use silver glitter base on your ring fingers.
Metallic Diamonds
Looking for something really futuristic and over the top? Try out this nail art design! While the ring finger nails are completely covered in gorgeous diamonds, the rest of the manicure features a few coats of monochrome, shiny silver polish. This is definitely a lot of sparkle, but it's just perfect for special occasions.
Gold & Diamonds
Who doesn't like a bit of gold? Especially if it's paired with diamonds! What makes this nail art design really special besides the placement of the diamonds and the gold gel polish is the faded, matte white nail polish base on the other fingers.
Real Diamonds
We are not exactly sure what kind of magic this is, but we definitely want it on our nails….right now. Although the nails seem to have a plain gray nail polish, they are reflective and gorgeous, just like real diamonds.
The Evil Queen
If you've had enough of the pretty pastels for a while, try out this stunning, dark reflective green almond shape nail design with a beautiful diamond detailing. You can also use other chrome shine nail polishes as well (such as electric blue) or go completely matte and let the diamonds shine.
False Diamonds
With the help of baby pink chunky glitter, you can easily create the illusion of diamonds on your nails, but besides this technique, this nail art designs also features some tiny regular diamonds on the edges of the nails as well.
Chrome Shine
If you can't get enough of the shine, you'll fall in love with this nail art. The diamonds are placed in a beautiful swirl design, while the rest of the manicure plays with the contrast of chrome, silver, and pink.
Graphic Diamond
Who says we should take everything literally? This black and white, cute little graphic design draws the diamond shape on a simple, nude nail polish base instead of adding tiny crystal, and we admire this idea!
Minimalist Diamonds
For all the girls who love to keep their manicure minimalistic and simple – a nude base with a few sparkles and a gorgeous glitter detailing on the ring finger. The good thing about this manicure is that it can be worn with literally anything, as it is very subtle and sophisticated.
Graphic Diamond
We had to include another black and white, drawn diamond to our list. Just like the other one, this is definitely a more cute nail art design.
Bright Diamond
Use a reflective silver or even white polish and a simple nude or pink base coat to create your very own, super shiny diamonds on your nails! For the first glance, it looks like a cute caged nail design, but if you look closely, it's easy to see the outline of the diamond shapes.
Camouflage Nails
The mix of matte olive, beige and white will always remind us of the classic camouflage trend, and this nail art design takes it to a whole new level with the added diamonds!
Hello Kitty
The matte baby pink, the long shape of the nails, the little acrylic bow decoration and the unlimited amount of pearls and diamonds together are just too pretty! To get this look, ask for a help of a professional, who can easily put every little detail in place and create the bow.
Caramel Ombre
Grab a deep brown, a caramel and a sand nail polish, and after applying them under each other to a sponge, smudge it gently to your nails. This will blend the polishes together and create a very pretty, caffé latte nail art design. Simply place the diamonds on top and let everything dry.
Red & Blue
Yes, we'll admit that it's a bit too much…but it's absolutely stunning! Who knew baby blue and bright red looked that good together? And the beautiful rhinestones just seem to pull the whole nail art design together by adding a little bit of shine.
Tribal Vibes
The mandala design, the simple black & nude colors and the placement of the diamonds and black detailing remind us of a very modern and chic tribal manicure.
Golden Beige
After silver, it's time to appreciate a golden glitter look as well, but to tone it down a bit, there is also a nice blend of beige nail polish. The overall vibe of this manicure with the lengthened shapes, beautiful diamonds and gel glitters is just royal and exquisite.
Black Diamonds
Besides the clear diamonds, this nail art also features a variety of golden and black crystals with a gorgeous black nail décor, making this manicure one of our absolute favorites from the list. If you want to create a daytime manicure based on this, we recommend a smaller almond shape with diamonds only on the middle finger nails.
White Snow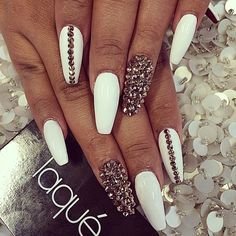 Diamonds look absolutely stunning with the most simplistic, matte white nails, especially if you choose a longer length such as coffin nails.
Pastel Drawn Diamonds
Another shimmer-less, minimalist manicure that features diamonds is this beautifully drawn nail art design with shades of pastel blue, pink and light purple. Besides these shades, you can also use colors inspired by the sunset (peach, red, orange and yellow) or a more romantic color palette, such as pink, red and mauve.
Swirls & Flowers
Although it has a very romantic vibe with the pink, diamonds and porcelain flowers, but with the black twist, it also has a bit more edgy vibe to it. If you are not a fan of the idea of the black nail polish, simply switch it to a lighter shade, such as green, mint or light yellow.
Luxurious French
To create a classic French manicure with a luxurious twist, use gorgeous gold rhinestones and small clear diamonds and place them in a spiral or in an asymmetric shape. If you have longer nails, you can also create a polka dot nail design with the help of diamonds.
[td_smart_list_end]