35 Gorgeous Coffin Nail Designs
Besides looking edgy and feminine, coffin nails are also great accessories if you would like to add a unique vibe to your look. Because of their beautiful, longer shapes, there are so many versatile manicure ideas that you can rock with coffin nails, such as geometric designs, contrast colors, floral patterns and even some amazing, 3D details. If you are a bit lost in the maze of manicure ideas, don't worry…we collected the ones that will surely get your attention right away.
Textured Rose
Starting off our list with a very special and romantic manicure, this rose Nail Art is perfect for first dates, special occasions and even for weddings. Although it has quite a noticeable pattern with the glittery rose print, the pink color makes it look soft and feminine.
Marble With a Twist
Marble nails have become a huge trend since last year, and this manicure takes the traditional look to a whole new level. While the metallic Gold ring design makes the manicure pop a bit more, the pinks on the other nails tones it back and makes it perfectly wearable for any occasion.
Red and Silver
Although we usually see red matched with gold, we are really into this combination. This manicure is loud and beautiful, and with the red, it's almost a bit festive, so it would work great for Christmas or for a girly night out. If you are not a fan of hot red, choose burgundy or a corally orange shade to create a similar contrast between the colors.
Black Henna Design
This is definitely a bit more laid back, but beautifully detailed nail art design. The focus is on the henna pattern (don't worry if you are not a pro, there are various tools that will help you create thin and precise lines and dots), and because of the long shape of coffin nails, you can be creative with the patterns.
Matte Floral
The purple, plum and white colors are giving us Hawaii vibes on this manicure. The beautiful white and lavender flowers are created with a 3D acrylic design, so they stand out from the rest of the matte nail polish base.
Lilac Sunset
Ombré nails look especially bold and gorgeous if you choose three very different shades from the same undertone, such as going from a deep, rich purple to a soft lavender color. To achieve a detailed ombré look, make sure to use transition shades between the darkest and lightest polish.
Splash of Colors
Black mixed with beautiful neon colors is a gorgeous and easy style for spring and summer nights! To recreate this manicure, start with a black matte or glossy coat of nail polish and with the help of an unused makeup brush or Q-tip, create "splashes" with 3 or 4 different colors. Besides the peach-pink-purple-blue combination, we also love the idea of a sunset nail art look with red, orange, yellow and beige, especially on a black base.
Mixture of Sparkles
Sometimes gold or silver sparkles are just not enough…and this is when it's time to add another shade to the mix! Use bronze, gold, rose gold and silver glitter polishes and to avoid looking too over the top, use a natural shade on the rest of your nails.
White Lace
Perfect for spring and summer, this white lace coffin nail design is feminine and a bit edgy at the same time. If you'd like to recreate this design at home, make it easier by purchasing a premade lace nail art design press.
Rose Gold Glitter
Just like rose gold accessories, rose gold glitters are very trendy – and no wonder why everyone loves it! If you are looking for a killer nail art that will be a true showstopper, this is the right choice for you.
Unicorn Nails
Baby pink mixed with holographic polish and a hint of glitter: this is what we call the perfect unicorn manicure. If the three different styles are too much for you, simply stick with the baby pink and the holographic polishes.
Monochrome Ombré
Besides bright ombrés, we are also a big fan of more subtle designs, such as grey and beige polishes, and because of the long shape of coffin nails, it's easy to expand the ombré effect and use various shades at the same time.
Royal Princess

With the matte blue, the gold details, the long shape of the nails and the nude, glossy nails, this coffin nail design reminds us of Princess Jasmine, and we are just in love with this.
Electric Blue Vibes
A whole different shade of blue, but similarly exciting: this nail design with bright, almost neon blue matched with clear stripes looks amazing!
Matte Meets Metallic
Play with different finishes and use glossy, matte, glittery and metallic finishes in one nail design! This look features matte and metallic, high-shine olive shades with gold detailing.
Ice Queen

Baby blue (and any pastel shade from lavender to cotton candy pink) goes together beautifully with silver, so to spice up a simple pastel look, try out silver polish or tiny crystals on your nails.
Geometric Matte
Besides it's super easy and quick to create geometric shapes, these nail designs look modern and beautifully detailed. Use a matte cover polish on top of the colors to give your nails a sophisticated overall look.
Barbie Nails
Coffin nails are the ideal shape for a full-glitter or any 3D detailing (because of their length, they will keep your manicure looking feminine and won't make textured designs look too thick), and with this pink chunky glitter design, you will definitely achieve that classic Barbie effect.
Festival Manicure
Although it is not crazy colorful, the gold details and the white lotus flower designs have an edgy summer festival vibe to them.
Mix and Match
Different colors, patterns, and textures…why not play with them a bit? Especially if you are attending a special occasion, a manicure that features various styles will make your whole outfit more interesting.
Broken Mirror
The shape and placement of the crystals in this nail art look like broken mirror pieces, which has to be one of the most unique and creative coffin nail art designs out there.
Mauve Meets Burgundy
We can hardly imagine a more feminine and pretty nail art design than mauve, burgundy and crystals matched into one, gorgeous design. Mauve and burgundy goes well together with any other shimmery shade as well, such as gold, rose gold or bronze, but for creating a contrast, silver is a great choice.
Pink Camouflage
If creating camouflage nails wasn't creative enough, try its feminine, pastel version for a guaranteed wow effect. Use a pretty pink as a base shade and add pastel blue, beige and white camouflage pattern as a detailing.
Wonderland Nails
This nail design mixes together every current trend from crystals to glitter polish and marble pattern, and it all works surprisingly well, creating a Wonderland effect.
Princess Nails II.
Another Princess Jasmine inspired art that proves that coffin nails can look stunning in a shorter shape as well.
Bronze Nails
Bronze and burnt orange shades are great picks for the summer, especially if you mix it with colorful outfits such as coral, sunflower yellow or green.
Golden Flakes
Besides the regular metallic foil nail art, there is another amazing way to use foil as part of your manicure – as golden/bronze flakes! Before finishing your nails, make sure to apply a top coat to keep the flakes in place.
Autumn Vibes
The beige, gold and caramel polish colors with the deep marble pattern remind us of the rich, warm color scheme of autumn – but this nail design can work during the warmer seasons as well!
Golden Marble
For a very luxurious and "royal" vibe, mix gold with black and white marble. While the black and white keeps the design very classy, the gold will add a pop of color to your manicure.
Fade Away
If you are looking for something minimalistic and modern, we've got the right manicure idea for you. Although the base is a matte, light grey shade, the "fading away" grey glitter patterns keep the nail art unique and interesting.
Teal and Gold
Feeling a bit more creative? Try out this Cleopatra-inspired coffin nail art! All you need is a teal, black and golden polish and you can easily recreate this pattern. For the smaller details, use a toothpick or a very small, thin brush to make your nail art precise.
Purples and Mauve
Besides the interesting color combination, the white caged design and the stunning, multicolored crystals are what make this manicure stand out from the crowd.
Reversed French
Instead of the classic nude and white tip French nail art, this design has unique, matte black tips. To make the contrast even more visible, try out a matte black nail polish.
Contrasted Design
Who knew grey, pink and black could work together this well? With the tribal motives, the pop of pink color and the beautiful gold details, this nail design is perfectly ideal for spring and summer, matched with more simple outfits.
Optical Illusion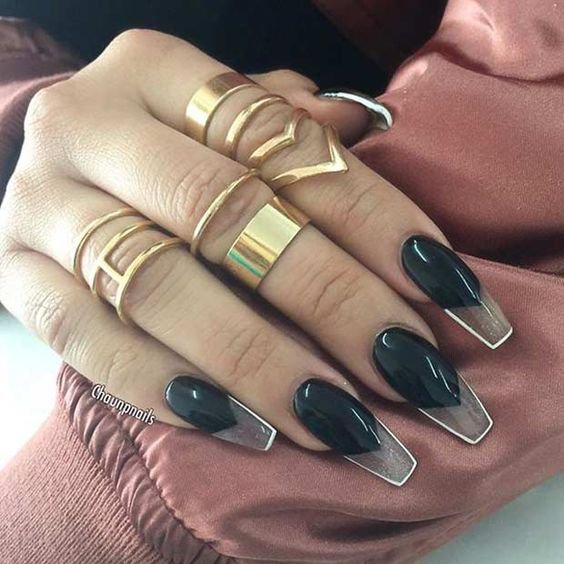 If you are not a fan of colorful nails, but would still like to have a truly unique nail art, experiment with optical illusion patterns. Keep the shades simple with gray, black and white, and play with the patterns instead.
[td_smart_list_end]