30 Cool & Edgy Grunge Style Outfits
It's edgy, daring and youthful with just the right amount of dark colors…there is nothing not to love about Grunge outfits. While there are a few iconic, Grungy looks, there are endless different elements of this style that we adore, from floral patterns to ripped net fish stockings. If you are new to this style or would like to experiment with the different elements of grunge fashion, we are here to help you out with our 30 favorite grunge clothing and looks!
Daisy Shorts
With the high waisted floral short, this outfit is giving us serious Alice in Wonderland vibes, and we just love its dark, fairytale-like look. Mixed with black tights and a black crop top, it's perfect for any casual event from grabbing coffee with your friends to going for a cinema night.
Lace & Embroidery
This outfit mixes feminine and masculine elements perfectly. The all black outfit with a hint of red, the oversized shirt with the lace underlay and embroidered rose pattern is the perfect amount of grungy and sultry at the same time.
Naughty meets Nice
Fishnets are everywhere this season, but for a truly original grunge concept, mix it with something girly and playful, such as a pastel pink skirt or a pair of baby blue shorts. Complete your look with a white, printed T-shirt or blouse and you are good to go!
The Schoolgirl
This is such a grungy, yet refined and fun look! From the comfy, oversized cardigan to the cross-body bag and neutral color scheme, this is our ideal "schoolgirl" outfit. If you want to make it a bit more edgy, add a choker or statement earrings to your outfit!
Denim Dungarees
We probably all wore it when we were in playing around kindergarten, and now that denim dungarees are making a comeback, we can finally rock them again. Whether you match it with something edgy or a simple, oversized black jumper, denim dungarees will add a casual and exciting flare to your outfit. And if you want to make it more feminine, wear it with heels!
Pastel Grunge
Who says grunge is all about black, burgundy and emerald green? This gorgeous outfit keeps it old school with the silhouettes and shapes (the bomber, the crop top and the A-line, pleated skirt) and futuristic and crazy with the beautiful pastel and metallic shades. If you want to try out something new in the grunge fashion scene, this is probably the perfect choice.
Keeping It Simple
The focus on this outfit is clearly the hair, so it's a perfect choice for all the girls out there who are rocking pastel or colorful hairstyles. A simple white crop top, a sturdy leather jacket and a pair of high waisted jeans – grungy and will definitely make your hair pop!
Mix & Match
Just like in every other fashion style, mixing different patterns, elements and fabrics is always a fun way to spice up your look. This outfit effortlessly combines a printed, tomboy jumper with more formal, striped pants with edgy lace-up boots and we just love how effortless it looks.
Moonchild
An all-black look with a pop of pattern? Yes please. And if you thought the outfit couldn't be any more grungy, just add fishnet tights and a small, subtle moon or star choker.
Colourblock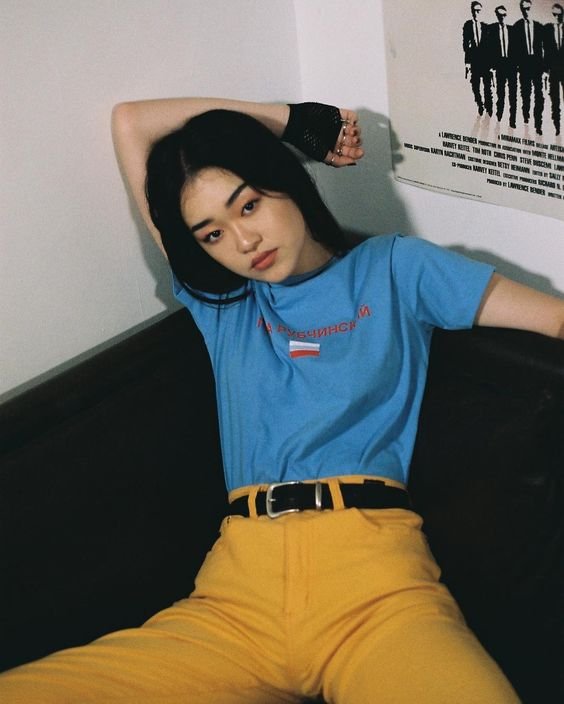 Although it might be surprising, mustard yellow and royal blue go amazingly together – and with the washed out vibe, high waisted pants, and vintage T-shirt, this outfit perfectly represents the essential grungy style, even though it is not completely dark.
Soft & Colourful
Taking the checked-skirt trend to a whole new level, this outfit features a lime green and white color combination, which is perfect if you are not a fan of black and burgundy, but would still like to experiment with the grunge fashion. Choose a faux fur cardigan or coat to take the outfit to the next level.
Monochrome Grunge
With the right silhouettes and shapes, even a monochrome beige or neutral outfit can look grungy, and this chunky knit cream cardigan and high-waisted velvet pant outfit perfectly represent the softer side of grungy.
Crushed Velvet & Leather
Mixing a cozy, almost elegant sweater with killer leather skirts is another fashion-forward way to achieve a grungy, yet girly look. If you are not a fan of velvet or other sturdy materials, replace it with a black, sheer jumper or an oversized denim shirt and don't forget to tuck it into your skirt.
Floral Grunge
Although Coachella is over, we are not ready to say goodbye to boho floral rompers yet. The fishnet stockings and oversized cardigan make the romper way more edgy and grungy, but the floral pattern of it keeps the outfit feminine.
Boyfriend T-shirt
It's bold, quick and easy… and comfortable! Throw on an oversized T-shirt with clear or black tights, a denim jacket, a structured purse and add some details (such as sunglasses, bangles or a bandeau) to create a go-to casual, grungy look.
Menswear
This look just screams vintage and grungy in a very sophisticated and formal way. Every little part of the outfit is well-thought out: pairing the casual, faded T-shirt with structured, grey pants and patent leather oxford shoes creates an effortless and interesting vibe.
Casual Chic
If you prefer more casual looks, we've got a great way for you to rock crushed velvet. Keep the rest of the outfit all-black and tuck in the front of the top or T-shirt for an even more comfy vibe.
Indie Grunge
We all have those days when we just want to wear the most over the top, indie shirt that we can find in our closet, and for these days, a beanie, high waisted shorts and oxford shoes/boots will definitely come in handy. Don't hold your imagination back when it comes to color palettes and mix any and every color you would like to.
Wet Look
This outfit could be best described as Kim Kardashian meets grungy, and it surprisingly works great together. The wet hair look with the sheer top and the oversized jacket creates a dark, exciting combo, especially with the added black and silver belt.
Black Widow
We couldn't leave out the classic all-black look from our list, and the reason why we are especially in love with this one is simple: the combination of different fabrics (patent leather, velvet and sheer) makes this monochrome look diverse. If you want a pop of color in it, add an embroidered top instead of the simple, sheer top or switch the bralette to a white or cream one.
Sweater Weather
An oversized, super comfy sweater can be easily turned into a dress with a pair of black tights and heels. To make the outfit more extraordinary, choose platform or flatform boots (even colorful ones if you'd like to add a pop of color).
90's Kids
Printed, tucked in white T-shirt with high waisted, belted jeans represent the more nostalgic flow of grunge, and we'd love to go to the library of for a coffee in this outfit.
Sheer Floral
Another softer and feminine grunge outfit is this sheer floral magic, paired with checkered pants. What makes the outfit really grungy is the pair of simple, black Converse sneakers.
Pin Up Meets Grunge
This has to be one of our favorite outfits from the list. While the whole look is grungy and cool, the small details (such as the polka dot mesh top, the pop of coraly red on the bags and the bandue in the hair) make this such a stunning and unique look.
Porcelain Doll
Yes, it seems to be all about mesh tops this season, and we are really into it. The black and white, the soft polka dots with the lace detailed top and the ripped jeans create a modern porcelain doll illusion.
Teal & Edgy
Although teal and suede wouldn't be generally considered grungy, there is this something about this outfit that's so edgy and vintage! Taupe and silver accessories look amazing with teal (as well as a tan, so it's a perfect summer look), and to make it more grungy, mix it with a pair of cut out boots.
Sheers & Bralettes
90's pantsuits can look even more edgy and fashion forward with a very feminine element, such as a lace bralette or satin crop top.
Denim on Denim
Denim on denim look can actually look super cool with two or even three different shades of denim. Whether you decide to wear a light denim jacket with darker blue pants or the opposite way, it's guaranteed to be a grungy and casual look.
Playing With Fire
A red jumper/dress/top is an absolute must-have in every wardrobe, and to make the red shade grungy and effortlessly cool, match it with a flaming detailed bag or shoes.
Baroque Vibes
This outfit combines together two very different styles beautifully: the fringed out detailed mom jeans, the statement belt and the color scheme gives the look a grungy vibe, while the bell sleeves and the earrings remind us to Baroque inspired fashion.
[td_smart_list_end]