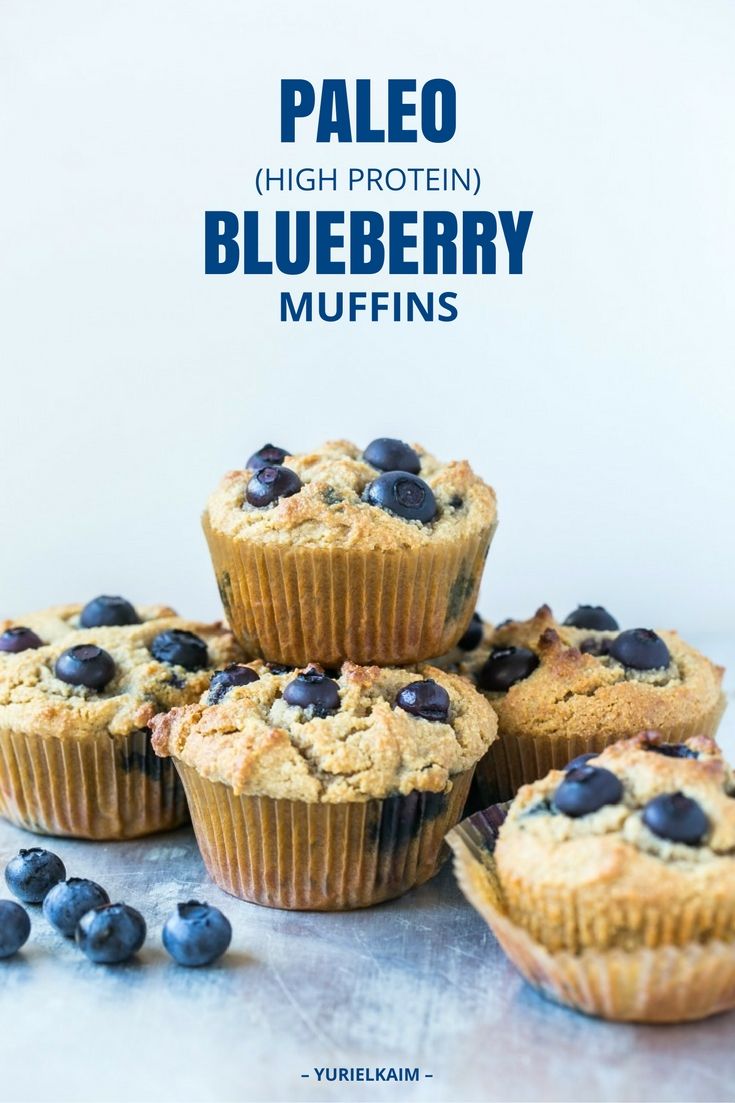 Some days it's tempting to hit up a bakery or coffee shop for a freshly baked muffin, but next time you get that feeling, hold up.
Those massive, glorious, round, begging-for-you baked goods are usually loaded with everything your body doesn't need.
Sugar and refined white Flour is a problem. And let's stop pretending it's not.
Want to know the fastest way to throw your day into cravings? Stuff your gut full of sugar and flour and it's like setting a ticking time bomb in the middle of your morning.
You don't need that!
What you need instead: high-fiber, high-protein breakfasts.
Sound boring and basic? Nope!
I've got a list of delicious breakfasts that will do your body right.
Good morning, 3-Ingredient Protein Pancakes
Hello, Cocoa Quinoa Breakfast Bowl
What's up, High Protein Breakfasts
And also, let's bring back the muffins. Because these Paleo Blueberry Muffins are easy, delicious, and will start your day off right.
Paleo Blueberry Muffins
This awesome recipe is packed with protein to start your morning off right. They're also portable.
If you're short on time, grab one on the way out the door and enjoy while on the road.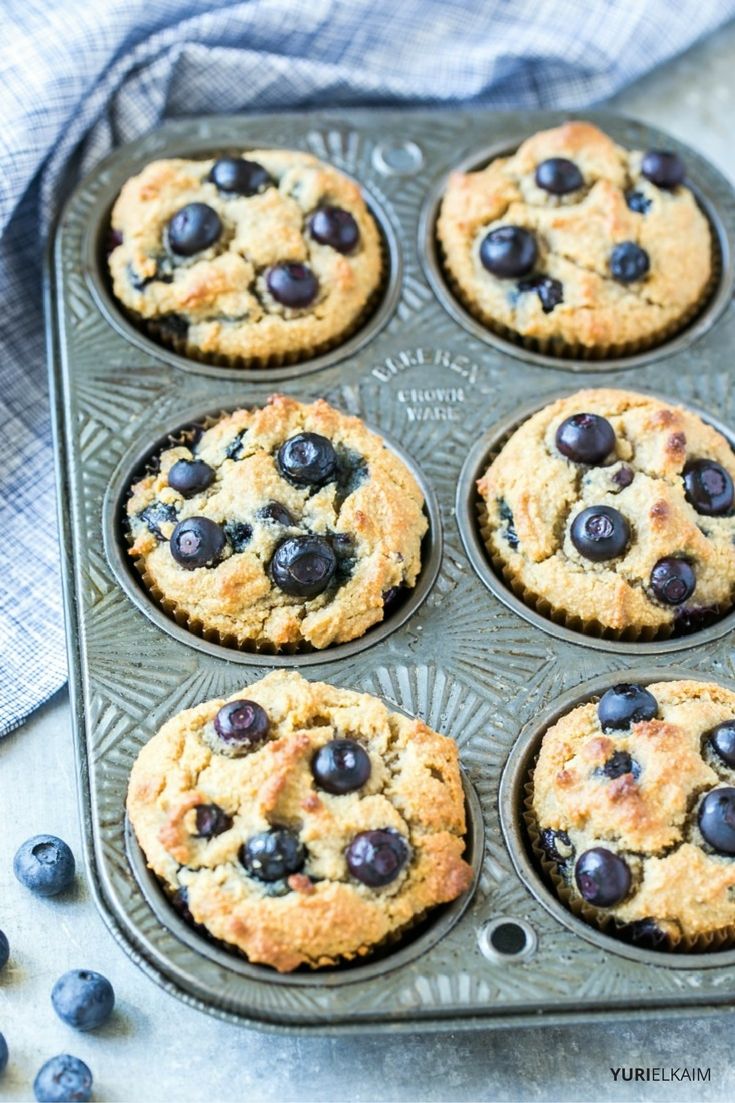 Almond flour replaces white flour in this healthy muffin recipe, providing plenty of protein, vitamin E, and other essential nutrients.
I recommend using almond flour in this recipe, as opposed to almond meal. Almond meal is basically ground almonds with the skin on, while almond flour is blanched almonds with the skin removed, which gives you better baking results.
Almond Flour Tips
You can find almond flour in the baking aisle of most grocery stores, or in the bulk section of natural food stores. The finer the grind, the better the results of your baked goods.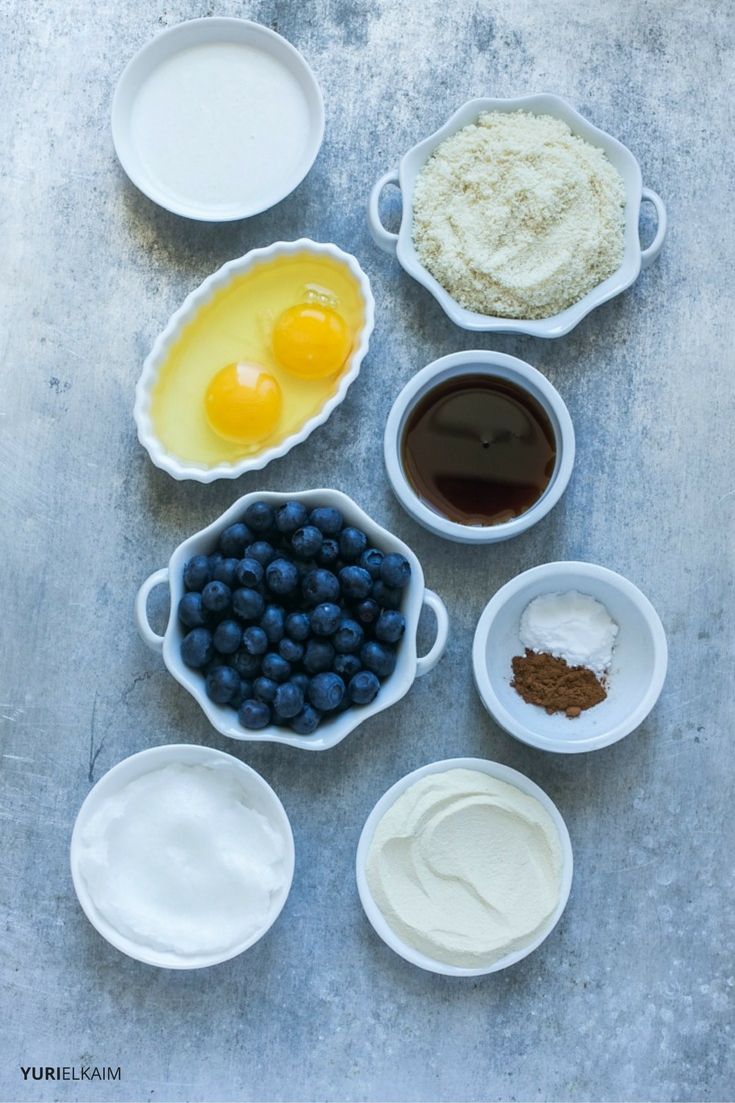 Almond flour can go rancid quickly, so it's best to store it in the fridge or freezer. It will last in the fridge for about a month, and in the freezer for 6-8 months. If storing in the freezer, measure out the amount you'll need for a recipe, let that portion thaw for about 30 minutes, and store the rest back in the freezer.
You can use almond flour in many different recipes, from pancakes and waffles to quick breads and energy bars.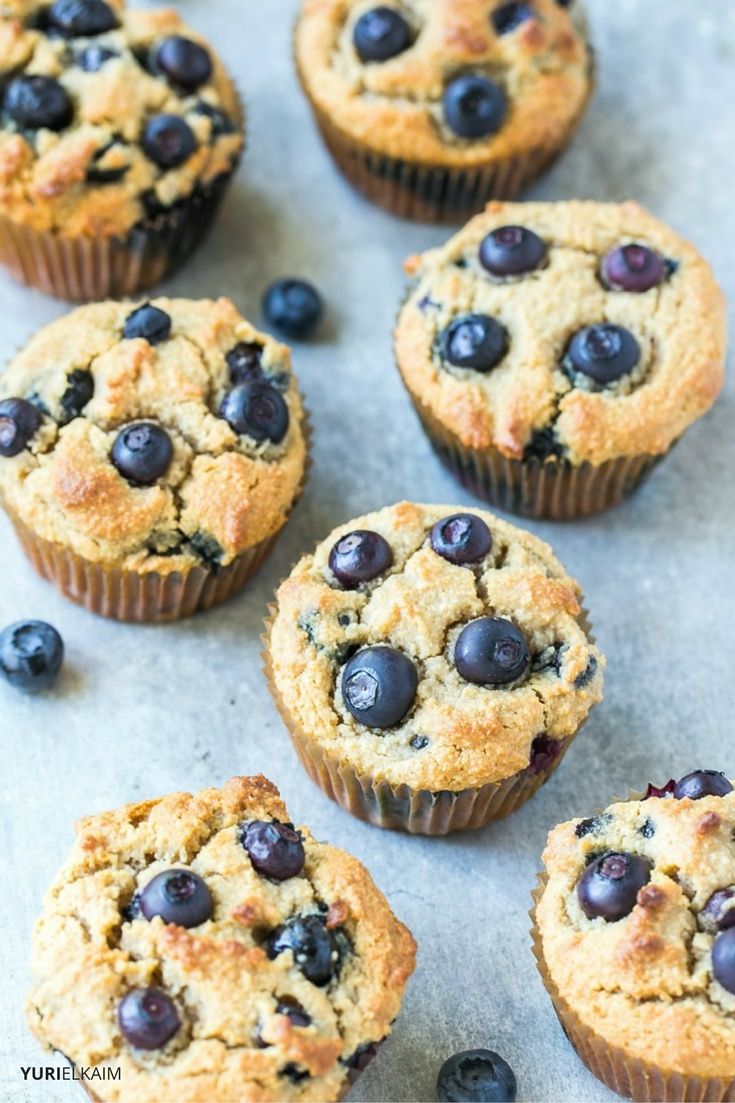 A few things about almond flour: Since almond flour doesn't contain gluten, you're not going to get the same fluffy results as you would from white flour.
You can substitute an approximately equal amount of almond flour if a recipe calls for white flour, but you may need to add more binding agent such as egg whites.
We've done all the work for you in this recipe, so no need to worry about substitution ratios here.
As with white flour, remember not to pack it into a measuring cup, but spoon in the flour so it loosely fills the cup. Almond flour burns easily, so recipes usually call for a lower baking temperature than with white flour, and typically the oven is never set above 350 degrees.
Paleo Flour Options
If you're allergic to almonds, you can substitute coconut flour. It has more fiber and a little less protein per serving than almond flour, with a slightly sweeter taste.
Substitute 1 cup of almond flour with ¼ cup coconut flour.
Since coconut flour really sucks up moisture, I recommend using an extra egg and another ¼ cup coconut milk to compensate.
Whichever flour way you go, you're gonna love adding these amazing Paleo Blueberry Muffins to your breakfast menu.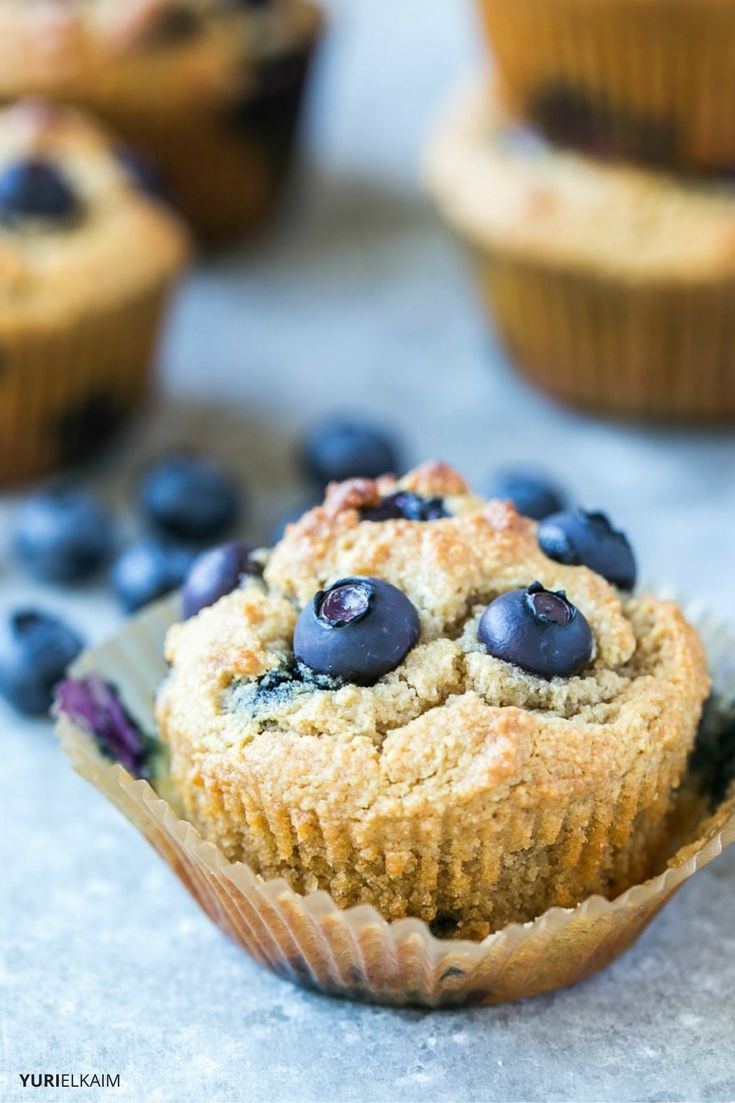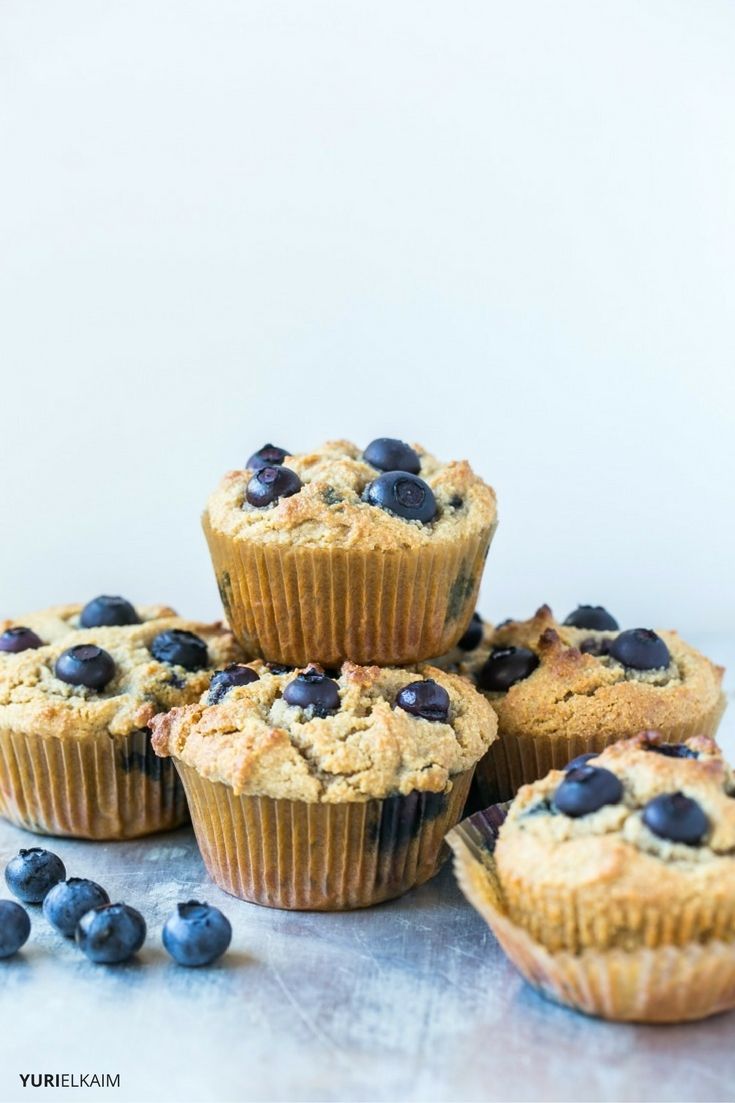 Paleo Blueberry Muffins
2016-07-30 12:50:59
Serves 8
High-protein muffins - courtesy of vanilla protein powder and almond flour - that are full of cinnamon and blueberries - the perfect way to start your day!
Ingredients
2 1/4 cups almond flour
1/4 cup vanilla protein powder*
1/2 tsp baking soda
1/4 cup coconut oil, melted
1/4 cup maple syrup
1/4 cup coconut milk
2 eggs
1/2 tsp cinnamon
1 cup fresh or frozen blueberries
Instructions
Preheat the oven to 350 degrees and line 8 cups of a muffin tin with paper liners.
Fill the remaining 4 muffin tin cups 1/4 full of water so that they don't burn.
In a large bowl mix together the almond flour, protein powder and baking soda.
Add the coconut oil, maple syrup, coconut milk, eggs and cinnamon to the bowl; stir until mixture is thoroughly combined.
Add the blueberries and gently fold them in to the batter.
Fill each muffin cup 3/4 of the way full of batter.
Bake for 22-24 minutes.
Cool in the pan for 5 minutes then remove the muffins from the pan and cool completely on a wire rack.
Notes
You can omit the protein powder if desired and use an additional 1/4 cup of almond flour instead.
Yuri Elkaim https://yurielkaim.com/
Fast, Easy, Delicious … and Healthy!
Looking for more meals that fit your healthy eating lifestyle? You'll love the All Day Energy Diet Community Cookbook.
It is filled with more than 65 gluten- and dairy-free recipes that also are low in allergens but high in taste.
You can get the cookbook – for FREE! – by clicking the banner below.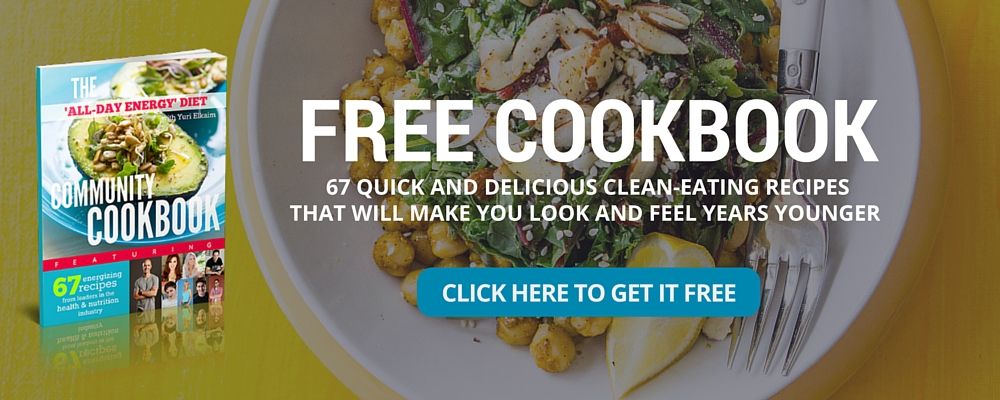 The post High Protein Paleo Blueberry Muffins appeared first on Yuri Elkaim.