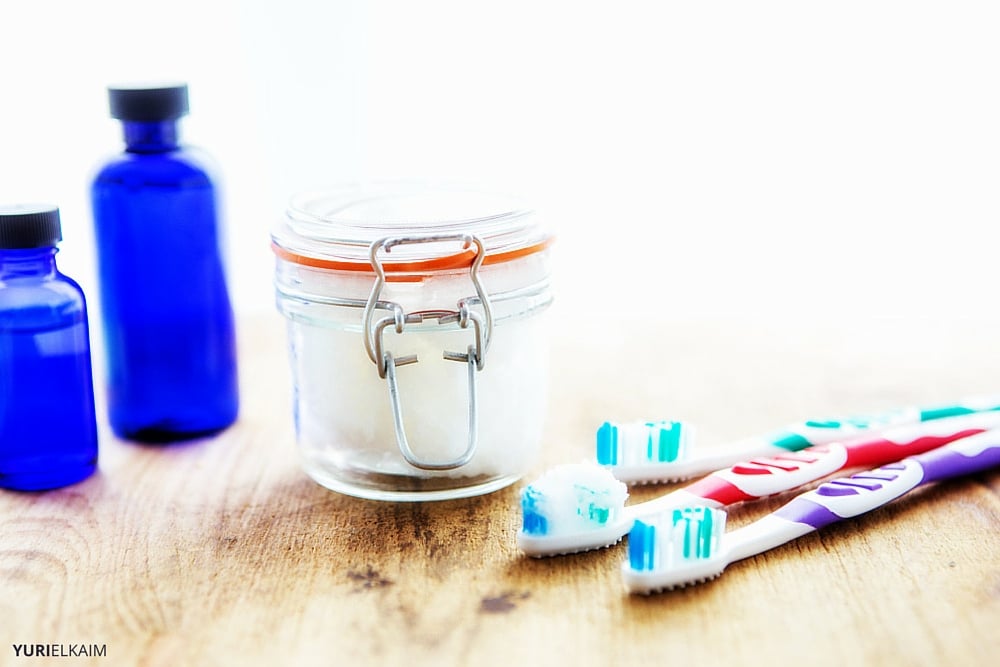 Do you know what's in your favorite brand of commercial toothpaste?
Most of us just mindlessly brush our teeth without ever checking the ingredients.
It's surprising and shocking that some of the ingredients in commercial toothpastes can cause serious health issues, and we're ingesting small amounts of toothpaste when we brush our teeth at least twice a day.
The good news is that making your own homemade natural toothpaste is super easy and the taste is surprisingly mild, with a paste-like texture that will please even the pickiest brushers.
When baking soda is stirred together with Coconut Oil the texture gets light and fluffy. It's a natural remedy that's pretty cool!
Why Use a Homemade Toothpaste Recipe?
Here's a little background about why you might want to consider trying your hand at making your own toothpaste.
Triclosan, an ingredient found in some popular brands of toothpaste, has been linked to endocrine disruption and antibiotic resistance.
A 2010 animal study found that triclosan suppressed the thyroid hormone and altered estrogen-dependent reproductive organs in adolescent rats (1).
Endocrine-disrupting chemicals like triclosan have been linked with reproductive cancers, low-birth-weight and pre-term newborns, as well as developmental reproductive issues in adolescents. In addition, the antibacterial nature of triclosan is associated with widespread antibiotic resistance.
Commercial toothpaste brands also contain fluoride, which in high doses causes neurotoxicity.
The foaming agents in most brands of toothpaste can cause rashes and disrupt normal functioning of the taste buds.
Armed with this knowledge, are you ready to ditch your commercial brand toothpaste and try this homemade toothpaste recipe?
How to Make Homemade Toothpaste with Coconut Oil
Most of the ingredients for this recipe are likely already in your pantry.
As with Coconut oil pulling, the benefits of this all­-natural toothpaste include the antiviral, anti­bacterial benefits of coconut oil. In fact, a 2008 study found that streptococcus mutans bacterial levels were significantly reduced with oil pulling (2).
[Related: Cheat-Sheet: 45 Incredible Uses for Coconut Oil]
Yet oil pulling requires you to swish the oil in your mouth for 20 minutes, which is not practical for most of us. Luckily coconut oil also works wonderfully in toothpaste, and I chose coconut oil for this recipe since the antibacterial properties are excellent at reducing the bacterial count in your mouth.
Baking soda, which is a pantry staple, helps to eliminate surface stains on the teeth while supporting a healthy pH level in your mouth. That's important for determining what bacteria take up residence there, while also giving your teeth a squeaky clean feeling.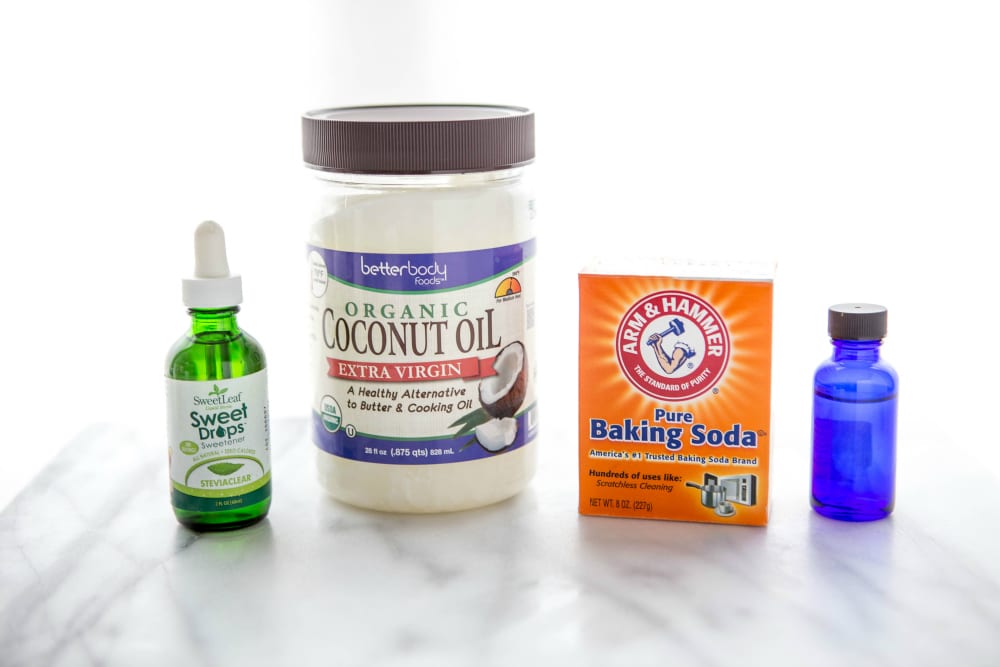 Go with either cinnamon or peppermint flavor essential oils, making sure they are food grade (3).
If you'd prefer a different flavor, try adding a few drops of clove, cardamom or cinnamon to your homemade toothpaste recipe. Though wintergreen oil may seem like a good match, it can have some adverse effects in people with an aspirin allergy, so I recommend getting that minty flavor from peppermint.
It will keep in a cool, dry place for up to 6 months. During hot summer months, make sure to store it in the coolest place possible so the coconut oil doesn't melt.
So there you have it – a 100 percent all-natural toothpaste recipe that reduces bacteria, tastes great, and may just be most cost­-effective toothpaste option ever!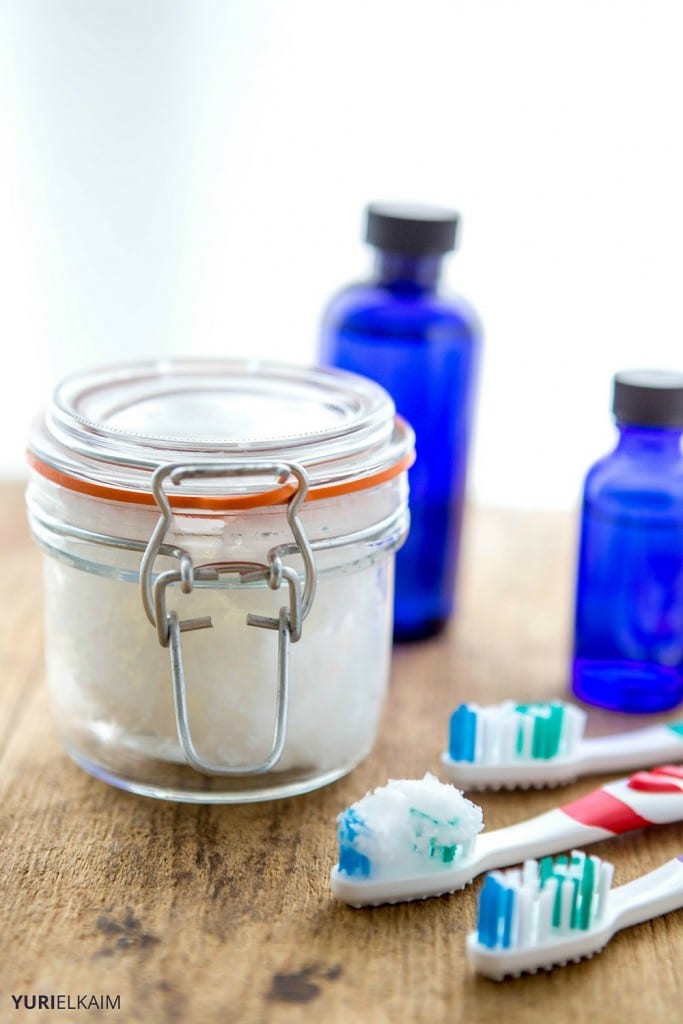 DIY All-Natural Toothpaste
2016-01-28 14:59:02
Try this homemade toothpaste recipe with coconut oil to naturally clean your teeth
Ingredients
½ cup coconut oil, softened
½ cup baking soda
2 packets stevia powder (or 3-5 drops)
15­-20 drops pure peppermint or cinnamon essential oil (to taste)
Instructions
Mix all together and store in an airtight container.
Store at room temperature – in hot summer months, be sure to keep it in the coolest place in your home so the coconut oil doesn't melt.
To brush teeth, place ½ -­1 teaspoon of the mixture on your toothbrush and brush as you usually do.
By Yuri Elkaim
Yuri Elkaim https://yurielkaim.com/
Want More Natural Remedy Ideas?
Did you enjoy this homemade natural toothpaste recipe? You might also like my free Home Remedy Handbook. Click on the banner below and you'll get my 10 safest and most effective natural home remedies that simply work – for FREE.
The post Happy Mouth: A Simple Homemade Toothpaste Recipe appeared first on Yuri Elkaim.