This Quora contributor's additional responses to the question of "Why Nigerians are fleeing Nigeria" perfectly captured my sentiments – especially number 2:
"Nigeria is the land of cunning people. I can't cope because I have no cunning bone in me".
In addition, the points made by 2 other contributors, one of who still lives in Nigeria (and therefore should know), are in agreement with the views I've expressed about the country's future prospects.
It's sad, but true. Unless a miracle of unprecedented proportions happens, there is NO HOPE for Nigeria or those who live in it.
In other words, I honestly do not believe they simply can ever change, for the better.
Read the full thread at the link below…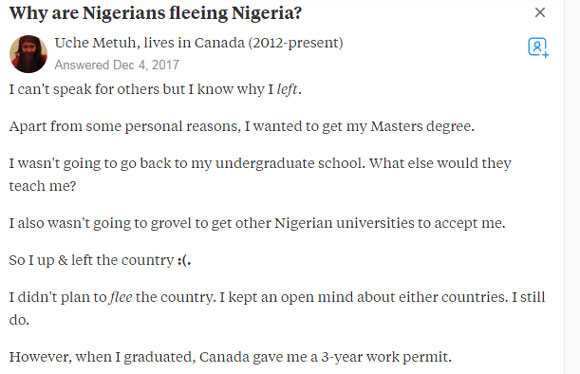 https://www.quora.com/Why-are-Nigerians-fleeing-Nigeria