This news report quoting Nigeria's Minister of Labour and Employment, resonates greatly with me, because the minister's expresses a view that perfectly captures the sentiments I have repeatedly expressed about today's conventional schooling system.
It uses an obsolete curriculum which does VERY little to prepare learners to achieve income earning success post-schooling. Thanks to Adebowale Temitope for sending me the link to this report.
Like I have told anyone who cared to listen, THIS is why I temporarily pulled my kids out of the schooling system and immersed them in various vocational skills based training experiences, to complement their academic Education. I believe today's schools need a total overhaul of their curricula, to include at least 50% vocational skills training on a daily basis for learners.
Read: [BPP] This 2016 Viral Video Sues "School" for Killing Creativity, Individuality and being Intellectually Abusive
Enough of the time, money and effort wasting excessive focus on exclusive book based learning. Education needs to be customized for each learner. Our schools need to accept this, if they want to produce "graduates' who don't end up unemployable, and incapable of self-employment.
Education that can't create jobs is useless –Ngige

The Minister of Labour and Employment, Dr Chris Ngige, says education that is not directed towards job creation is useless.

Ngige, therefore, said there was a need for schools to revise their current curricular to reflect modern challenges and development, according to a statement by the Director of Press at the Ministry of Labour, Samuel Olowookere.

Continue…

https://punchng.com/education-that-cant-create-jobs-is-useless-ngige/
===============
Get these 2 FREE PDF Downloads on Best Practice Parenting and Education from Me When You Join my Best Practice Parenting Group on Whatsapp
Stop Letting Nigerian Schools Cheat You & Your Child! [How Nigeria's Law About Children's "Right to Basic Education" Is Made Impotent Via "Poor Quality Education" Children Get Served DAILY in MANY Nigerian Schools]
Schooling Is a Means to an End, and NOT an End In Itself [Hard Truths Parents, Teachers & Policy Makers Need to Understand, to "Educate" Kids for "Authentic Non-Corner-Cutting Success" in the 21st Century!]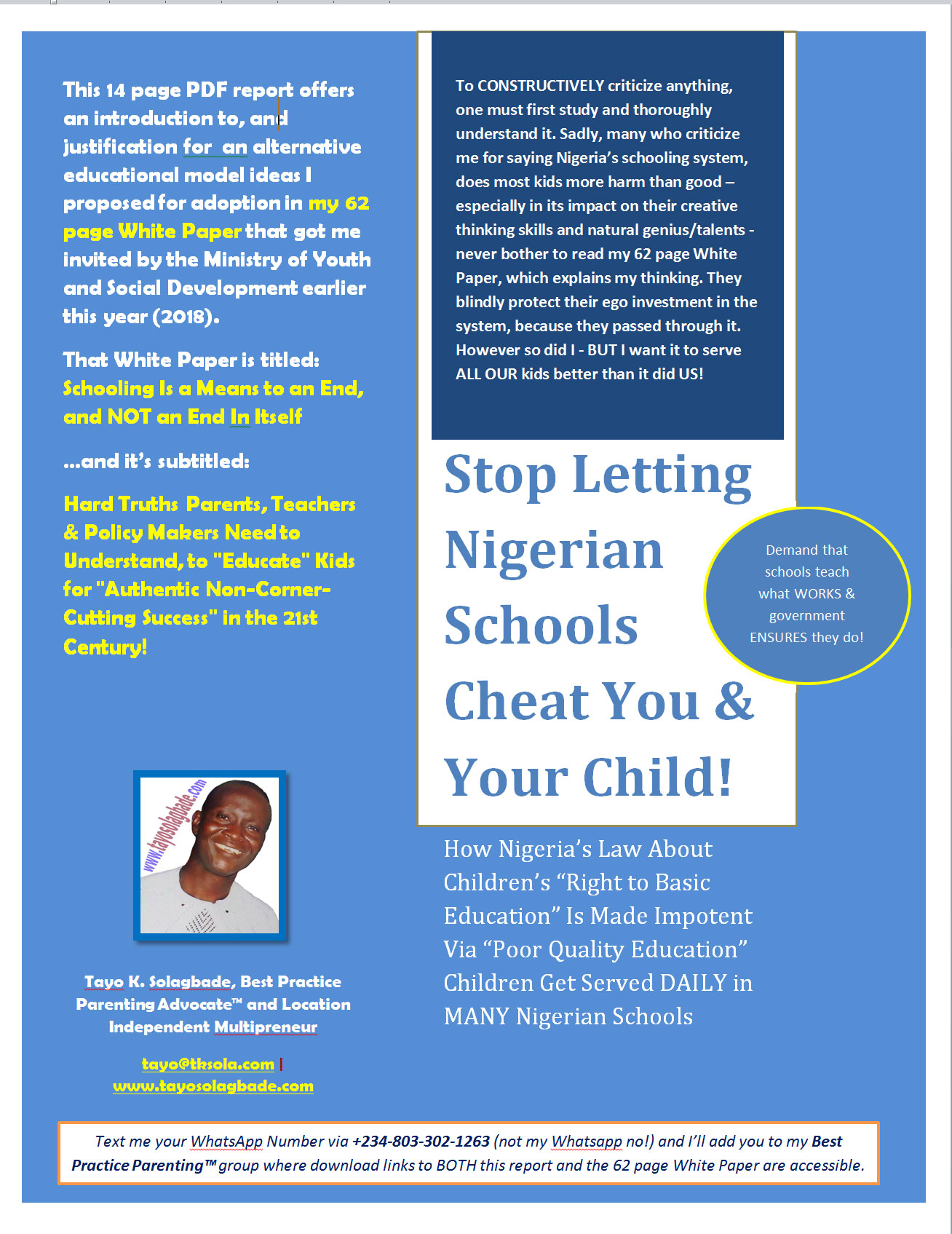 Below: Screenshot of a page from the 62 page version of the PDF report