This post was first published (along with THIS one) on Wednesday, May 7, 2014 – on the temporary blogspot dot com channel (click to see) I setup in May 2014, after spontaneousdevelopmen dot .com, my 9 year old Domain got taken over by a former hosting company.
====
Haters Cannot Change Your Destiny!
A great man once said:

"Destiny is not a matter of chance, but of choice. Not something to be wished for but to be attained."

Shina Peters also once sang in his native Yoruba:

"Aye o le pa kadara da. Won kan le fa owo ago pada si eyin ni."

Contextual Translation: "Haters cannot change a person's destiny. They can only turn the hands of the clock back i.e slow him/her down."
This afternoon, I had a chat session with my current web hosts about the issues with my primary domain now locked off by my former host, Aplus.net
From the feedback Hostgator have given me, it's obvious there's lots of work I have to do, to modify my hosting account and entire website content to work with a different domain name I have control over.
I'm now awaiting a quote from them, for the configuration that may be needed.
I am also still pursuing a response from Aplus.net to my request that they supply at least the name on the credit card they claim the charge back happened on.
But even if I get the domain freed, I will still carry out my plan to NOT use spontaneousdevelopment.com as my primary domain anymore, until it's no longer with Aplus.net.
These unexpected developments, and the new plans I just began implementing now make it apparent to me that it's unlikely I'll be able to find the time, and resources, to really do what is needed to honour an invitation I got (along with a professional colleague) to attend an event for public speakers in the USA in June 2014.
I'd intended my new marketing plan targeting Farm CEOs with speaking and coaching solution to serve as the "driver" towards achieving that goal.
But the current realities now make it obvious that my prorities need to change.
And so tonight I begin a long overdue process of re-inventing my massive library of web content, based on my personal brand. Www.tayosolagbade.com got renewed using my reseller account for a second year today at $9.99 US dollars.
If the GT Bank Naira Mastercard I used had been accepted by the payment processing system at Aplus.net, I would easily have renewed spontaneousdevelopment.com by myself. Instead I have to depend on friends or relatives based abroad to use their cards on my behalf to pay Aplus, and hostgator. Very awkward and sometimes humiliating.
If I'd been able to pay with my own card, this ridiculous excuse they've used to lock down my Primary Domain may not have worked.
But then again, I've been conflicted for months about how to make tayosolagbade.com lead people to my content online via search engines.
Spontaneousdevelopment.com at over 8 years old had always looked too big to replace.
And yet I knew my goal of using speaking and coaching to promote my offers in my travels, would benefit much more from use of tayosolagbade.com.

As luck would have it, those aiming to hurt me have inadvertently helped me. Now I'm taking the excuse of this situation, to carryout the long overdue re-purposing of the web content I've been creating since 2005.
I'm going to really enjoy using this as an object lesson to the haters who foolishly keep thinking they can stop me.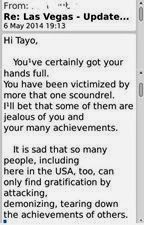 Shina Peters' words of wisdom reproduced above, accurately captures my message here.
Let me quote him again:
"Aye o le pa kadara da. Won kan le fa owo ago pada si eyin ni."
Translation:
"Haters cannot change a person's destiny. They can only turn the hands of the clock back i.e slow him/her down."
From tomorrow I launch a temporary alternative platform to publish my new DAILY content, while I work on the changes to my site. I estimate it might take most of this month of May 2014 to finish.
There's lots to be done, but I intend to continue my online publishing as normal.
So here we go!
UPDATE (11th May 2018): You are reading THIS post 4 years AFTER I published it on my Blogspot channel – here on my TayoSolagbade.com SD Nuggets blog that I've built since then. In other words, I succeeded in defeating that wind of adversity that came my way – and I've done even more!
====
Below – Link to read this post on my blogspot.com channel:
Title: Haters Cannot Change Your Destiny!
URL: http://sdnuggets.blogspot.com.ng/2014/05/haters-cannot-change-your-destiny.html