The article linked below echoes a message I've been screaming through my Cost-Saving Best Practice Farm Business Ideas articles (like THIS one – click to view) for over a decade, to my Farm CEO target audience
That's why my Custom Spreadsheet software are designed to auto-compute and report, in tabular as well as charted format, commonly used KPIs for farm businesses they are built for e.g the Excel-VB Poultry Farm Manager, and the Excel-VB Catfish Farm Business Manager.
KPIs are crucial tools for monitoring the performance of a business in operational as well as financial terms – and EVERY Farm CEO needs to make smart use of them, to be sure s/he achieves efficiency and profitability repeatedly and consistently.
Without KPIs, you would effectively be working blind – which means you would have no means of accurately determining whether your business is doing well or not, in a reliable and sustainable manner. Definitely not a smart thing to do.
Now, even though this article uses Pig farming as the basis for discussion, the insights it offers can be successfully applied to other livestock farming entreprises. And that's why I've chosen to share it here.
Hope you enjoy reading it.
Tayo
PS: I'm preparing to produce a new Audio Podcast Training (APT) Series designed to educate Farm CEOs about How to develop and use Key Performance Indicators (KPIs) for records management. It will come with PDF tip sheets and spreadsheets loaded with ready-to-use report generation formats for the KPIs discussed. This is to help those of you who may wish to adopt the use of these powerful tools, but do not know how to go about it. Click here to join my list so you get notified in your email once it goes LIVE.
=================
The importance of key performance indicators for profitability
Research and development into many areas of commercial pig production has fuelled improvements in productivity and output. Yet, it is still questionable if profitability on farm is increasing, or even being maintained, in-line with these advancements.
Industry experts advise that remaining profitable is imperative, and the way to monitor this is through key performance indicators, which ensures a unit is reaching its full potential through maximum production efficiencies.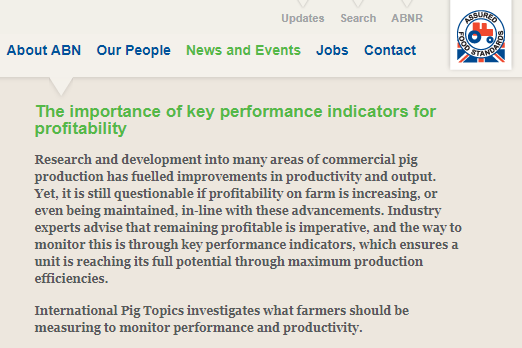 https://www.abn.co.uk/news-and-events/news-pages/the-importance-of-key-performance-indicators-for-profitability