This week I formally announce the availability of the 2016 Excel-Visual Basic Automation Club Home Study Tutorial Archives DVD. As I hinted in a previous post, this product is a compilation of ALL the text and video based tutorials I've sent out over the past year, since the launch of my Excel Heaven Visual Basic Automation club.
The promise I made to members of the club was to share my expertise with them via the coaching tutorials I send out, not just with regard to Excel-VB coding, but also in the area of marketing one's products and services as provider of custom Excel-VB Automation solutions.
Below is a screen shot from an email enquiry I received from a Farm CEO, who expressed interest in buying my 3 flagship products – the Feed Formulation Handbook, Poultry Farm Manager and Ration Formulator.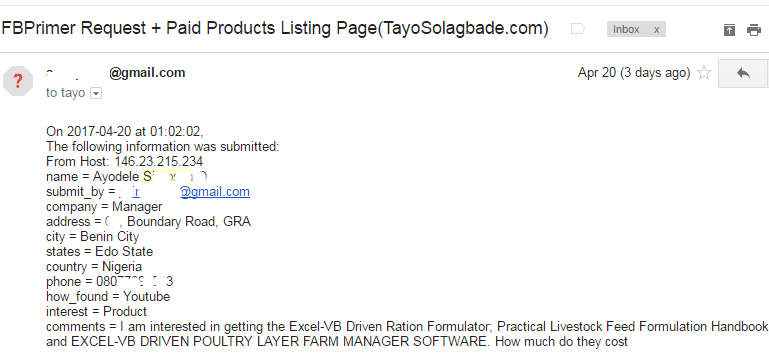 That gentleman has since gone on to make payment for all 3 products (in addition to 2 others I offered at a discounted bonus) – and I've since delivered them via email to him.
TIP: In tomorrow's issue of my Performance Improvement Ideas newsletter, I'll share insights from my use of Video Marketing to attract profitable paying customers for my products, for years.
As we approach 1st May 2017, to begin a new year in the life of the club, I want members and those aspiring, to know that there is a LOT to be learned.
You can also become competent in Excel-VB coding and the marketing of what you do, in a way that enables you make money like I do.
But it takes work – and a lot of dedication. You need to be willing to invest emotionally in this venture, if you want to succeed at it.
To make it easier for yourself to progress, you must embrace every opportunity to learn that comes your way. I recommend you start by purchasing a copy of this new DVD compilation. it offers you an opportunity to learn the basics I've presented via my Experiential Coaching based system.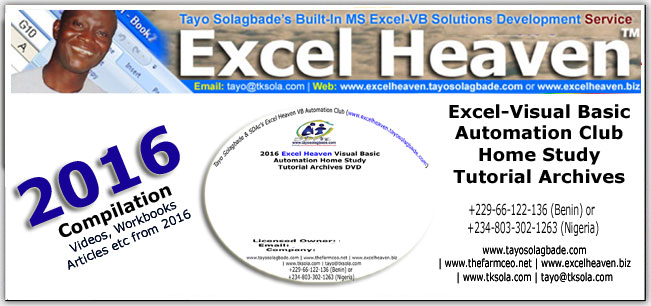 Click here to contact me for details of how to order your copy.