To formally close the maiden year (May 2016 to May 2017) in the life of my Excel Heaven Visual Basic Automation club, I've decided to conduct a LIVE hands-on workshop titled "SPREADSHEET AUTOMATION WORKSHOP INVITATION: Anatomy of N200k Excel-VB Cash Book Spreadsheet Software [Secrets to Build Yours Successfully]".
Duration: 11a.m to 5p.m
Location: Sherryville Arcade, Ojodu-Berger Bus Stop, Opposite First Bank Plc, Ikeja – Lagos
Date: Sat 29th May 2017
The commercial quality Excel-VB software application to be reviewed is one that I built for a large Specialist Hospital based in Ogudu, Lagos in 2007, for approximately $1000 USD equivalent at the time (Back then $1 USD = N200)
Name: Excel-VB Driven General Accounts Manager [GAM]
Watch the YouTube demonstration video on my YouTube channel at:
http://www.youtube.com/watch?v=lUl4_RAja-g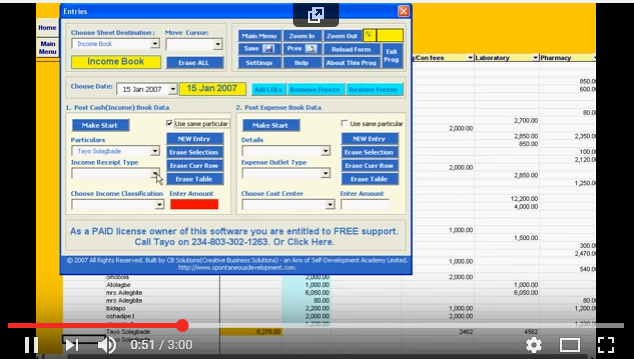 Below are its key features and details of the app:
Description: This is a highly sophisticated Automated Cash Book with a Powerful Modeless Dynamic Data Entry Form & Menu Driven Reports Summaries Generator.
Allows user to post cash office receipt using in-house format register (cash, cheque. value card etc) and payment (expense) amounts using custom automated floating modeless data entry forms.
Automatically generates – using drop menus – Weekly, Monthly/Annual Income & Expense Reports on one A4 page.
The reports are integrated with charts/graphs of EACH heading value
During the workshop, I will show attendees the various interfaces in the app, and demonstrate how they were built from scratch, using a blank workbook template.
In other words, by the time we are done, a simplistic version of the app would have been built – though not with all the bells and whistles I added to the real app, for obvious reasons that they would take more time to incorporate.
Attendees will be able to ask questions and try their hands at doing what I show them.
My learning events are always EXPERIENTIAL i.e. designed to give learners what they need to know, in a way that builds on what they already know, and what they already do in their work/on their jobs.
This event is designed to be a way of saying THANK YOU to members of my Excel Heaven club over the past maiden year (May 2016 to May 2017)
From 1st May 2017, ALL members will be required to renew their membership for another year, to continue receiving the weekly email tutorials I send out.
All those who attend the event will get FREE copies of a home study video tutorial version of the workshop that I will create AHEAD of the event.
The reason is to ensure that they are able to study and understand anything we are unable to cover in the event using the DVD version.
Question: So, what's the FEE for attending this Workshop Event "Anatomy of an Excel-VB Driven Commercial Automated Cash Book Spreadsheet Software [Including Tips of How to Build It from Scratch]"?
Answer: Simply pay the ONE year membership fee of $65 USD @ N200 per dollar i.e. N13, 000.0
The above payment requirement is however for non-members.
Payment gets you the DVD FREE, PLUS ONE full year of club membership (May 2017 to May 2018).
IMPORTANT NOTE TO CURRENT EXCEL HEAVEN VISUAL BASIC AUTOMATION CLUB MEMBERS:
All current club members should recall that their membership entitles them to a 50% discount, for life, to buy my products/services.
That therefore means they only have to pay N6,500.0 to attend this event, and also get the double benefit of the FREE Tutorial DVD and renewed membership from May 2017 to May 2018.
Click here contact me if you have need further details or require clarification.
Visit my Excel Heaven Visual Basic Automation Solutions Development website to learn more about what I offer (while there you can watch videos of other app demos and tutorials).
RELATED ARTICLE
PII 006: Succeed by Becoming an Expert at Solving Real World Problems [Hint: Highlights from Maiden Edition of Tayo Solagbade's FREE Monthly Workshop for his MS Excel Heaven Visual Basic Automation Club Members Held on Sat 19th March 2016 in Lagos-Nigeria]