Do you want to become the next Blogging star in your niche? Do you want to make your blogging success an exciting story?
If yes, this post is for you.
Becoming an authority blogger is usually the dream of most Bloggers, especially new bloggers that are just getting started in the blogging business.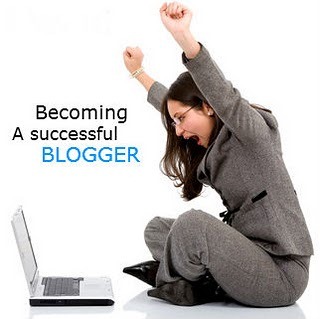 I have a couple of top bloggers and great guys that I also look up to just like a bunch of bloggers too look up to me and they also dream of being bigger someday. I know you probably have an endless list of bloggers that inspire you too.
I know you will love to become the next blogging star in your niche, but my question is do you know what it takes to reach that level of authority?
I guess NO! But don't worry, because today, I am going to hand over to you the working secrets of becoming a successful blogger.
I will advise you to read through every line of this post and do away with all forms of distractions because I believe this article will open your eyes and push you to greater heights in your blogging career.
That said; here are the 7 Strategies that will help you become a Successful Blogger.
#1 – Write Great Contents
"Content is king!"
Yeah…. Content is indeed king! This is the basic truth about blogging and content marketing. If your contents suck, you suck!
There is no short cut to becoming a successful blogger without creating quality and useful contents for your readers. Your readers are coming to your blog to read your articles and the only thing that will determine if they will still come back is still your articles.
There is no way to become an authority blogger in any niche without providing quality contents that solve people's problem or educate them. Just take a look at the top bloggers in your niche; you will discover that quality contents are not missing on their blogs.
#2 – Guest Posting on Authority Blogs
I know there has been a lot of fuss about guest blogging in recent times, but I still have a strong belief in the power of guest blogging.
Guest blogging is a great way to build up your profile in your niche. Apart from the credibility that guest blogging adds to your online profile, guest blogging is also a means for showcasing your expertise to a wide range of audience whom might have heard of you before and this is surely one thing you need if you want to become a successful blogger.
Another great perk of guest blogging is traffic. Traffic???? Yea, traffic.
Guest blogging is a great way to drive FREE targetted traffic to your own blog. A lot of top bloggers like Onibalusi Bamidele, Danny Iny, and the likes have built great blogs and brand for themselves by harnessing the power of guest blogging.
If you really want to your name to get know quickly, guest blogging is one strategy that I will recommend you try out.
Read: 7 Guest Blogging Etiquettes You Should Follow as a Blogger
#3 – Network with Authority Bloggers in Your Niche
There is a popular adage that says 'show me your friends and I will tell you who you are". There is another version that says "Birds of the same feather flocks together".
This means that your association somehow determines the kind of respect you get. Imagine me being friends with President Barack Obama; I know everyone will surely treat me differently including you!
Networking with other top bloggers is quite simpler than it used to look. Most authority bloggers in your niche will surely be on popular social media sites like facebook, Twitter and Google plus.
You should find the top bloggers in your niche on this platform and add them as friends, follow them & circle them. Comment on their updates, ask them questions and interact with them.
By doing this, their followers will start noticing you, and these Top bloggers too will start noticing you.
Regular commenting on top blogs in your niche is also a great way to connect with authority bloggers and create awareness about you and your blog.
#4 – Mention Top Bloggers and Link to Them in Your Posts
Believe me, linking out to authority sites works like magic!
Linking out to other top blogs in your niche increases your credibility and it proves to your readers that you are connected to the industry experts and you know what is going on in your niche.
Some readers will even begin to see you as friends or colleagues of these top bloggers just because you link to them.
Apart from the credibility benefits, linking out to other relevant articles will also help your readers to understand the topic you are teaching very well, linking out will improve their knowledge about the subject matter and they will be grateful to you for it.
#5 – Interview Experts in Your Niche
Running your niche expert interviews on your blog is a great way to build up your authority fast and also your relationship with other authorities in your industry.
I have become a bit closer and familiar with a lot of great bloggers from around the world as a result of the interview series that I run on this blog.
As a result of interview authority bloggers, I have been able to get a bunch of new readers and followers to my blog. If you want to become an authority in your niche, I will recommend you create an interview section on your blog and start pitching Experts in your niche for the interviews.
#6 – Good Design and Branding
Have you seen any authority blog with an Ugly design?
What do you think of my blog design? Isn't it cool?
You see, people of nowadays are very sensitive and your blog design and branding determine to some extent how serious they will take you.
If you own a blog with an ugly design with no logo, then you are sending a negative signal to your readers. Take a few minutes to study those authority blogs design and try to see how they arrange things and brand themselves.
Authority bloggers know the importance of good design and branding and a lot of them have paid thousands of dollars to developers and graphics designs who helped them build unique designs and graphics for their blogs. You don't have to spend thousands like them; you can get quality designs at cheap prices from Studiopress themes.
So, if you are dreaming of becoming a successful blogger, you should pay attention to your blog design and branding.
#7 – Write Case Studies
Case studies have proven itself to be a no-fail strategy for building up authority as a blogger in any niche.
A case study is all about trying something out, dissecting a strategy or performing an experiment that will interest most people in your niche and then share your findings with your readers!
I have seen a couple of bloggers who have built 6-figure income blog off case studies. If you want quick fame and success in your niche, writing case studies post is a sure strategy to implement.
Final Words
Becoming an authority blogger does not happen overnight, it involves a great deal of hard work, patience and continuous learning!
A lot of people have started from the bottom and rose to the top, if they can do it, you too can do it!
What strategy do you love most when it comes to building a blog's Authority? Kindly drop them your reply in the comments, we will love to hear your opinion!
The post 7 Effective Strategies for Blogging Success appeared first on Ninja Outreach.